The owners of the Aquila 54 BISON recently enjoyed a highly enjoyable crossing from Phuket to Langkawi. Owners Swanny and Kath kept a detailed log of their experience – enjoy reading and sharing their journey with them.
Thursday 30 March
Having received our "checkout papers" and stamped exit passports, we have 24 hours until we must exit Thailand. Luckily the boat is in great condition and ready to go after a very productive time at the marina. Work done included replacing the anchor swivel to ensure it comes in the right way each time, and servicing the engines and ZF transmissions. We now have 101 engine hours recorded. We also had the generator serviced and needed a new sea water cooler pump, as well as a couple of other minor items.
The plan is to leave for Langkawi around 11am tomorrow after putting in 1,650 litres of fuel to top off the tanks. We will also top up the water tanks so we'll have 900 litres of water onboard. In a first for us we're taking a deckhand with us to provide local knowledge and backup, he is a 30 year old guy and very experienced.
Friday 31 March
We awoke bright and early and while we were reading the papers we spotted an alarm on the C-Zone for the starboard bilge pump fuse. We contacted Seb at Simpson Marine and within five minutes a techie was onboard – impressively fast! He opened the starboard engine hatch and you could see that the water pump was leaking water from the strainer. The techie said he'd replace it and he returned around 10:30 with a modified hose and strainer that took around 10 minutes to fit – the Thais are very ingenious.
Our deckie, Mr Hardris, arrived at 10am with a huge suitcase full of his food – he's provisioning for himself and even brought his rice cooker. Around 11:30 we were ready to set off and we let go of the lines and motored over to the fuel wharf. Kath was VERY pleased that she had a backup deckie! And what a blessing, Mr Hardris spoke rapid Thai to the fuel attendants and manned the pumps allowing me to concentrate on the amount of fuel to go in to each of the four tanks and Kath to prep the lunch rather than standing outside in the HEAT. The funniest moment was when the deck was too hot to stand on so we had to put down some towels.
Fuelling completed, we left on our cruise to Phi Phi at 12:30 – the weather was FANTASTIC with flat and dead calm seas and we arrived at Phi Phi around 14:30. Hardris directed us to a mooring buoy, which he easily picked up with our new longer boat hook whilst jabbering away at all his mates on surrounding boats. Kath was ecstatic – she just basically stood and watched the calm and efficient process – and we both had a laugh at some of our own mooring efforts.
We soon turned on the generator and aircon, but no aircon came on. What was the problem we wondered? Mr Hardris went into the port engine room with the tool box, checking the filter as no water was circulating through the system, and managed to clear a blockage to our great relief as it is soooo hot and humid.
Now all moored up, we spent the afternoon relaxing and did a tender safari on BB3, swimming off the stern and watching all the day boats gradually pack up and leave Monkey Bay so we had it all to ourselves – PARADISE.
Dinner was lamb cutlets with peas and cabbage and corn on the cob – yummy – washed down with a glass or two of our favourite white "Cavit" an Italian Pinot Grigio.
Off to bed and slept really well, nice and secure in our own bay.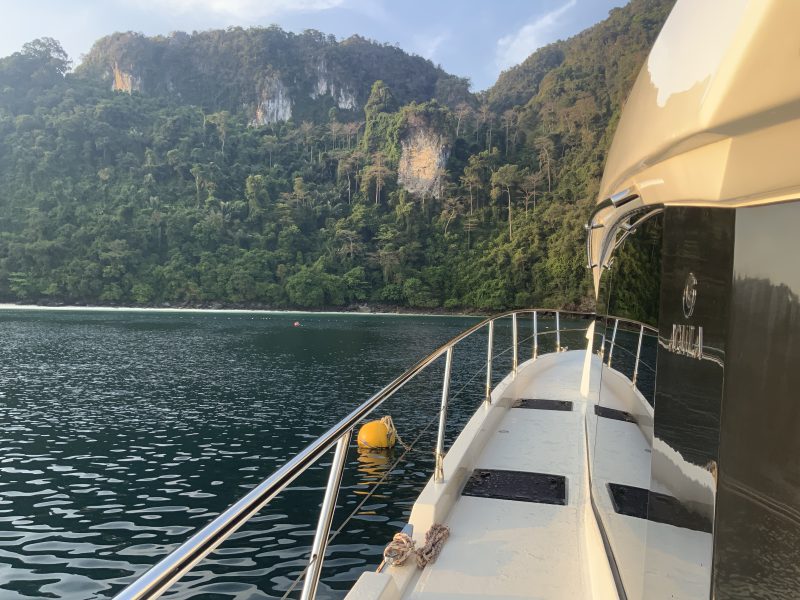 Saturday 1 April
Up at 7:00 on Saturday, and put the generator on to top up the house batteries and boil the kettle. Whilst I read the papers Mr Hardris was busy chamoising the entire boat – aahhh the advantage of crew.
First of the day boats (noisy long tails) started arriving and Kath was having a swim, so I joined her.
We brought BB3, the tender, back onboard – this was an easy operation with the three of us – and then we threw the mooring at 09:30 and headed SW towards Ko Lanta in picture perfect conditions. As the seas were soooo benign we continued on to Ko Ngai, a further 10 or so nautical miles, dropping the pick around 12:30.
We enjoyed a lovely salad for lunch and then a tender safari but unfortunately the dozen or so resorts on the east side of the island are all deserted having not recovered from Covid – we have the place to ourselves but would have liked to go ashore and had a meal at one of the restaurants. Oh well looks like cutlets again (delicious) and some fried rice with corn, peas, capsicum, prosciutto, cabbage, carrot, onion and a fried egg. All followed by a Kath-made Pina Colada! Yum.
After our tasty dinner we sat on the bow and watched the world go by, mesmerised by an amazingly clear night sky. Memo to self: learn more about the stars and where they are.
Off to bed for a good sleep. As predicted the wind swung around from the SW to a light NE overnight which meant we could look at the beach whilst reading the papers and having our fruit for breakfast.
Sunday 2 April
We picked up Ana, our trusty anaconda anchor, which had kept us firmly in place overnight – again a VERY HAPPY Lady Kathryn watching Mr Hardris operate the remote and kick the anchor chain in the locker so it doesn't bunch up under the windlass whilst she operated the salt water wash down pump.
We pointed BISON SW to head down to Tarantao, which is a distance of around 50nm. We sat on 10 knots for a while, gradually increasing speed to 12 knots and with Tarantao in sight around 19nm we put the hammer down and cruised at 16 knots around 3100 revs and about 80% engine load consuming around 129 litres per nautical mile.
Actually at 16 knots BISON lifted himself (yes we know boats are usually called her but he's like his skipper – a big bastard) up onto his pontoons and levelled out almost as if he was planning and you felt he was a stallion at full gallop. Not sure it was the best fuel economy but will look at the graphs later.
Arriving at Tarantao, a former penal island, around 12:30 we picked up a buoy on the top of the west side and were soon in the water for a refreshing dip.
The wind picked up from the SW shortly thereafter which it has done consistently over the last week before dying out around 17:00. Well unfortunately the wind didn't die down and around 17:00 I was thinking about moving into the lee of the island on the east coast but we had had a few glasses of wally and all the weather apps said it would die down "soon". So, we settled in to watch a few episodes of "White Lotus" series two set in Sicily whilst bouncing around! We went to bed around 22:30 still bouncing around although it "seemed" to have started to settle with time between the waves increasing.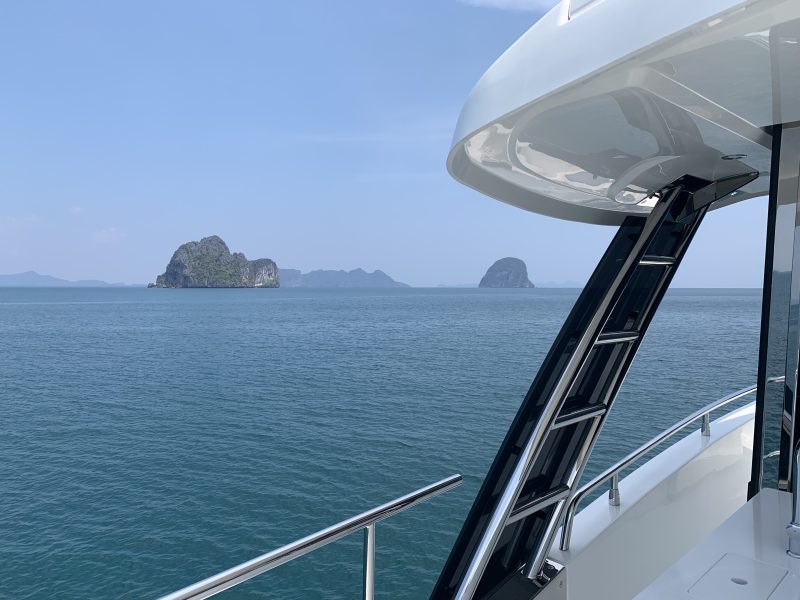 Around midnight Lady Kathryn became "a bit" agitated and after some harsh words about did we (Hardris and myself) have any boating skills at all, she moved herself into the salon for a while to try and get some sleep because it's set further back from the bow and doesn't leap into the air quite so much.
I awoke every now and again and checked the sea state, and more importantly because we were on a buoy the maintenance and holding power of which I wasn't certain. At 03:30 I raised Hardris and told him we were going around to the other side of the island for protection. The waves at night looked bigger than they probably were but the 5.5m depth we were in gave them some real surf like characteristics and we were only around 80m from the lee shore. Not a "nice" place to be…oh and it was raining.
Kath had gathered herself together and on the flybridge we started the engines and turned on all the navigation gear including the lights. We were of course pointed into the wind and away from the shore so armed with a night light Hardris ventured into the bow and at my signal released our lines from the buoy. With Kath outside on the Portuguese Bridge relaying where the buoy was I hesitantly put BISON into reverse momentarily before "confidently" steering into the pitch black via the chart plotter away from the beach directly into the waves. At the 10m line on the chart I turned and headed north to the top of the island – let's just say that with the wind and waves and rain now beam on it wasn't necessarily a comfortable ride but doing around 8-10 knots I knew we'd make the top of the island around 3nm away fairly quickly.
With Hardris in the bow in the rain, wrapped in a couple of towels, with the night light on and looking for any hazards, the turn to the east couldn't come quickly enough. Kath breathed an audible sigh of relief and I sat down in the helm station as the sea was now behind us and the ride suddenly comfortable.
We weren't out of the woods yet as the east coast of Tarantao has many rocks and islets to navigate and there are a number of wrecks scattered about. We sat in the "white" or +10m depth lines and reduced speed to 4 knots as we slowly slid south in the darkness. Hardris remained at his post looking for unlit long tails fishing and the flags to their pots. We passed fairly close to a squid boat all lit up with his green lights, which was a bit disconcerting as I didn't know if he was moving or even if he had seen us!
FINALLY the sun started to show herself around 05:40 which was great as we were approaching a narrow navigation channel around an island and reef with a few long tails lurking. Passing this hazard, we slowly increased speed as the sun rose. Hardris had a coffee and Kath organised water and a nice cuppa for me.
We left Thai waters and crossed the strait into Malaysia, dropping the Thai courtesy flag and raising the Malaysian.
We headed east across the top of Langkawi then pointed south to come down the east coast. This course gave us the opportunity to poke (literally when you see the photos) into the "Hole in the Wall", a UNESCO national park.
The entrance is around 20m wide in the cliffs and then you enter a lagoon type body of water – dead flat and with little to no breeze. We (Hardris) dropped the anchor and Kath made a welcome Bloody Mary for breakfast. Whew, ordeal over – time for a couple of hours sleep to recover.
Having slept solidly for two hours, we got up and about and launched BB3 for a tender safari – so easy with Mr Hardris helping – and Kath and I explored the inlet. Right up the end was a terminus with road access (taxis to other parts of the island and about 60 taxi boats tied up). Also, sadly about six floating restaurants and fish farms all abandoned since COVID, when the villagers had to leave due to infection and the tourists haven't come back.
We easily retrieved BB3 and crashed early after a great bowl of chilli con carne.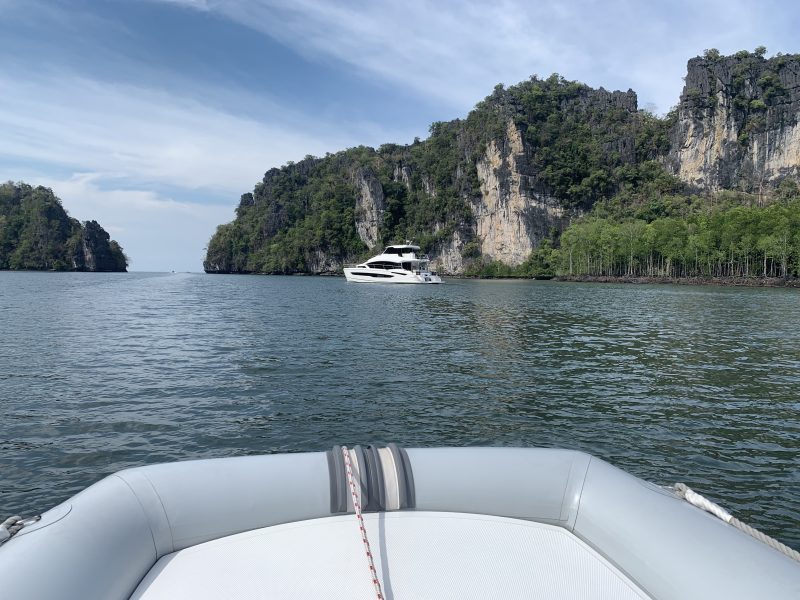 Tuesday 4 April
We awoke around 07:00 after a great night's sleep in dead flat water with no breeze. The deck was covered in midges. After a cuppa we raised the anchor (easily) around 09:00 and headed down the east cost of Langkawi to Bass harbour and the Royal Langkawi Yacht Club (RLYC), arriving around 11:00.
We called the RLYC on the radio and were directed to our berth – a big double – and easily manoeuvred in and Kath and Mr Hardris threw the lines to the dockhands. After a gin and tonic, we contacted the shipping agent and sent her all the documentation – we were to meet her at the immigration jetty a short 10 minute walk away at 13:30 for stamping our passports.
A quick visit to the RLYC marina office had us registered and thumb printed for marina access and we were given an adapter for our power lead and hooked ourselves up to shore power.
At 13:30 our passports were stamped and we're legal!! Back to the RLYC for fish and chips at Charlies Bar to celebrate.
Passage log competed!! We will cruise around the Langkawi islands and head back to Phuket Saturday 8 April.