Although it is possible to undertake a long voyage with almost any size catamaran, the recommended minimum sized catamaran to embark on an around-the-world voyage is around 30 feet in length which includes just enough space for a cabin and storage space for long-term provisions. A better option, reported as being the best-sized vessel for such a voyage, is 45-50 feet with widened hulls that afford the crew a better level of comfort with features such as multiple bathrooms, private cabins, and separate cooking and dining sections. Leaning towards the upper-sized catamarans for around-the-world voyages, the maximum size is 55-60 feet which offers significantly enhanced levels of comfort.
Can you sail a catamaran around the world?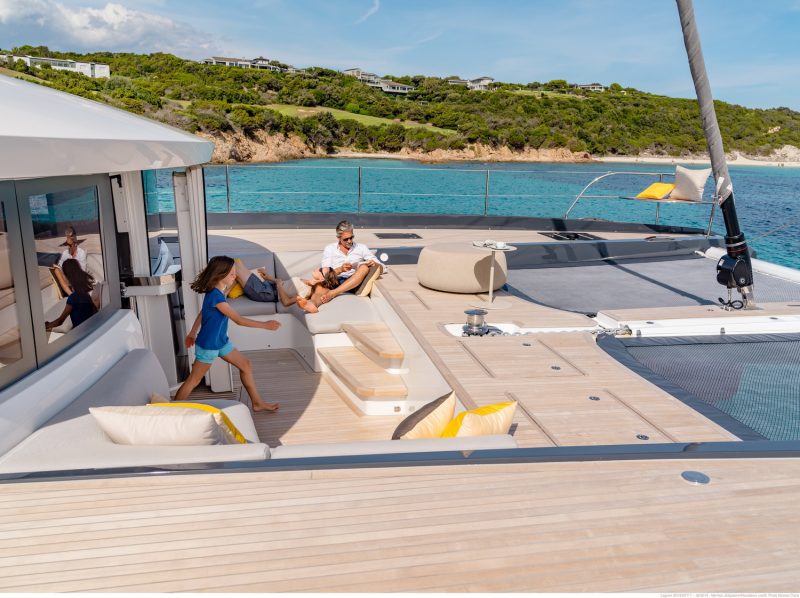 As touched upon above, the answer to the question "Can you sail a catamaran around the world" is yes you can but traveling in comfort can make all the difference and bigger is generally better. This is not to say that smaller vessels do not have what it takes to deliver a trouble-free voyage around the world, but levels of comfort must be considered for trips of a long duration.
Cataman features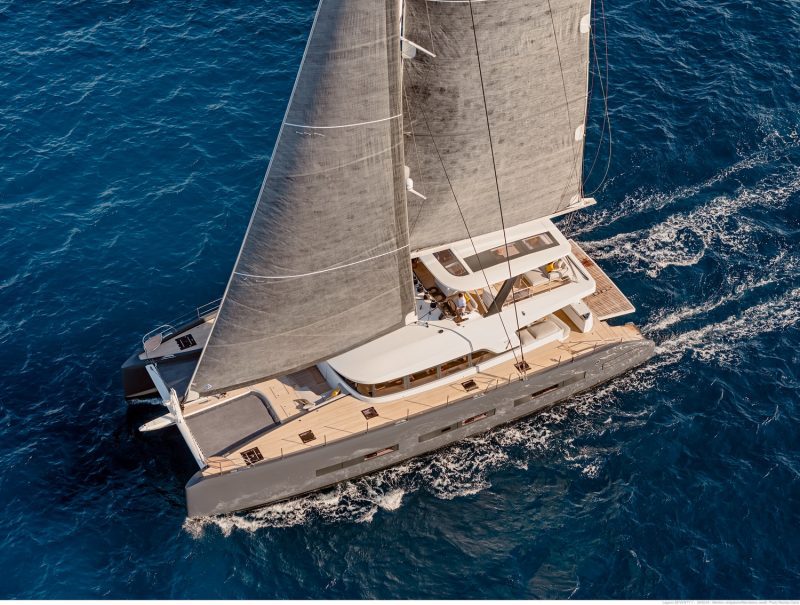 Freeboard: Cruising catamarans,the type best suited to world circumnavigation, have a high freeboard, which means that the decks are situated relatively high above the water which mitigates most of the risk of being washed over by large waves.
Cabin: Cruising Catamarans boast a large cabin space consisting of between 2-4 staterooms, a covered cockpit, and standing headroom throughout. This contrasts with smaller catamarans which may have a cockpit of some description and minimal accommodations but aren't designed for long voyages.
Speed: Catamarans are, by cruising standards, very fast, with an average cruising catamaran reaching speeds of 20 knots and more in perfect conditions. The superior speed not only reduces the time spent travelling from A to B but also enables the Captain to avoid bad weather and also reduces the amount of provisions that need to be stored onboard as they can be replenished more regularly.
Comfort and Stability:  Catamarans are well known for their stability and exceptional handling characteristics in comparison to traditional sailboats, this is particularly beneficial in rough weather.
Storage Space: Another great benefit of using a catamaran for a circumnavigation is the extra space in comparison to single-hull vessels of a similar size. The average cruising catamaran can accommodate at least 8 people and still leave plenty of space for storing food, emergency supplies, and personal items.
Safety:  The extra stability of a catamaran contributes significantly to the safety of the vessel. The two hulls mean that catamarans are extremely difficult to capsize even in the roughest of weather conditions. In the rare event that the catamaran does capsize it will float just as effectively, making it a viable life raft in a worst-case scenario.
Larger Living Area: As a feature of their design, cruising catamarans boast a relatively large living area between the two hulls. This space usually contains a galley and a large sitting/dining area. For sailors on long voyages, this type of space can provide an area of relaxation and respite from crewing obligations at least for a while.
Shallow Draft: Due to their design, catamarans don't need an extended keel and a benefit of this design is that they draw only minimal amounts of water making them perfect for shallow waters. Another benefit of the design is that they are easy to beach, making them the perfect solution for island hopping during the voyage.
Are there any cons to sailing a catamaran around the world?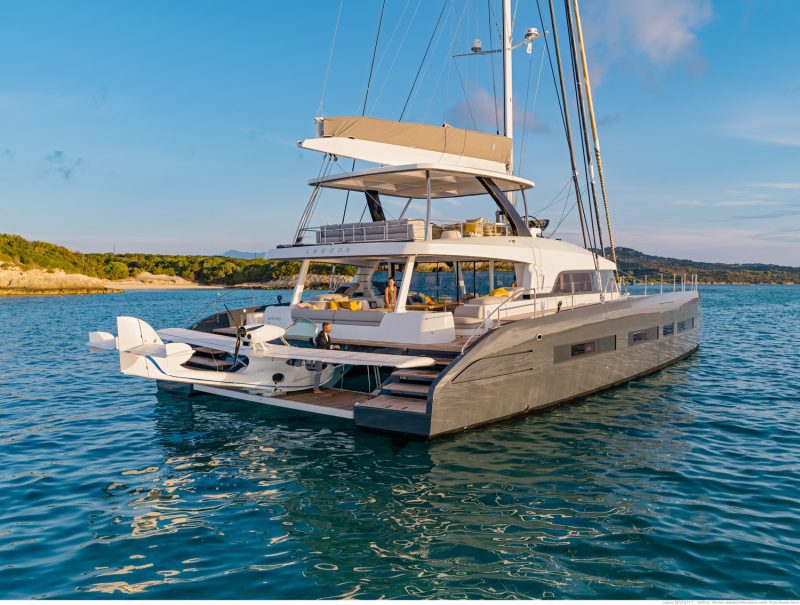 Although the positives of using a catamaran for a circumnavigation of the world far outweigh any negatives, it's important to note some of the possible disadvantages of the vessel. These potential issues should, of course, be addressed at the planning stage.
Size Limitations at Marinas: Although the size of a cruising catamaran presents zero issues when out on the open sea, some issues can occur when it comes to accessing marinas. Although boat design is firmly positioned in the 21st century the same can't be said about many marinas across the world which are not designed for doublewide boats. Prior planning and advice from the professionals at Simpson Marine can perhaps negate any potential docking headaches.
Structural Deficiencies: Although extremely rare and virtually unheard of by reputable and established yacht brokers, the design of a catamaran can make it vulnerable in certain places, specifically where the hulls meet the frame. To reiterate, the vast majority of catamarans are well built using quality components and tested extensively before they are sold or chartered.
The Verdict – Are catamarans the best choice for a global circumnavigation?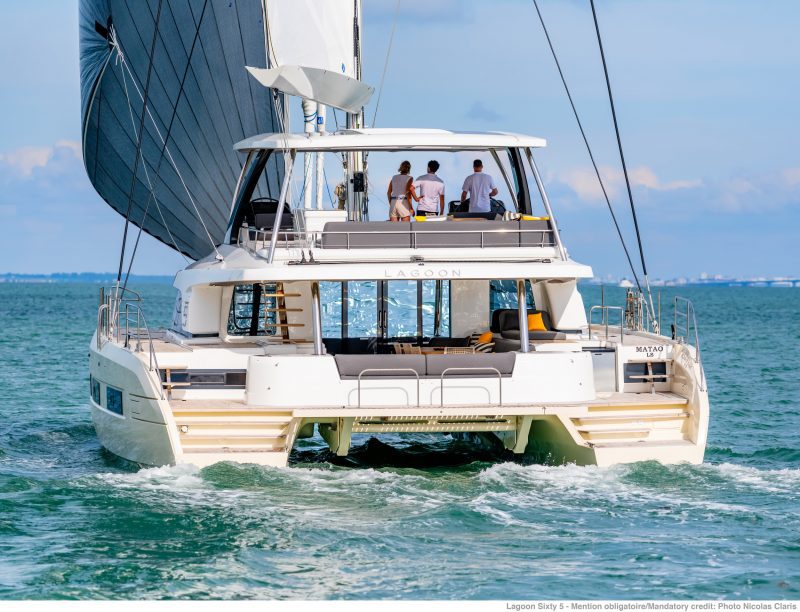 As you can see from the numerous advantages detailed above, a catamaran is the ideal choice of vessel for an around-the-world voyage. With key benefits including enhanced safety, comfort, speed, and stability there are few places you can't go with a catamaran.
If you are a confident and experienced sailor there's no reason why you can't start making plans today. Ensure your planning is as thorough as possible and get acquainted with the destinations you will be visiting as well as local maritime regulations and entry requirements.
If you need help purchasing or chartering a catamaran don't hesitate to get in touch with Simpson Marine, Asia's leading new yacht sales, brokerage, and service company. We are partnered with the world's leading yacht brands including Aquila Power Catamarans, Sanlorenzo, Fairline, and others, and offer new and preowned yachts and catamarans for all budgets and usage plans. In addition to sales, we also specialize in luxury yacht charters, yacht management, design, and refit. Our head office is in Hong Kong with regional offices in Thailand, Malaysia, Singapore, China, Indonesia, and Taiwan. Contact your local office or alternately refer to the contact information at the top of the page.