When browsing the market, it is easy to procrastinate when it comes to superyachts. With onboard facilities such as pools, helipads, jacuzzies, movie theatres, or basketball courts, how do you not fall in love with them? Throughout this article, we are going to feature five superyachts that will blow your mind!
The Rising sun
Built in 2004, The Rising Sun was designed by the late Jon Bannenberg and constructed by Germany's Lurssen. Since 2010 it has been owned by the record company mogul and founder of DreamWorks, David Geffen. It has hosted the likes of Leonardo DiCaprio, Paul McCartney, Bruce Springsteen, Julia Roberts, Oprah Winfrey, and Steven Spielberg. At $400 million, it is the ultimate entertainment space and has everything you could want for a long time at sea.
Regarding onboard entertainment, this superyacht comes with its own sauna, spa, gym, pool, wine cellar, cinema, and basketball court that doubles up as a helipad. Who could be bored on a long voyage with all of this at their fingertips?
The rising sun is a whopping 454 feet (138 metres) in length. With four × MTU 20V 8000 M90 diesel engines, it has a cruising speed of 26 knots.
She is the 11th largest yacht built by Lurssen and the 21st largest in the world. It has 82 rooms on board and enough cabins to accommodate 45 crew and 16 guests.
This luxurious superyacht hit the headlines in 2020 during the coronavirus outbreak when Geffen utilised the vessel for the perfect Isolation pad. It turned out to be much more useful than somewhere to host lavish parties.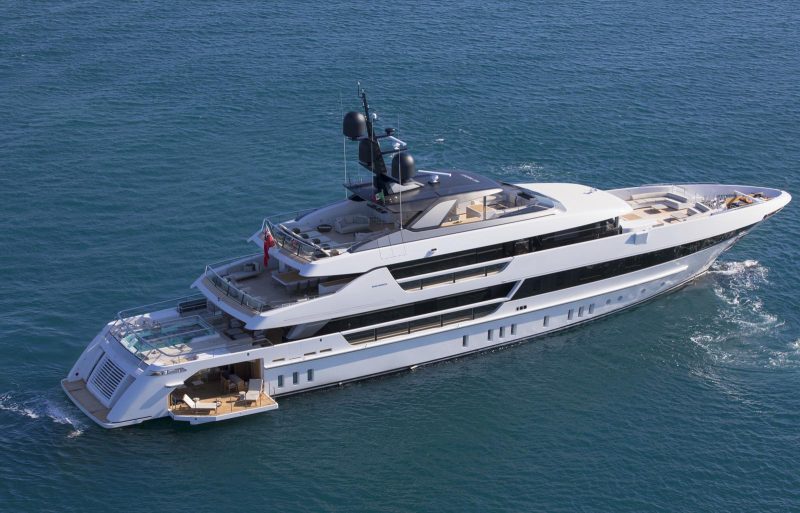 This award-winning, five-deck superyacht is one of the finest on the market. It is a fantastic addition to the Sanlorenzo range and offers space for endless customisation possibilities. The interior is designed by Officina Italiana Design, combining white, beige, taupe and browns to create an elegant and breezy feel. It is powered by twin 3512C Caterpillar engines, which gives it a maximum speed of 17 knots and a cruising speed of 12.5.
Some of the unbelievable features onboard this magnificent superyacht include a floating staircase constructed from glass and white marble, a fully equipped gym, a jacuzzi, and a glass-bottom swimming pool.
The glass bottom pool is positioned on the main deck, directly above the beach club, letting in as much natural light as possible.
A spacious bow lounge at the front features cosy and irresistible furnishings from Paola Lenti.
This 52-metre (170.6ft) superyacht can house up to 12 guests over its many cabins, which include one master, two double berths, two twin rooms, and two Pullman berths.
One great thing about the 52 Steel is that it is readily available to purchase, and there are three currently built in the La Spezia facility.
The Dream Symphony 
This superyacht built by Dream Ship Factory is one of the newest and most unique superyachts out there. With designers like Dykstra and Ken Freivokh, it is sure to surpass any expectations one has. The Dream Symphony is 141 metres (463 ft) in length and is made entirely from wood, making it truly one-of-a-kind. So much so that it inspired scientific research projects at Italian universities and Dutch laboratories to ensure its build was even possible. This four-masted schooner-rigged sailing yacht is the largest in the world and has been dubbed the greenest superyacht out there. The owner is still unknown, but we are sure it won't take long until we see this stupendous yacht in action. Two diesel-electric engines will power her with a top speed of 19.5 knots.
The back of this grand vessel is reserved for the owner's apartment, which is split across two levels and features a spiral staircase. The master bedroom, private lounge and bathroom occupy the lower deck, with a saloon and office on the upper deck.
Other features of this superyacht include a double-height swimming pool, outdoor movie theatre, a helipad that can be used as a dancefloor, hair and nail salons, a gym, a massage room, a large spa, and meeting rooms. It can accommodate 18 guests and 32 crew. Sure to blow the minds of all that step on board, The Dream Symphony looks to be an astonishing superyacht.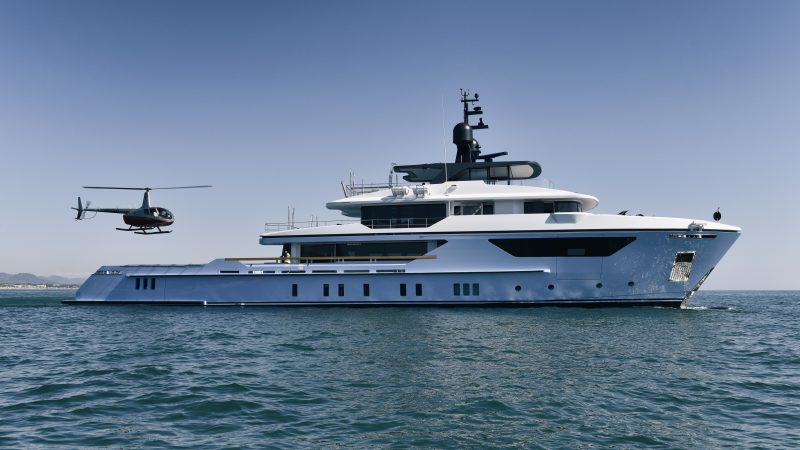 This 47-metre (154ft) superyacht is the newest and most significant addition to Sanlorenzo's luxury explorer yacht range. Designed to voyage around the entire planet with a hardy design and twin CAT C32 ACERT engines, she can reach maximum speeds of 15.5 knots.
The owner's suite boasts an impressive lounge, his and her private bathroom and an office. As for guests, she has room for up to 10 people in two VIP suites and two twin rooms, all appointed with an en suite and situated on the lower deck.
Its key features include a helipad, an extended stern for extra storage, a garage for toys and tenders, a jacuzzi and a swim platform.
You can find a guest lobby, saloon, beach club, formal banquet area, a large alfresco dining area and sun loungers among the onboard areas. This superyacht is perfect for anyone with an eye for adventure.
Eclipse
This $500m superyacht is owned by Roman Abramovich and was delivered in 2010. It is a tremendous length of 162.5 metres (533ft) and can house a crew of 70 and up to 30 guests. It has an extensive list of onboard features, such as two helipads, several hot tubs, a disco hall, two swimming pools, three launch boats, and a mini-submarine.
Built by Blohm and Voss and delivered in 2010, it uses MTU 20V 1163 TB93 engines and can reach a maximum speed of 25 knots.
The guest lobby, indoor pool, and grand bedrooms are designed extravagantly, and the décor throughout creates a modern, bright, and cosy feel.
Unfortunately, this yacht isn't for charter, so the only way to experience its luxury is to ascertain an invitation from the Russian billionaire.
Do you want to see more?
If you'd like to see a fantastic selection of superyachts for sale, Simpson Marine has an extensive list from top boat builders worldwide. Whether you're browsing or thinking about your next purchase, we can show you what is on offer and help you with any questions you might have. Nobody knows yachts like Simpson Marine, and there are many more superyachts that will inspire you. Contact us at superyacht@simpsonmarine.com for more information.