The Simpson Marine Thailand team concluded their final event of the year at the Thailand International Motor Expo, where they exhibited a fleet of yachts at the Join Boat Platform booth. The event took place from 1-12 December at the IMPACT Challenger where the Simpson Marine, Simpson Yacht Charter, and Simpson Sailing Academy teams were present.
Simpson Marine booth at the 2022 Thailand International Motor Expo
Our teams had had the privilege of discussing new yachts, pre-owned yachts, yacht management, water toys and yacht charters, as well as Sailing Academy courses for power and sail boats to visitors that stopped by. On display were the Fairline F//LINE 33, the Beneteau First 18, a Highfield Patrol 860 and a selection of our best water toys for visitors to explore.
Fairline F//Line 33
The F//LINE 33 is an excellent cruiser sculpted for weekend adventures. She delivers an exhilarating experience and provides luxurious, relaxing spaces throughout, making her the ideal yacht to explore the Gulf of Thailand.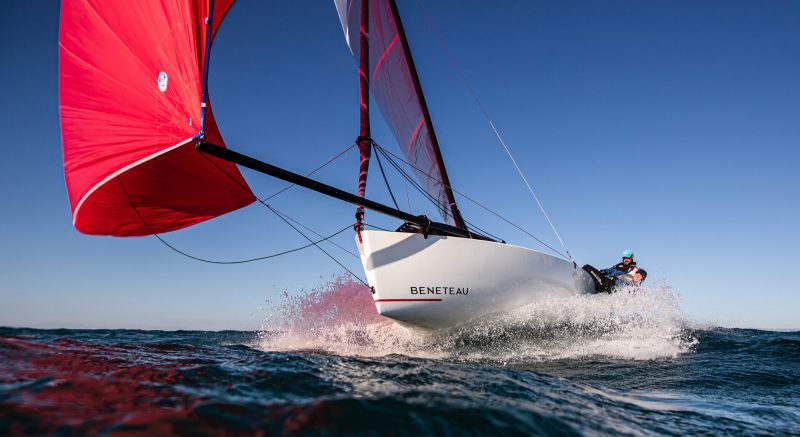 Beneteau First 18
The First 18 represents Beneteau's modern and fun gateway to keel-boat sailing. A wide, flat, and stable hull, ballasted swinging keel, gennaker snuffer system, a furling jib and minimised deck controls all enable an easy-to-handle and exciting planning and sailing experience.
Highfield Patrol 860
The Highfield Patrol 860 was designed to work both as a long-distance family cruiser or a hardcore work boat. Built to withstand the toughest of conditions, the Highfield Patrol 860 is an ideal pursuit craft or work boat that can be configured with different seating and console options.
For visitors keen to explore the yachting lifestyle, the Simpson Yacht Charter team were also present to share the very best holiday and new year packages. There is so much to explore in Thailand and chartering a yacht is an experience that is special and different to the typical resort holiday.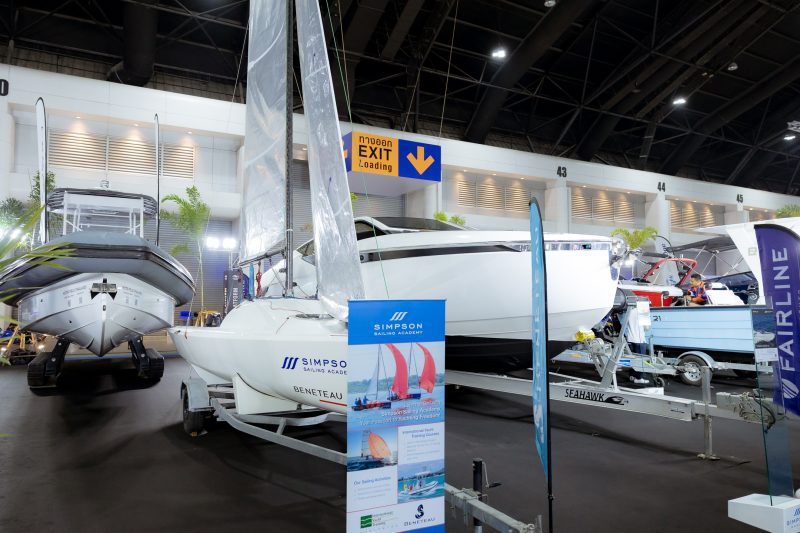 Simpson Sailing Academy at the Thailand International Motor Expo 2022
To help cultivate a stronger local yachting community, the recently launched Simpson Sailing Academy team was also on site to discuss their sailing courses on offer, ranging from beginner to advanced levels.
Yachting provides a safe sanctuary and a form of escapism to many, especially when visiting the beautiful islands that make up the Thailand Archipelago. We see the importance of promoting the yachting lifestyle in Thailand and support many different means of fostering the growth of sailing within the country.
Selection of water toys on display
As Asia's leading yacht dealer, Simpson Marine partners with world-renowned brands such as Sanlorenzo, Bluegame, Fairline, Beneteau, Lagoon, and Aquila – a wide selection of brands that suit everyone's yachting preferences, price points and needs. The Thailand International Motor Expo allows us to promote the ease of boating, and demonstrate how it can be enjoyed in comfort and privacy.
We were delighted to meet many new and old friends at the Thailand International Motor Expo 2022. Thank you to all who stopped by the lounge to spend time with us.
Our Simpson Marine Thailand team remains available to discuss all your yachting projects at thailand@simpsonmarine.com.