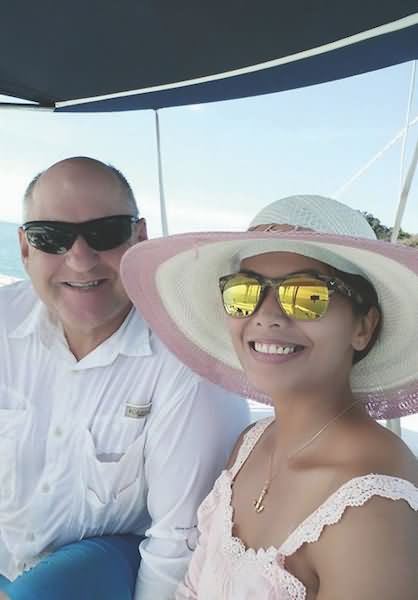 "As we shared our adventures with friends and family, it became apparent we would enjoy  the  added  space  and  stability  of  a  modern catamaran."
                  – Glenn Lewman
Our purchase of SY MOON SHADOW was the fulfilment of a lifelong dream. Like many fellow yacht buyers, we began the purchase process by educating ourselves online so we could  understand  what  was  on  offer.  We  had  previously
owned  a  yacht  –  having  purchased  a  Catalina  22  years  ago,  cutting  our  yachting  teeth  on  the  lakes  of  Oregon,  USA – so we had some confidence in knowing what we were after and purchased a half share in a Beneteau 390 called FAR FETCHED.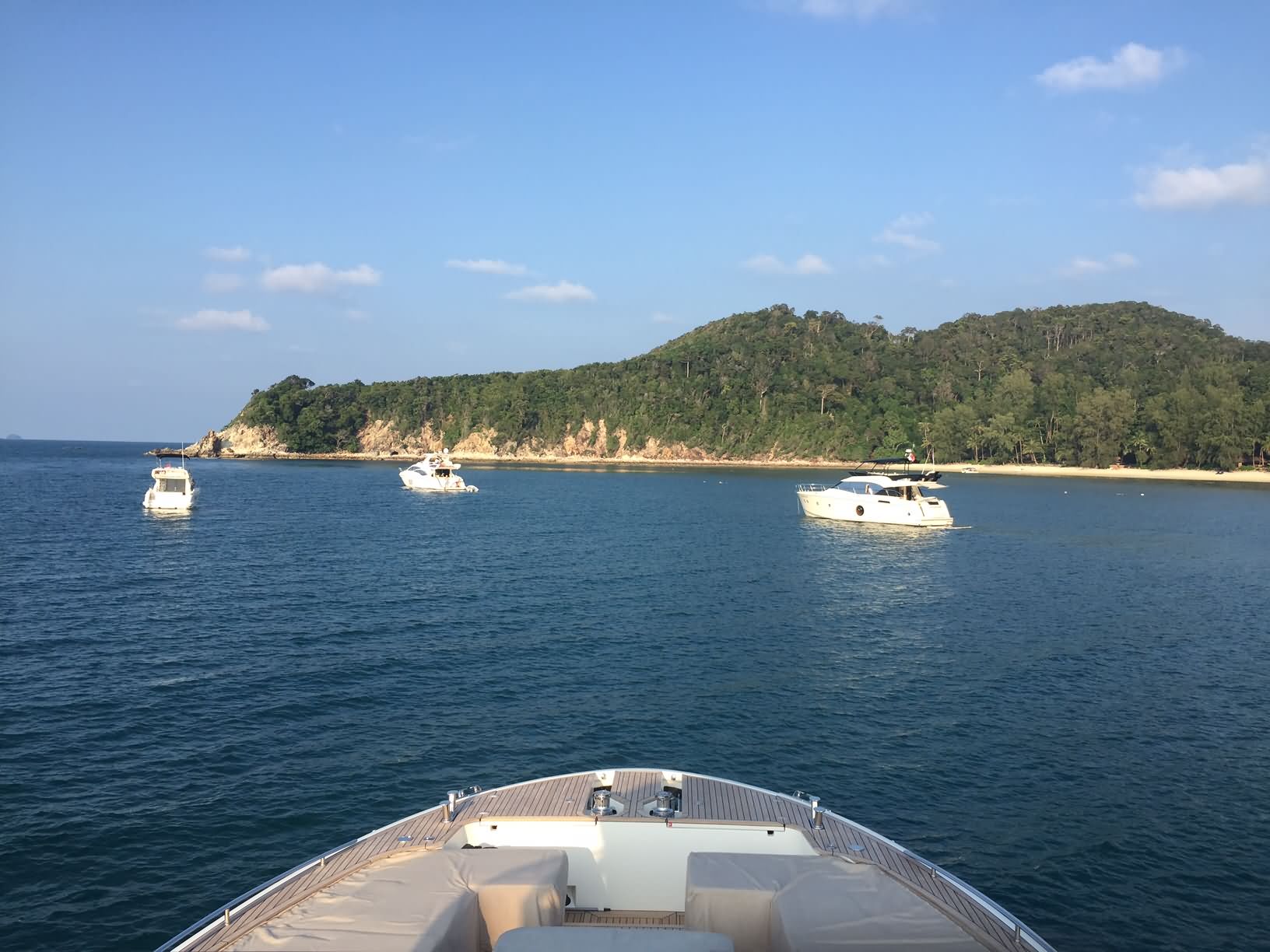 When we bought her FAR FETCHED was berthed in Airlie Beach, Queensland, Australia, and we had the wonderful opportunity  of  cruising  the  Whitsunday  Islands  before  sailing her to the Philippines. That voyage to the Philippines reinforced our love of cruising and we were truly bitten by the  live  aboard  bug.  As  we  shared  our  adventures  with  friends  and  family,  it  became  apparent  we  would  enjoy  the  added  space  and  stability  of  a  modern  catamaran.  We checked our finances and possibilities with our banker and  got  the  green  light  to  go  shopping.  That  was  where the fun began!
After  what  felt  like  endless  hours  of  internet  searches,  YouTube videos and boat inspections we found our dream boat, a low hour owner's version Lagoon 440. We had no idea of the good fortune we had stumbled on as the boat was listed by Paul Whelan at Simpson Marine. Paul was very  helpful  and  walked  us  through  the  process  and  his  professionalism and thoughtfulness was a comforting relief when making such a large purchase from half way across the world. We knew we were in  good  hands  and  the  service  before  and  after  the  sale  from  Simpson  Marine was an added bonus.
We  took  possession  of  MOON  SHADOW  on  my  birthday  at  Rebak  Marina, Langkawai, Malaysia. Now that is a birthday present! After some minor maintenance and additions we set sail around Langkawi across to Koh Lipe, Thailand as we cruised toward Phuket, Thailand. We were like kids on Christmas morning… it was all we dreamed of and more! Beautiful anchorages, fantastic diving, white powder sand beaches, great food and fascinating cultures, what is not to love?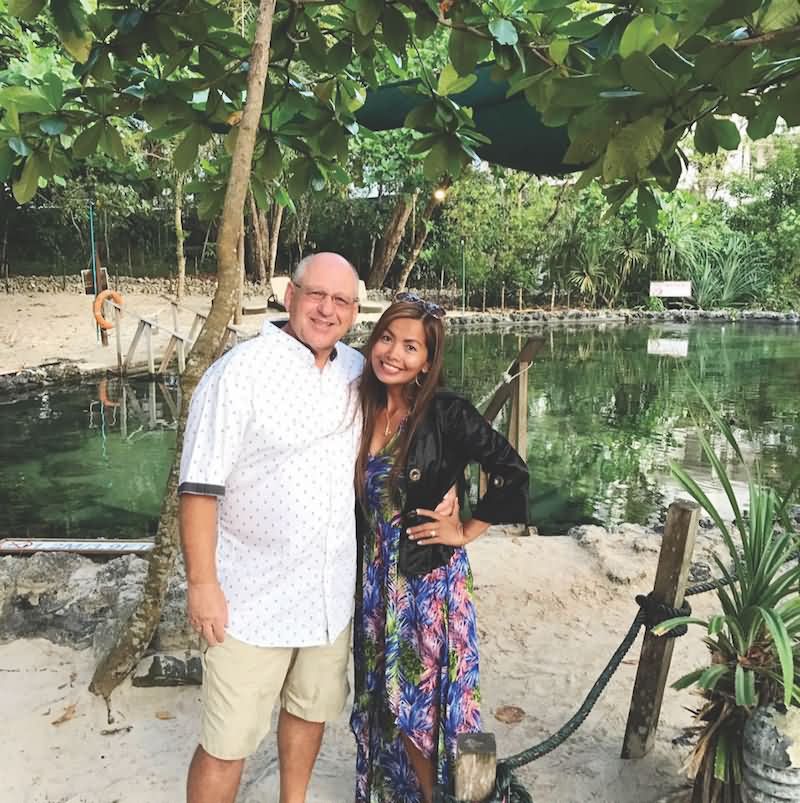 After  arriving  in  Phuket  we  ended  up  in  Ao  Po  Marina.  We  needed  to  do some additional service and to our continued good fortune, Simpson Marine  had  a  service  office  at  the  Marina.  We  met  with  Philip  Benson  who came to our boat to listen to our needs and was incredibly thorough and very patient. He arranged the appropriate technicians and had them visit us the next day. We were very impressed with the promptness and professionalism  of  all  the  services  provided.  I  cannot  recommend  their  service too highly.
We  left  Phuket  confident  for  the  adventures  to  come.  Our  plan  is  to  bring our beloved MOON SHADOW back across Asia to the Philippines and the islands of Micronesia. At the time of writing MOON SHADOW is currently on the hard at Kudat Malaysia with plans to enter the Philippines this October. Our journey took us from Phuket down the west coast of Malaysia to Singapore. From Singapore we sailed south to Nongsa Point Marina  on  to  Paula  Batam  Indonesia.  The  staff  at  Nongsa  Point  were  very  helpful  in  arranging  our  documentation  to  visit  the  Anambas  and  Nantuna  Island  Groups.  These  islands  were  the  jewels  of  our  journey;  seldom visited and remarkably untouched, I highly recommend all cruiser put them on their bucket list. Be sure to apply for the 60-day visa so you can explore at your leisure.
Spending time on the yacht is an amazing experience. We cannot wait to get back to our new home and forget what day it is.
Words: Glenn Lewman with Rubylyn Lewman, John Paul Lewman, Bruce Albert