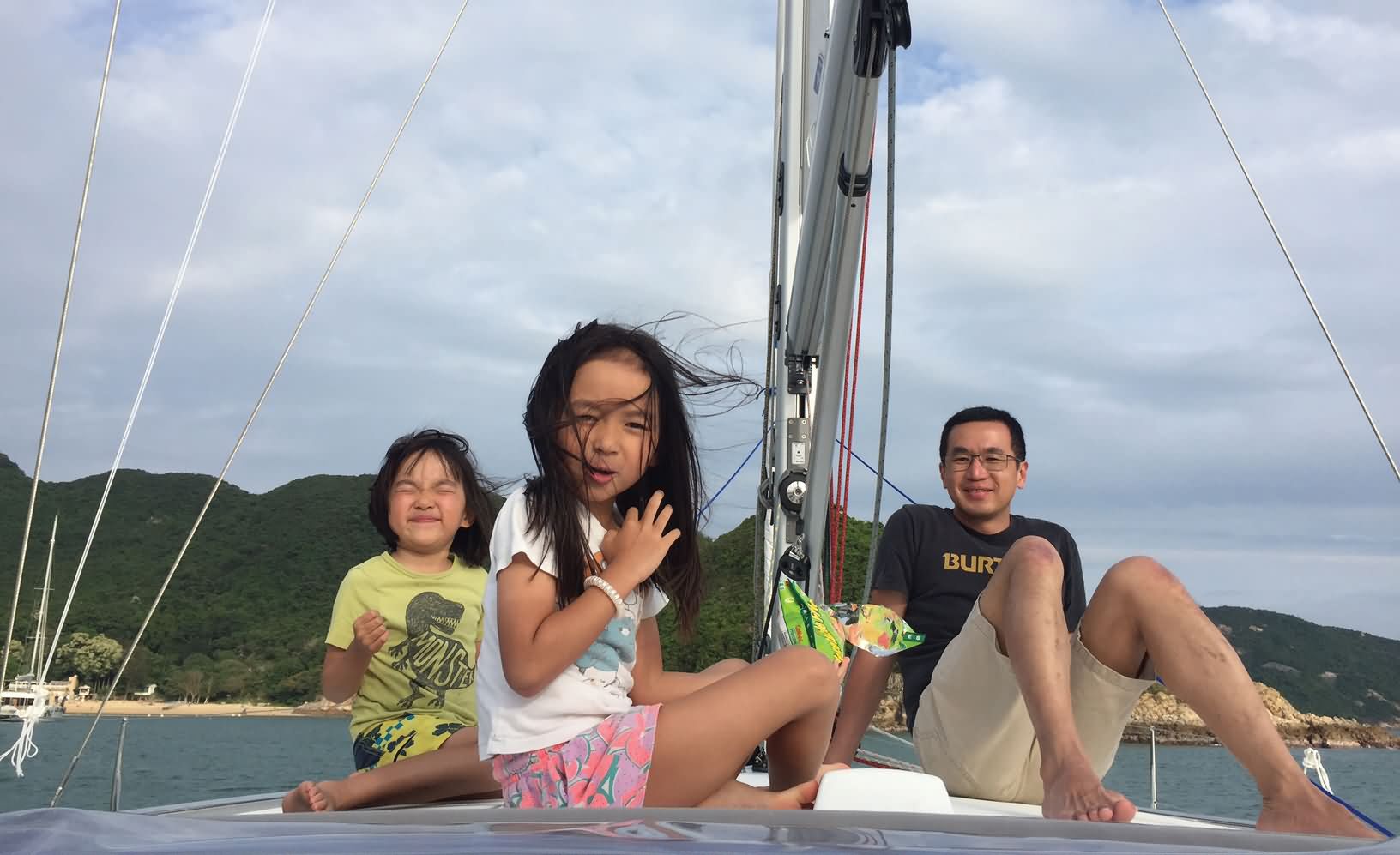 What boat do you currently own?
I currently own a Beneteau Sense 51.
What made you decide to buy this model?
I was initially looking at something a little smaller, maybe an Oceanis 45 or something similar, but I ended up being drawn to the spacious cockpit and saloon of the Sense 51, and found it is better suited to my family. The Oceanis line offers the potential for more cabins, but as I mostly plan to use my boat with my wife and two children, we don't need a four or five cabin layout.
Where is the boat based?
She is based in Aberdeen Typhoon Shelter, Hong kong.
How do you use your yacht?
So far, we have been using her for weekend day trips, but I have bigger plans for the future!
What is your favourite memory from time on your yacht?
So far, her unveiling was incredible. In late 2016 my family knew I was looking for a family sailboat, but they never found out I actually made the purchase. It was six hard months of keeping a secret, and then one day I brought them to the Simpson Marine Service Centre to "look at a boat I was considering," and I told them that the beautiful yacht tied to the pontoon was actually our family's newest addition! I will certainly never forget that, and there will be many great memories to come.
What has been your most memorable trip/experience and why?
My two young daughters love being outside, and especially love the water and going swimming. Hong kong can be crowded and I am grateful that we have a platform to explore the scenic natural beauty of this great city.
What is your favourite place on board?
The helm! From behind the wheel, I can see everything in front of me, including a beautiful yacht and my family having a great time.
Which asian cruising destination do you recommend to your fellow yachtsmen to visit?
We haven't ventured too far yet, but Turtle Bay (Southern Lamma Island) is a lovely spot.
What are your sailing plans for the coming years?
My dream is for my family to grow into the yacht. As I gain experience, and as my daughters get a bit older, I am eager to sail up to Taiwan and then venture into the southern Japanese islands. I have always wanted to sail to Ishigaki!
Why did you join the yachting community, what attracted you to this lifestyle?
I enjoy having the freedom of sailing to places that I like with my family. Yachting will also give us the opportunity to learn new things together.
If you could change your boat for another one day, what would be your next one and why?
I would very much like to get a 60ft yacht, especially once the kids become old enough to take part in the sailing.
And how about your experience of working with Simpson Marine?
It's just great to have Simpson Marine assisting me with the possibly complicated procedure of commissioning a yacht from France. The company took away all the stress and allowed me to enjoy the fun part of buying a boat. Simpson Marine's efforts also extend beyond the handover of the boat, and I appreciate the after sales support.
Tom Allen, Simpson Marine yacht broker in Hong Kong, presents a selection of boats to Gary and his family before they made their final choice