2020 was indeed an unprecedented year for everyone. We [Justin and Howard] were both caught in the same situation as everyone where we could not enjoy our usual summer return to the UK, yet we had to undertake the lockdown introduced by the Thailand government. We thought a boat might be a good way to enjoy lockdown in a positive way, which is how the idea of spending forced seclusion on a yacht came about. Usually, time restraints mean we are never able to venture on a long yacht trip, despite living in one of the best chartering locations in Asia. We thought it might be an enjoyable experience and indeed it was unique and great!
We started our journey sailing from Ao Po marina to Koh Yao Yai where we stayed at anchor for the first night, then we continued on to Koh Phi Phi where we knew that there had been zero Covid cases reported and thought that it would be a very safe island to hide out from the pandemic.
The whole onboard quarantine experience ended up stretching to 43 days and we made many special memories. During this time, we made the most of the entire yachting lifestyle by fishing, catching rain for drinking water, trekking on land, producing a YouTube cooking series – Cook, Eat, Repeat – and making new friends with the few remaining people (both Thai and Westerners) on the island of Phi Phi. We also spent time clearing plastic from beaches and teamed up with the divers on the island to help remove 20 tons of trash from the sea bed around the pier in Tonsai Bay. Seeing Phuket disappear in the distance and knowing that we were headed to the same place that "The Beach" was filmed was a special feeling. It was also remarkably odd to wander around deserted hotel resorts in Phi Phi, which all had a post-apocalyptic feel due to the lack of people.
Even though we were on a yacht, we were still working and whilst on our floating office we spent a lot of time working through client leads, attending Zoom meetings, and focusing on continuing to keep the commercial yacht sales operation in Thailand going. It was truly an experience unlike any other, albeit a great way to savour the incomparable world of yachting and life at sea.
What was your sailing route like?
We sailed from Ao Po marina to Koh Yao Yai where we stayed at anchor for the first night, then we continued on to Koh Phi Phi.
How many days did you spend onboard?
We were onboard for 43 days from 28 March to 8 May.
What was the most unforgettable memory onboard?
Two of the most unforgettable experiences were having a Thai gunboat approaching us, which was a little worrisome as we thought the Thai gunboat might want to turn us out of Thai waters or have us back onto the high seas. It turned out that the Thai gunboat was just making their way towards a fishing boat anchored near us, to get hold of their dinner. Another unforgettable memory was watching the movie "The Beach" while at anchor at the exact same location.
How was Justin as a traveling partner? / How was Howard as a traveling partner?
As we are both from military families, we were able to adapt to our constantly changing situation with relative ease and we could make the best of things and enjoy our time on board.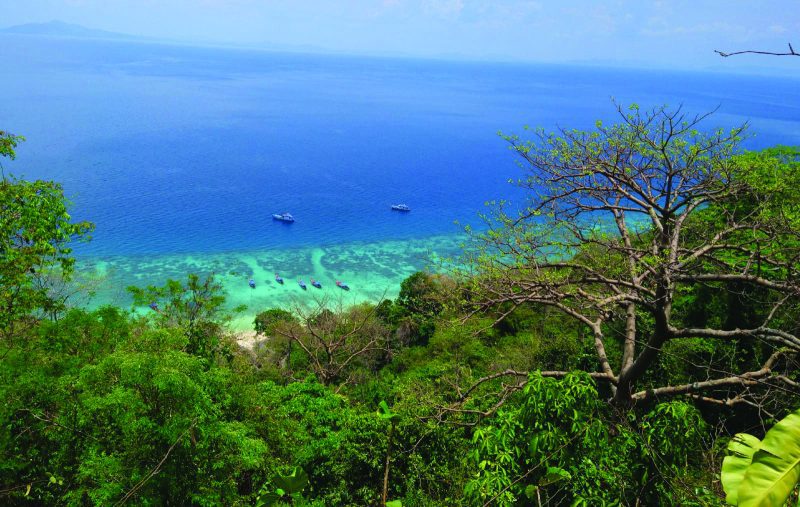 What was the best sailing destination during your journey?
Taking a longtail to Maya Bay to see "The Beach" when we were the only boat in the bay and the rest of the world was locked down.
What did you bring onboard that you think was the most essential item?
My Leatherman multi-tool pocket knife, large stores of water and pasta, my phone with Navionics, anchor safe app and other nautical apps… Oh and cold drinks!
Why did you choose to do lockdown this way?
It seemed like the perfect opportunity to spend extended time on a yacht, and pass quarantine in an enjoyable and unique way.
Was there any thrilling moment during the entire trip? We made so many memories during our time on board. Hiking up to viewpoints on the island of Phi Phi and witnessing incredible views of the island with no other tourists present and learning how cashew nuts grow was pretty unique. If there is one thing you could change during the trip, what would it be? Having AC on the yacht. The temperature was sometimes 28 degrees overnight and very humid. You also could not sleep outside for fear of being a mosquito feast.
Would you do this again?
If, heaven forbid, we have another pandemic, I would definitely do this again. But next time with our individual partners in order to share this special experience with them.