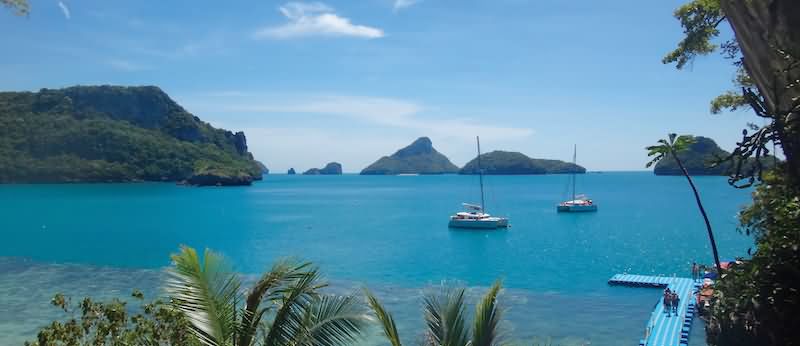 What boat do you currently own?
I  currently  own  two  yachts:  XIMULA,  a  Lagoon  400S2,  and  XIMULA  II,  a  Beneteau Oceanis 43.
What made you decide to buy these models?
I  had  a  small  powerboat  20  years  ago,  which  I  used  to  take  my  family  and friends out to Batam for weekend trips, but had to sell her. Owning a sailboat has always been at the back of my mind, and I'm fortunate to be able to revisit this dream 20 years later.
I  wanted  to  buy  a  sailing  catamaran  –  sailing  because  I  enjoy  the  thrill  of  experimenting with the sails; catamaran for comfort due to the space available on board, which was a huge bonus for when I am joined by family and friends.
After extensive research I chose the Lagoon 400S2 for its practical, thoughtful design and reliable quality. I contacted Simpson Marine in Singapore and, as my English was not good, I appreciated the help and guidance from one of Simpson Marine's Mandarin-speaking brokers.
Once we began chartering out XIMULA, it became difficult to plan overseas expeditions  for  ourselves,  but  there  were  still  many  destinations  that  I  wanted to explore and I also became interested in regattas. Hence, I bought XIMULA II, the Oceanis 43, from a good friend.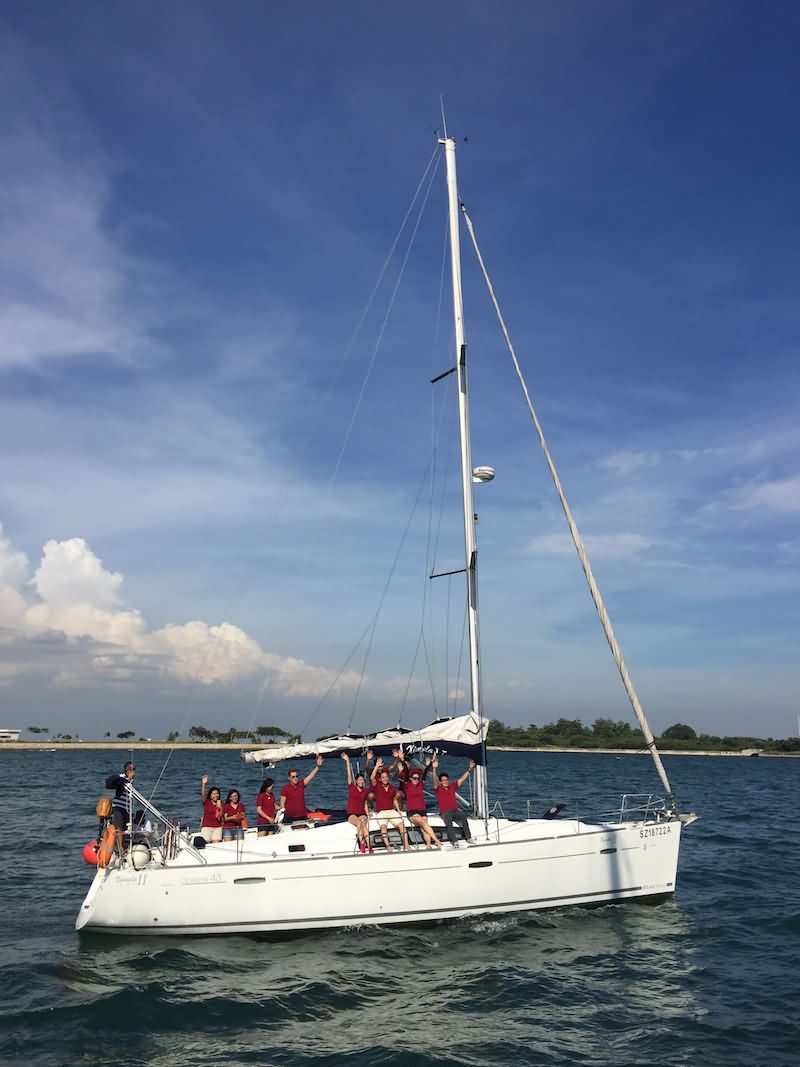 Where are the boats based?
XIMULA is based at ONE 15 Marina Club, Singapore. XIMULA II is currently based in Phuket for a year, so that I can explore all the breathtaking islands around Phuket at my own pace.
How do you use your yachts?
When  I  first  took  delivery  of  XIMULA  in  2013,  I  took  her  out  almost  every  day  with  my  family,  friends,  staff  and  business  associates  to  explore  the  Southern Islands of Singapore. I also sailed together with my family to many beautiful  neighboring  destinations,  such  as  Pulau  Tioman  and  Sibu,  the  Anambas Islands, Koh Lipe and the other islands in Phang Nga Bay.
Later, we realized that there was significant opportunity to rent out XIMULA for  charters  around  Singapore.  Despite  our  country  being  surrounded  by  water,  many  locals  are  unaware  of  the  boating  lifestyle  here  and  charters  became a great way for us to share our passion for sailing. XIMULA is now being  used  for  charters  around  Singapore,  under  the  brand  XIMULA  Sail  which is helmed by my daughter, Minqi.
By contrast, when I first bought XIMULA II, my staff and I spent most of our time on board practicing and participating in local regattas and although we never won, these friendly races were always a great experience for all of us, and we got to meet many sailors from all over the world.
Now, XIMULA II is based in Phuket, and I fly over at least once a month, whenever my work schedule permits. My staff also take turns to take time off work and fly over to join me and go sailing around the islands over there.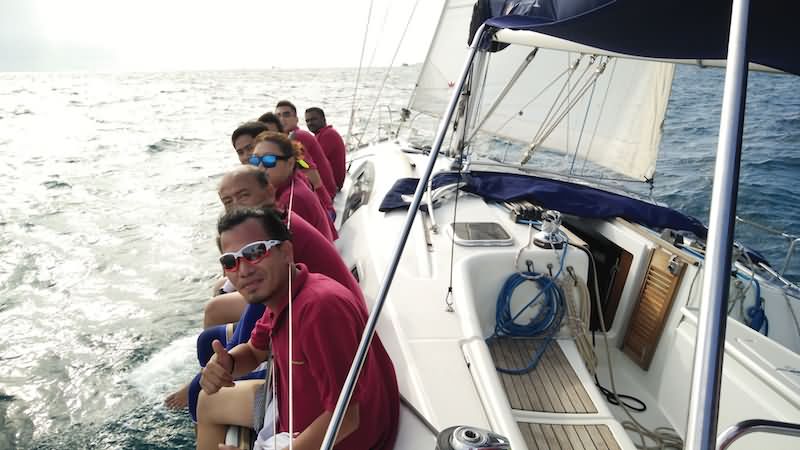 What is your favourite moment from time on your yachts?
Definitely  the  moment  when  we  have  hoisted  all  our  sails  to  harness  the  power of the wind and have switched off our engines, and all we can hear is the sound of the waves as we sail. This is such a serene moment, one I believe every sailor lives for.
What has been your most memorable trip/experience and why?
There  are  too  many  memorable  experiences!  I  could  talk  about  them  all  day  and  never  finish.  But  if  I  were  to  choose  one  to  share,  it  would  be  enduring a 60-hour journey from Pulau Redang, Malaysia to our destination, Koh Samui, Thailand, plagued by endless thunderstorms of 70-knots wind and  4-metre  waves.  It  was  a  long  and  terrifying  encounter  and  I'm  glad  we  survived  it  as  it  showed  me  that  it  was  possible  to  sail  through  such  challenging  conditions.  It  also  made  me  realise  there  is  still  a  lot  to  learn  about utilising our sails to stabilise the boat in the midst of pounding waves, and taught me to be better equipped.
What is your favorite place on board?
When  we're  under  way,  my  favorite  place  is  definitely  at  the  helm.  Once  we're anchored, I love sitting on either of the little chairs at the bow corners of XIMULA, just enjoying the breeze and scenery.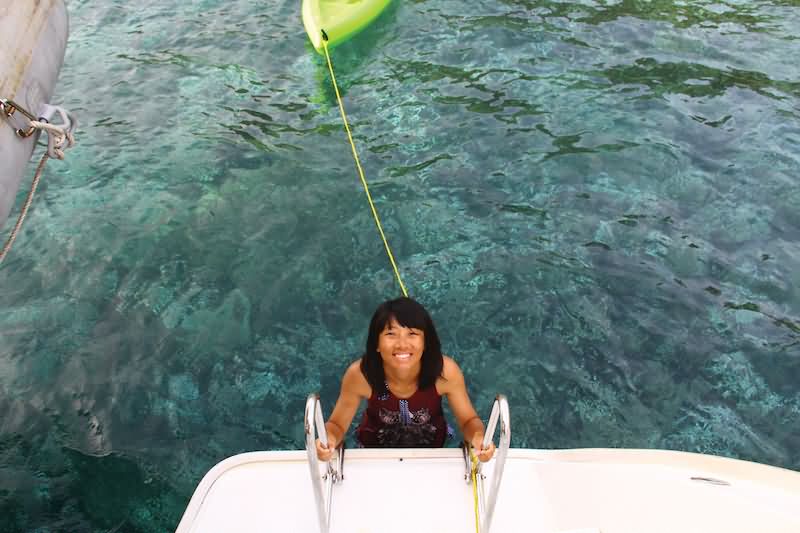 Which  Asian  cruising  destination  do  you  recommend  to  your  fellow  yachtsmen to visit?
It's  difficult  to  choose  one  particular  destination,  so  I'd  recommend  the  journey from Langkawi through Phang Nga Bay to Phuket, where there are so many gorgeous islands, such as Koh Lipe, Koh Rok Nok, the Emerald Cave of Koh Muk, the many Hong's at Koh Phanak, and more.
What are your sailing plans for the coming years?
I still have many places I'd love to explore. Having covered most of Malaysia and Thailand, I'm planning to spend more time exploring Indonesia over the next few years. We recently joined two convoys organized by Nongsa Point Marina to the Tambelan Islands and Lingga Islands in Indonesia, and hope to do more of these. After familiarising myself with navigating in Indonesia, I hope to sail further to Bali and Lombok.
Why did you join the yachting community, what attracted you to this lifestyle?
I  am  an  adventurer  at  heart  and  my  friends  know  that  I  have  unlimited  energy  when  it  comes  to  exploring  new  places  and  untouched  islands.  Sailing  enables  me  to  travel  to  beautiful  destinations  that  I  cannot  reach  by plane. The freedom and serenity out at sea is a feeling that cannot be experienced elsewhere.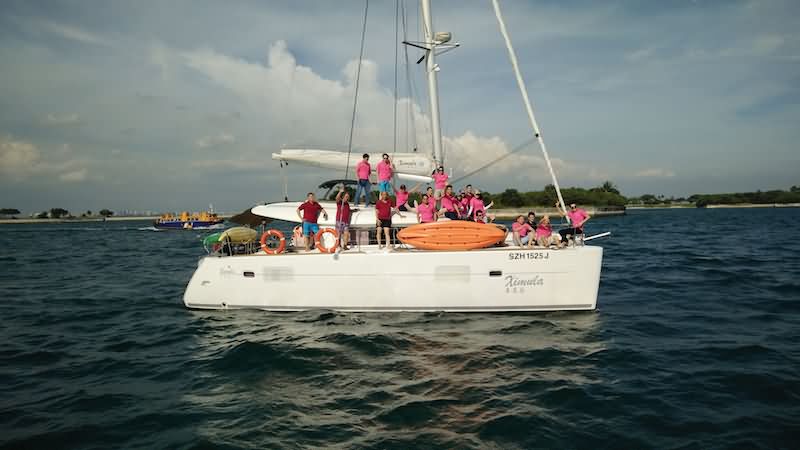 If you could change your boat for another one day, what would be your next one and why?
I love catamarans for the luxury of space they provide so I would consider a slightly bigger catamaran, so that I can bring along more friends during my longer expeditions!
And how about your experience of working with Simpson Marine?
My  experience  with  Simpson  Marine  has  been  great  and  smooth,  from  comparing  the  various  models  to  the  purchase  to  the  after-sales  service.  Simpson  Marine  also  has  offices  in  many  parts  of  Asia,  which  provided  prompt technical support from across the region.