Every year in early December, the Nautic de Paris boat show assembles all sectors of the nautical industry to showcase the latest in nautical innovations and everything related to boating leisure activities. From Saturday 4 December to Sunday 12 December, Beneteau was present at the exhibition centre at Port de Versailles and hosted the world premieres of the First 44e and Oceanis 30.1e e-yacht models, showcasing significant innovations in sustainability in terms of their construction materials and propulsion systems.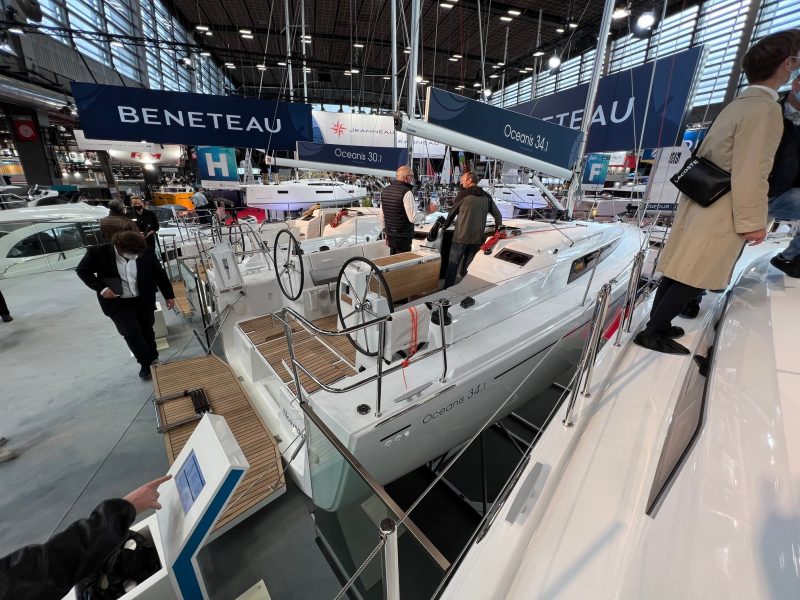 These two new offerings from Beneteau are the continued realisation of Groupe Beneteau's sustainability strategy, which looks at manufacturing processes and product development with an eye toward carbon reduction and eco-friendliness.
Recently honoured with a Boat Builder Award for Environmental Improvement, the First 44e is the first production boat to be built from recyclable Elium resin, as part of Beneteau's exclusive partnership with Arkema. Instead of teak, an exotic wood predominantly produced in Myanmar, the decking is made of Iroko from Forest Stewardship Council (FSC)-certified forests in Congo. The First 44e also has a Torqeedo series hybrid propulsion system, where two pods are powered by a 20kW battery bank that can be recharged in harbour or at sea with a diesel generator.
An electrified version of the Oceanis 30.1, the Oceanis 30.1e was also launched at the Nautic de Paris. The Oceanis 30.1e uses an all-electric Torqeedo pod engine, with a 5kW battery that can also be recharged in harbour or by solar panels. Beneteau is currently considering rolling out the materials and technology used on the First 44e and Oceanis30.1e on an industrial scale for production models.
Yann Masselot, Managing Director of Beneteau, said: "Reducing the environmental footprint of the nautical industry is a succession of challenges and small steps. Each innovation involves inventing valid technical solutions, creating partnerships, making investments, and, of course, receiving the support of customers. A demand for a new style of sailing is emerging. It is our responsibility to pave the way and not to impose changes in the way we sail, but to make them possible."
The display of successful Beneteau models and new e-yacht was also present at boot Düsseldorf, which ended on 29 January 2023.
For any information on the new electric models by Beneteau, please contact our team at beneteau@simpsonmarine.com.