For nearly four decades Lagoon Catamarans have been the world's number one catamaran builder and preferred brand with over 5000 vessels delivered globally. In Asia, Lagoon has long been an extremely popular choice for boat owners and this trend has continued over the past year. We have witnessed a recent significant surge of interest in boating throughout Asia as it has become one of the best and safest ways to spend quality time with family and friends.
Boat owners are able to enjoy the world class diverse marine environment of Asia and beyond, accessing our 'Blue Planet's' treasures that are found in the seas and oceans. Many yacht owners have found their boat to be their own safe haven of tranquillity and serenity, allowing them to enjoy their own pace of life and rhythm aboard their catamaran – we have been privileged to assist them on this journey.
Lagoon Catamarans have many different features that help assist with this serene on-water lifestyle, including direct access to the sea from an extensive cockpit area that is well connected to a spacious saloon. This easy flow between spaces gives owners the freedom to jump straight into Asia's famous aquamarine waters from their own private floating island.
A catamaran has long been a popular choice for on board living, extensive cruising and chartering in Asia. Subsequently, Lagoon Catamarans are always highly in demand and, being aware of the shipyard's busy order book, we have secured four brand new Lagoon Catamarans available for quick delivery to Asia in 2021. This is the perfect opportunity to own a stylish and comfortable floating luxury loft at short notice. Now is the time – start your well-deserved unlimited sea-cation this year. The available models are: a Lagoon 42, two Lagoon 46s, and a Lagoon 50.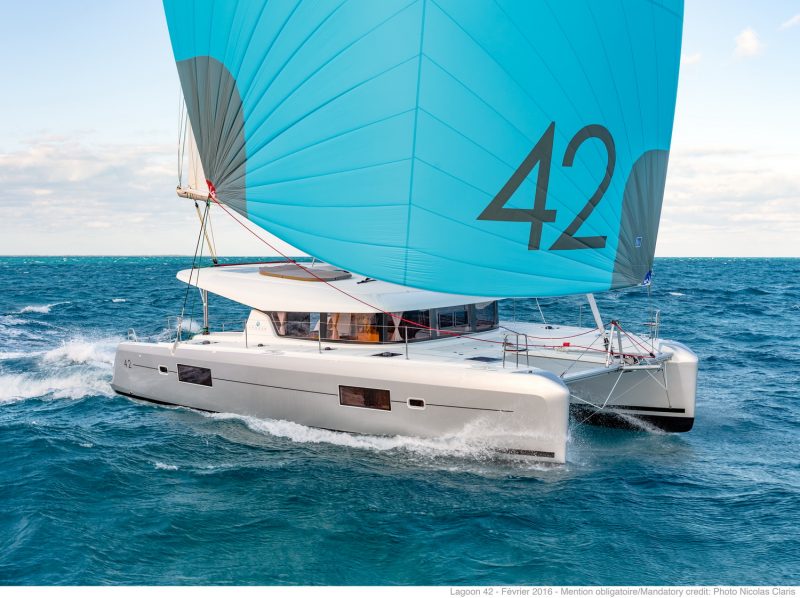 | | |
| --- | --- |
| | |
Available in 3-cabin version, the Lagoon 42 boasts a structural revolution with completely new ergonomics that guarantee an excellent layout of space and fluid circulation on board. An incomparable connection between inside and out is made possible by her large bay window that occupies the entire width of the coach roof. Her clever deck plan sets the mast back and a self-tracking jib guarantees seamless sailing performance and an ease of use that offers the possibility of grouping all the key manoeuvres in one place.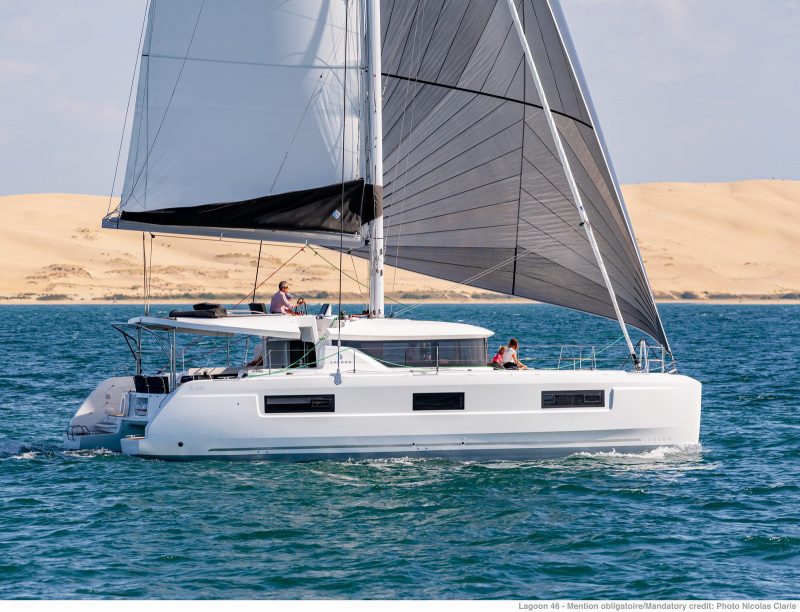 | | |
| --- | --- |
| | |
Building on the success of Lagoon 450, the Lagoon 46 has taken over as one of the most popular models in Asia and all across the world. Representing and reflecting the brand's benchmark of hedonistic and generous yachting – freedom and daring, good living and innovation – the Lagoon 46 boasts plenty of spaces and impressive volumes. Her interiors are refined, elegant, and functional. With large windows that welcome natural light inside, she makes on board living extremely relaxing and provides a sense of borderless space.
Simpson Marine has secured two of the Lagoon 46 models, with one in a 3-cabin layout and another with specifications still open to suit to the owner's individual preferences and needs. As the winner of the 'Best Multihull Sailing Yacht' at the Asia Boating Awards, the Lagoon 46's high performance and seaworthiness makes her a great option for both private use and charter investment.
| | |
| --- | --- |
| | |
The Lagoon 50 is all about comfort and functionality and is an attractive option for owners in search of a large, seaworthy and modern yacht. Her helm station, located on the flybridge, offers a panoramic view to the sea with easy access from two different entry points. A huge and modular relaxation area located behind this helm offers an added socialising area and a large hidden storage area in the same space is perfect for putting all the cushions away. A second cockpit makes perfect use of the foredeck with a double seat and deckchair function on the same level as the front trampoline. The rear cockpit opens to the sea, with wide and unobstructed aft skirts for easy access to the boat, and a modular dining area with removable benches is able to accommodate both small and large families.
Her interior boasts a generous volume and luminosity with every detail planned to create a warm and homely atmosphere. She offers unparalleled accommodation possibilities, with three, four, or up to six cabins available depending on the owner preference. This particular Lagoon 50 secured by Simpson Marine still has her specifications open.
We are available for all your enquiries and inspections/video tour requests at lagoon@simpsonmarine.com