Summer cruising is one of the best possible experiences of yachting freedom that can be enjoyed with family and friends. This is especially the case in the current climate when travelling still remains quite restrictive. While many of us will manage to get away for a short time in 2022, most of us will stay in Asia and enjoy yet another summer at home. With so many uncertainties in the world that make it difficult to plan time away, a boating adventure can always be relied upon as a holiday experience to remember.
At Simpson Marine, we have secured some attractive quick deliveries from Beneteau's Power range to help you get out on the sea easily and enjoy your spring and summer cruising, enjoying weekends and special celebrations on board.
Known for their innovations, comfort, style, and easy handling, Beneteau Power boats offer a range of models suitable for boaters of all levels and experience.  Choose your own boat and discuss delivery details with us directly.
Designed to make living on board a real pleasure, the Antares 8's exterior and interior fittings make coastal cruising feel effortless. The Antares 8 features a new flared-out hull that delivers wonderful driving sensations, while boasting excellent seakeeping. The dynamic V design of the hull clearly announces the boat's stunning aesthetic design. Its clever deck plan offers three different cockpit seat layouts.
The Beneteau Antares 8's outstanding liveability sets itself apart from other motor yachts of this size. The wheelhouse is accessed by a large sliding glass door, sheltering a well-equipped modular living space. A double-cabin is located below the wheelhouse at the bow of the bot. With ample storage and a shower ensuite, the Antares 8 is suited for weekend trips or overnight anchorages in your favourite islands and bays.
We have secured two units of the Beneteau Antares 8 with the model specification still open to suit your cruising lifestyle.
Surprisingly spacious and practical, the Beneteau Flyer 8 SPACEdeck offers a great amount of space and easy movement on board. A clever modular aft bench is easy to fold back, providing optimum cockpit space. Designed with a lot of ergonomic storage spaces distributed throughout the boat, the Flyer 8 SPACEdeck is versatile and perfectly suited to day boating usage. The optional in-built fishing station replaces the bench seat with a counter, live bait well, rod holder and various other fittings. An elegant fishing T-top completes the fittings, offering effective shelter from the sun and the rain.
The Beneteau Flyer 8 SPACEdeck is equipped with Beneteau's Air Step 2 hull that offers quick lift-off, comfort and great stability.  Specification for this model is still open for your selection.
The Beneteau Gran Turismo 41 is the brand's latest model in their express cruiser line. Known for her easy handling and beautiful profile, the Gran Turismo 41 offers luxury fittings and a clever layout that appeals to everyone.
The Gran Turismo 41 is designed to make living and hosting on board a dream. Everything on board is devised to make life easier and more enjoyable. This includes safe movement around the boat, a highly social U-shape saloon, a functional outdoor galley, and comfortable relaxation spaces.
The lower deck is extremely comfortable, making it ideal for cruising. In addition to the galley and the head, there are two closed-off private cabins, each with beds parallel to the boat's centreline, offering optimum quality of life on board.
High-performing and open to the elements by day, the Gran Turismo 41's generous spaces and peaceful atmosphere are comfortable and restful by night.
The specification for the Gran Turismo 41 is currently open for final definition.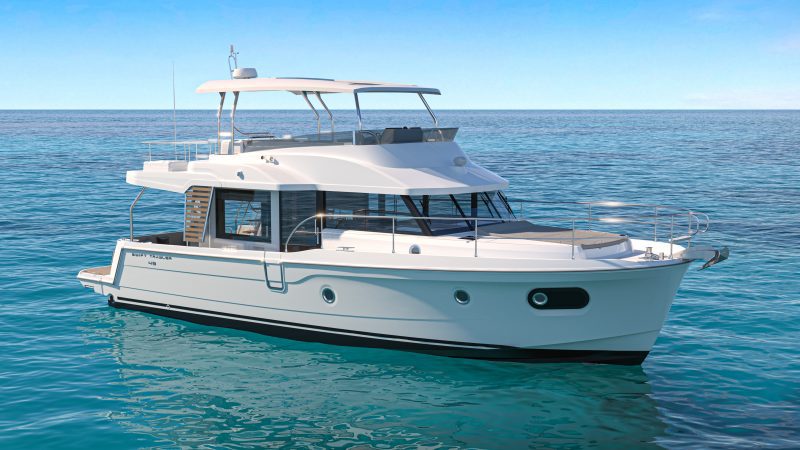 The Swift Trawler 48 is Beneteau's newest model from the Swift Trawler range. This is a strikingly stylish mid-range boat that features the new framed teak slat fashion plates – aligned with those seen on the new Grand Trawler 62 flagship.
The hull of the Swift Trawler 48 has been designed to optimise its performance at sea. The slender flared bow easily cuts through the water, resulting in efficient fuel consumption and safe handling. Her 1930 litres of fuel on board allows owners to cruise a range of 600nm+ at 9 knots displacement speed or 280nm at 18 knots efficient planing speed whilst retaining a fuel reserve of 10%. This in combination with 640 litres of fresh water allows for considerable autonomy away from the dock.
The exterior of the yacht is as impressive as its specification. With a folding table and two chairs located at the aft cockpit, owners and guests alike will delight at the large bench seat which maximises the indoor and outdoor living space. The transom double gate opens onto a large swim platform with an optional hydraulic lifting system able to carry a 350kg dinghy. Simple well-designed features such as the bathing ladder with swimming pool handrails ensure a direct path to the sea.
Her generous 20sqm flybridge floor area gives the space to create a comfortable setting to enjoy the panorama of the sea at any time of the day and a large enough space to place sun loungers or paddleboards. The backrests either side of the pilot seat allow plentiful forward facing seating during passage making.
Entering through the patio doors there is a large L-shaped galley on the portside aft with a full height 255-litre fridge freezer and large overhead lockers outboard. Forward of the galley is a large raised U-shaped dinette providing plentiful seating for up to eight with great views all around and in social proximity to the helm. In the lower accommodation, the forward owner's cabin features a double berth that lifts up to reveal plentiful stowage underneath.
The brand new Beneteau Gran Turismo 41 is available with quick delivery to Asia with the specification still open.
Asia's first Beneteau Grand Trawler 62 is set to arrive Hong Kong this spring. A 2022 European 'Powerboat of the Year' winner, the Grand Trawler 62 is designed for long cruises in comfort, with Beneteau's new flagship offering a remarkable range of over 1,000nm, and highly practical indoor and outdoor areas plus a plethora of storage spaces.
Designed by Massimo Gino (Nauta Design) and Amedeo Migali (Micad), the Beneteau Grand Trawler 62 features an impressive interior volume with a 31sqm saloon and a large enclosed galley. Her spacious 14sqm owner's suite and 3-cabin layout is the perfect yacht for a family. She accommodates six to eight people onboard, including crew, and has an outstanding 34sqm flybridge that is the biggest in her class.
Equipped with Seanapps technology that provides owners with maintenance operations and boat condition tracking 24/7, the Beneteau Grand Trawler 62 is an ideal choice for owners who have an adventurous and practical option in mind, allowing them to cruise in safety and total comfort.
To enquire about Beneteau boats in Asia and quick delivery of the models listed above, please contact us at beneteau@simpsonmarine.com