WHY JOIN OUR CHARTER OWNERSHIP PROGRAM?
The Charter Yacht Ownership Program is developed by Simpson Yacht Charter (SYC) to cater to the needs of our yacht owners, who want to enjoy their own yachting holidays without any of the hassles of daily yacht operations. In addition, the program enables the owners to turn their purchase into a long-term investment, with attractive yearly ROI.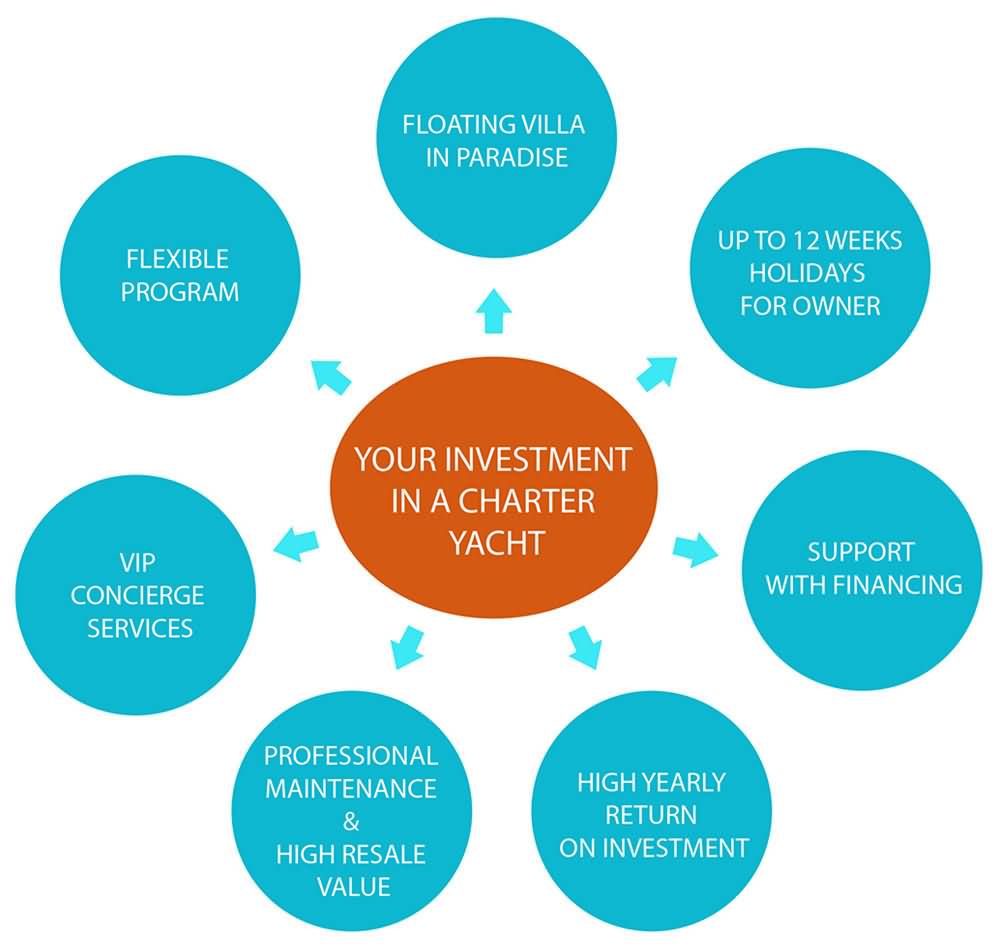 INVESTMENT IN A CHARTER YACHT
Your journey with all the benefits starts immediately once you place your yacht in our Phuket charter fleet for at least 60 months (with option to withdraw after second year).
FLOATING VILLA IN PARADISE
Your yacht will be your second home in Asia's most beautiful holiday destination – Thailand. You will enjoy up to 12 weeks of yacht holiday aboard your own floating villa exploring exotic archipelagos of the South-East Asia region.
HIGH YEARLY ROI UP TO 14%
The share of charter booking profit is 65% to the owner and 35% to SYC, which equals to an annual RETURN ON INVESTMENT up to 14% based on the charter booking agenda and yacht type. We offer you absolute transparency of all costings and the accounts book will confirm your flexible ROI.
PROFESSIONAL MAINTENANCE & HIGH RESALE VALUE
Fully looked after by our professional Simpson Yacht Care team, your yacht will be kept at its best condition at all times. This means longer usage years and better resale value in the future.
VIP CONCIERGE SERVICES
We offer Concierge Services during your holidays, with airport/hotel pick-up, personalised yacht setup, complimentary welcome package, Phuket charter guide with water sports instructors, and various activity programs.
FLEXIBLE PROGRAM
At the end of the contract period, experienced Simpson yacht brokers will assist you with advice on resale and investing in a new yacht, should you wish to continue enjoying the program. If you decide to withdraw during the contract, you are free to do so at the end of each season after the second contract year.
SUPPORT WITH FINANCING
We offer financing solutions with our own EPOWER program that allows for financing up to 80% over 10 years, depending on the case. Each proposal is tailor made so let's discuss today!
Almost convinced? Please contact our Charter Business Development Manager Reanna Wang at Reanna.wang@simpsonmarine.com to let us show you step by step how it really works.
The good news is that you can buy your dream yacht from Asia's longest standing yacht dealer, and also enjoy regular income while not using the yacht yourself. Can this get any better?