As yachting continues to grow in popularity in Hong Kong, Simpson Marine's Founder and Managing Director Mike Simpson has rejoined the ranks of active yachtsmen in the territory after recently taking ownership of a new Beneteau Oceanis 46.1 sailing yacht. With the current travel restrictions in both Hong Kong and wider Asia, Mike is looking forward to making the most of being in Hong Kong by enjoying the delights of time at sea on his beautiful new yacht.
Taking ownership of this Oceanis 46.1 was a logical step for Mike, who has an adventurous spirit and a longstanding fondness for sailing and 'freedom' at sea. Over the years Mike has sailed on various yachts on most of the seas around the world, being lucky enough to experience countless adventures and fascinating encounters. These adventures span from his early childhood until today, with his most extensive travels having taken place in the 70s and early 80s after his retirement from the British Army.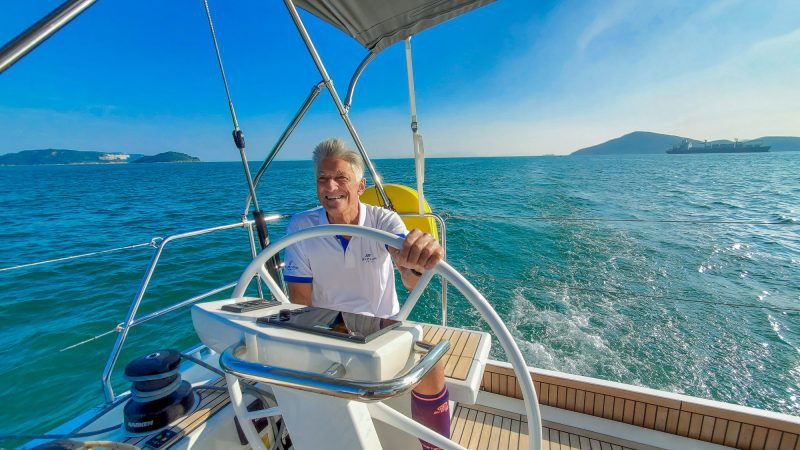 In fact, it was sailing that first brought Mike to Asia. Back in 1980 he came to Taiwan to build a yacht for himself and his girlfriend to sail around the world on. He reached Singapore on his first attempt and Hong Kong on his second but each time a 'dockwalker' fell in love with the yacht and made Mike an offer he couldn't refuse! On the third attempt Mike ended up selling his yacht in Singapore again and received an order for another yacht. In Mike's words "the penny finally dropped and I realised that I had stumbled on a business opportunity!"
So, in 1984 Mike decided to put his global cruising plans on hold for a while and set up a yacht business in Hong Kong. That business was, of course, Simpson Marine, which over the years has evolved into Asia's largest yacht sales, charter and service company spanning seven countries and counting 11 offices and service points.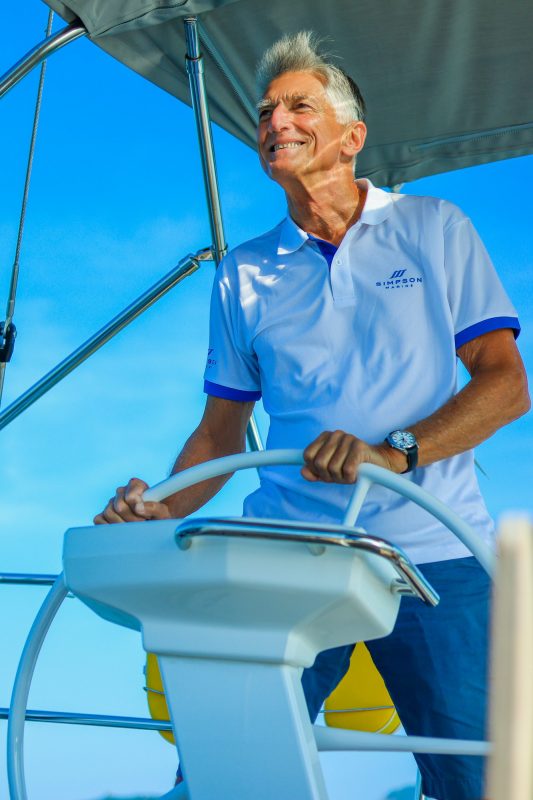 Having begun by selling Taiwanese built yachts from Ta Chiao on the Tamsui River near Taipei Mike took on the dealerships for HiStar motor yachts in Kaohsiung and Tashing sailing yachts in Tainan. Within a couple of years Mike joined hands with Beneteau, the world's leading boat builder, and became their dealer in Hong Kong.
As Mike recalls, "I was impressed with the efficiency of Beneteau's modern building methods and the resulting ease of maintenance of their yachts, which was a major benefit for Asia-based yacht owners. From a sales perspective I could also see the appeal of their modern lines and sailing performance among the club racing fraternity."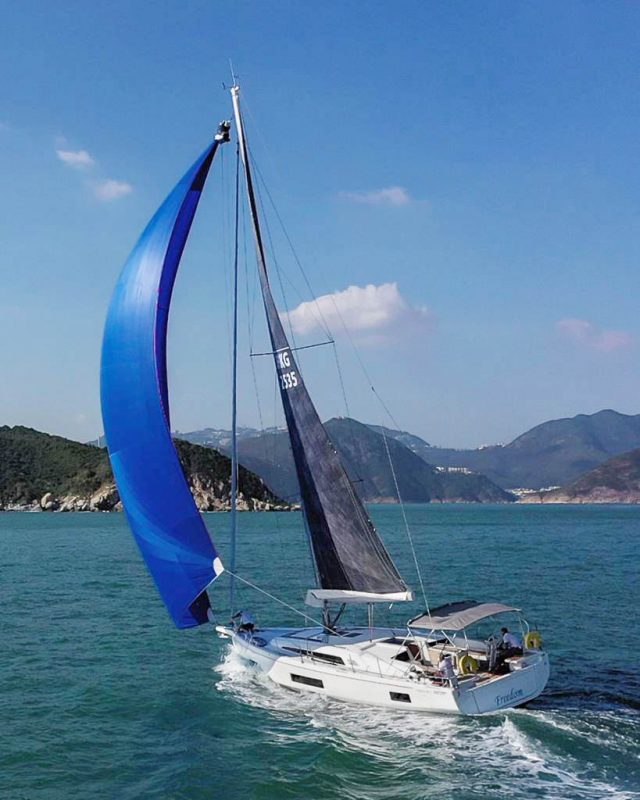 Over the years Simpson Marine opened offices across Asia and, despite up and downturns in the developing Asian Market, sales increased and the relationship with Beneteau Group grew stronger and stronger with Simpson Marine becoming the exclusive dealer for Beneteau and later for Lagoon in much of Asia. The Simpson Marine team has played an important role in building up these brands in Asia, where they enjoy a solid reputation among an ever-growing group of owners.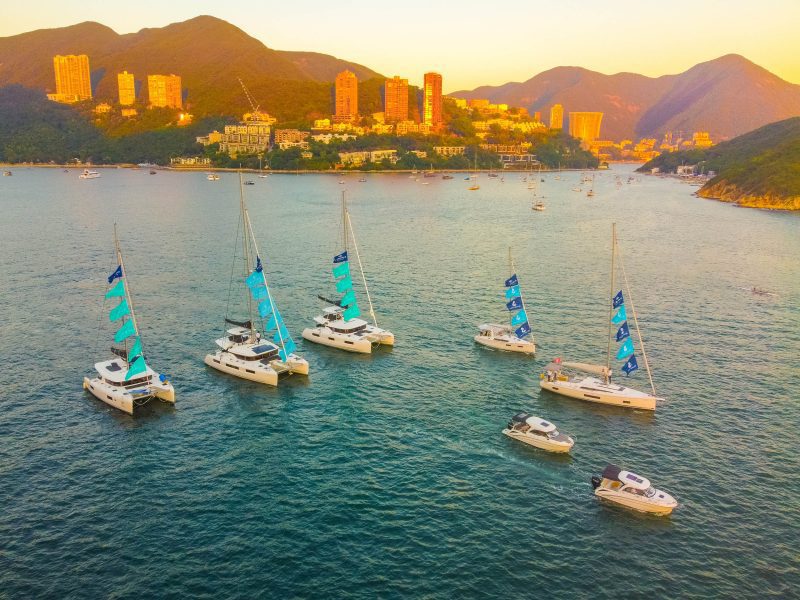 This new Oceanis  46.1 is the latest in a long list of yachts that Mike has owned in Hong Kong. The Alan Warwick designed CT38, on which Mike arrived in Hong Kong in 1983, was the first of a series of sailing and motor yachts he sailed down from Taiwan, lived aboard, demonstrated and sold during the early years of Simpson Marine. Subsequently he brought in many Beneteau sailing yachts to demonstrate and take part in occasional yacht club races, China Sea Races and to enjoy leisurely cruising with friends.
However, as Simpson Marine grew as a regional Group, Mike had to concentrate on running the business and he had less time to go sailing. Fortunately, he derived great satisfaction from sharing his passion for the sea with others and from helping others to realize their own 'sailing dreams.' This has been the driving force for Simpson Marine over the years.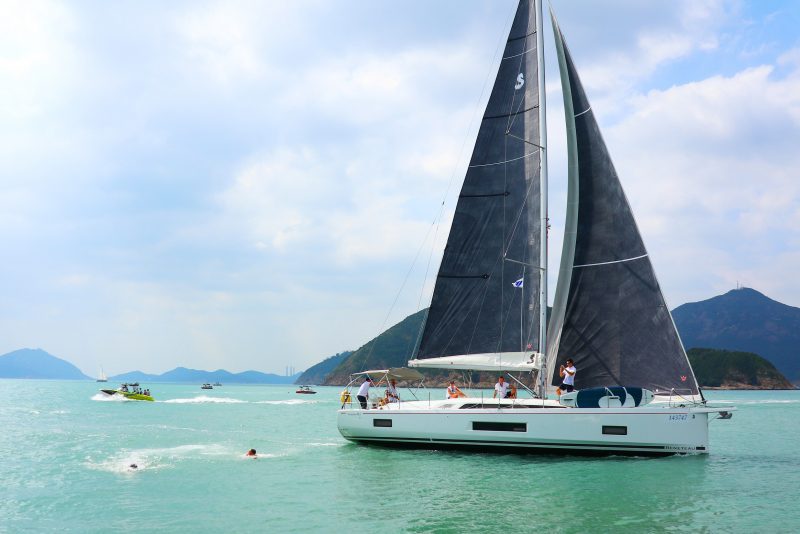 It has now been over 20 years since Mike had his own yacht, although he still has the vintage Windy speedboat that he uses to commute from his residence in Lamma to the office in the Aberdeen Marina Club. As Mike explained, he counts himself "very fortunate to be able to go boating twice every day on my way to and from the office, while I am in Hong Kong, but like so many people in lockdown and unable to travel, I decided it was time to get myself a real yacht again and go sailing. There's no better way to unwind after a busy week at the office than relaxing on the sea."
A perfectly timed opportunity arose when a Beneteau Oceanis 46.1 arrived in Hong Kong in mid-Summer 2020. It had previously been destined for the Philippines market but remained in Hong Kong due to travel restrictions during the pandemic. The yacht was finally declared available for sale by the owner and so, after a thorough inspection and specification check to ensure all was to Mike's liking, plus a sea trial with one of Simpson Marine's expert (and very persuasive!) brokers, Mike decided that the time had come for him to step into the world of yacht ownership once again.
With the yacht having been commissioned by the Simpson Service team and then fully equipped and made ready to sail by the Simpson Yacht Care team, Mike took his new yacht for her maiden voyage with a few friends and officially christened her "Freedom." This name evokes his perception of sailing as a pathway to freedom. A concept which is particularly relevant during this time of lockdown and restrictions. It also happens to be Simpson Marine's tagline "Yachting Freedom since 1984" – this is deeply anchored in the company's core values.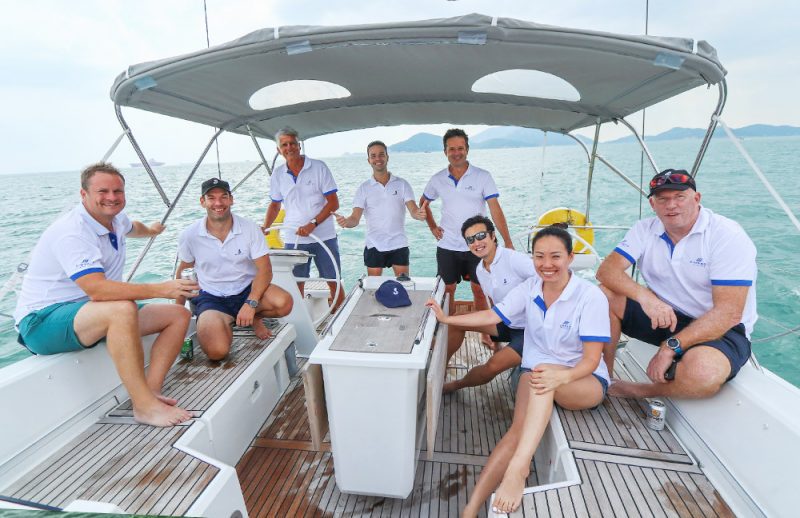 Now the few first 'shake down' trips on board "Freedom" have been completed, including racing in the Simpson Marine COA Race on 17 October with crew members from Simpson Marine and Beneteau Asia, Mike's adventure at sea in Hong Kong is only just beginning. Plans include revisiting Hong Kong's many islands and bays and its stunning marine parks and enjoying overnight trips with friends. He has even offered to take some of his hard-working Simpson Marine team out for the occasional cruise.
And who knows what else lies ahead for Mike and "Freedom"?  Maybe one day he will finally sail away into the sunset as he planned to do back in 1980…