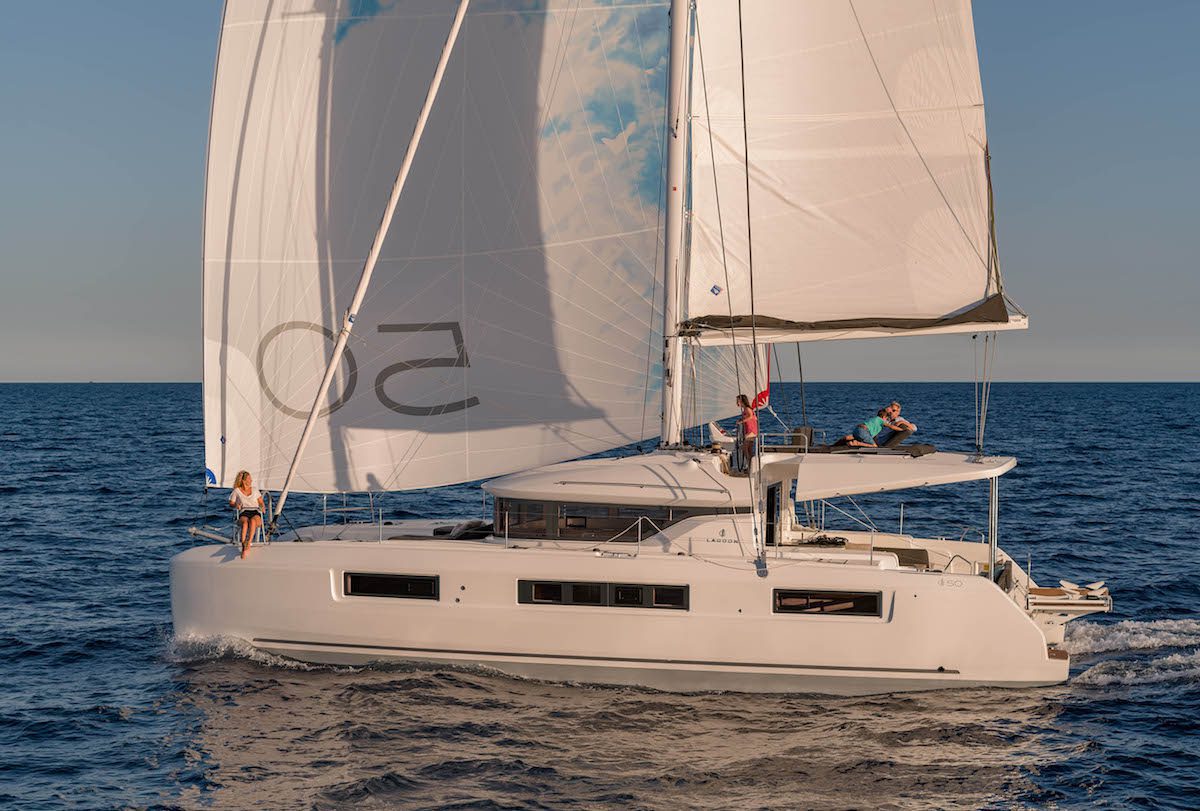 Eagerly awaited by catamaran enthusiasts, the Lagoon 50 is on her way to Asia now! This new Lagoon is the perfect compromise between the hugely popular 450 model and the Lagoon 52 released in 2016. She will be one of our notable Asia Premieres at the upcoming Singapore Yacht Show 2018, April 12-15.
The Lagoon 50 is an attractive option to sailors in search of a large seaworthy and modern owner's boat. With her new hull design and advanced sporty lines along with an easy handling rig and deck layout, the Lagoon 50 provides increased performance and easy handling. The Lagoon 50 as all the Lagoons we know and love is a very comfortable and practical boat with many cabin layouts to suit everyone's needs.
FEATURES YOU WILL LOVE:
COMFORT ON BOARD
Remarkable volume and comfort in the hulls with particular attention to storage spaces; cabins with island bed berths forward and aft, large storage volumes, hanging lockers, and open bookcases. So bring all your favorite things on board – you are sure to find room to store them!
Internally her innovative saloon concept provides two separate but cohesive areas: a large galley that opens onto the cockpit on one side, and a slightly elevated lounge area for enhanced vision over the water
Easy and fluent communication between the interior and the exterior: the central panoramic windscreen is retractable, which is ideal for ventilation of both the saloon and the cockpit, and also enables interaction with the forward area
Large cockpit facing out to the sea with a big modular dining area featuring dining table, ample sofas, removable benches and storage
Large stern skirts for easy access to the boat and swimming
A second cockpit for further enjoyment of the foredeck with dual function: seating or deck chair position, flush with the forward trampoline
Vast storage spaces under most of the cockpit and flybridge seats
Two secure access points to flybridge for best visibility and comfort
Huge modular recreation area within flybridge's helm station for sitting and lying arrangements, all with dedicated storage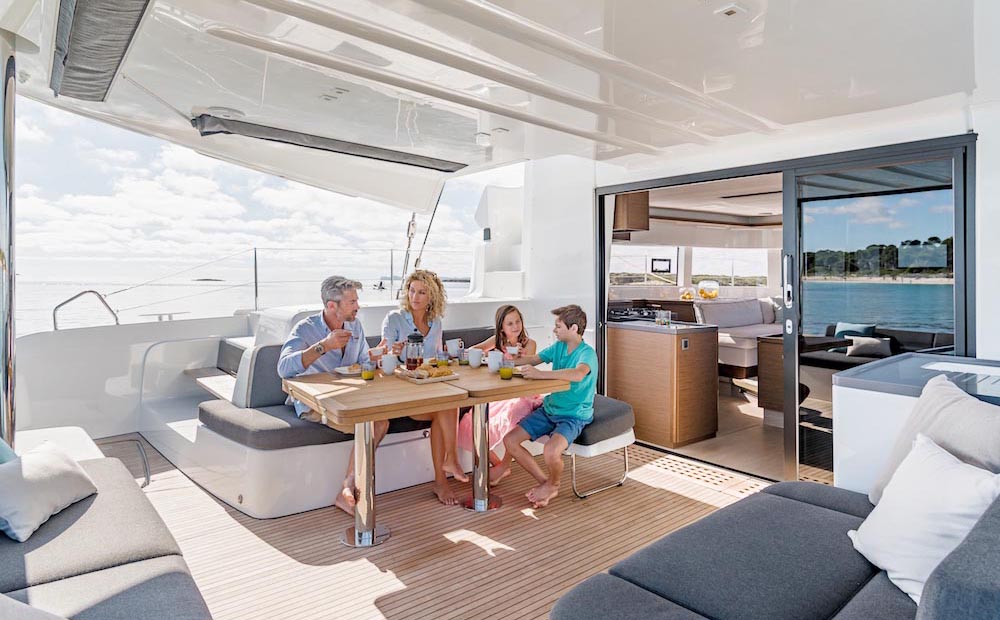 PERFORMANCE
Like all Lagoons, the new 50 is designed by expert catamaran designers, French studio Van Pethegem Lauriot Prevost (VPLP) who specialise in multihull design for prestigious races including the America's Cup
The mast step positioned further aft, which stems directly from VPLP's experience in competitive sailing creating a balanced and smooth sailing performance
A shorter boom for easier handling
A mainsail with a high aspect ratio, enabling the capture of better airflow in the upper parts of the sail for optimised performance
INTERIOR DESIGN 
Interior design carried out by famous studio Nauta Design and focused on elegance, modern and fresh approach, two choices of interior woodwork and many choices of upholstery and accessories available
Innovative and spacious architecture with a home-like atmosphere
A great deal of natural light in the aft cabins, fitted with panoramic glazing and large hull portholes in the showers and bathrooms adds to the feeling of comfort at sea, even in bad weather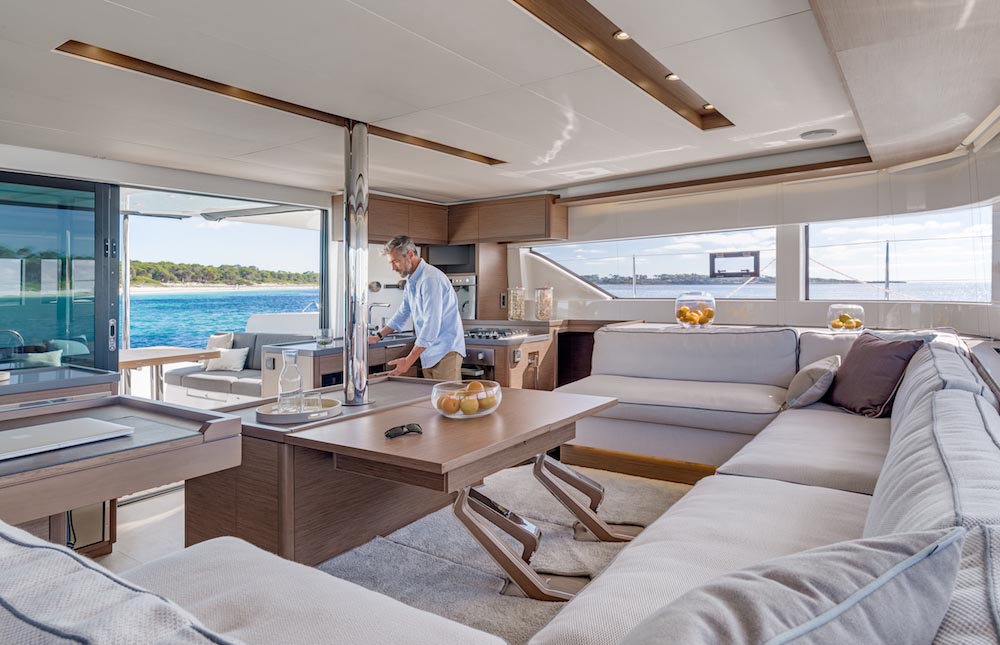 SPECIFICATION:
Length overall: 14.75m/48'5"
Beam: 8.10m/26'7"
Draft: 1.40m/4'7"
Mast clearance: 26.51m/87′
Light displacement (EEC): 20.826t/45921t
Sail area: 158.1m²/1701 sq ft
Square top mainsail (opt): 97.8m²/1052 sq ft
Furling genoa: 60.3m²/649 sq ft
Asymmetrical spinnaker: 240m²/2582 sq ft
Code O (opt): 114m²/1227 sq ft
Engine (std): 2 x 57 CV/2 x 57 HP
Fuel capacity: 2 x 520l/2 x 137 US gal
Fresh water capacity: 2 x 240l/2 x 63 US gal
No. of berths: 6 to 14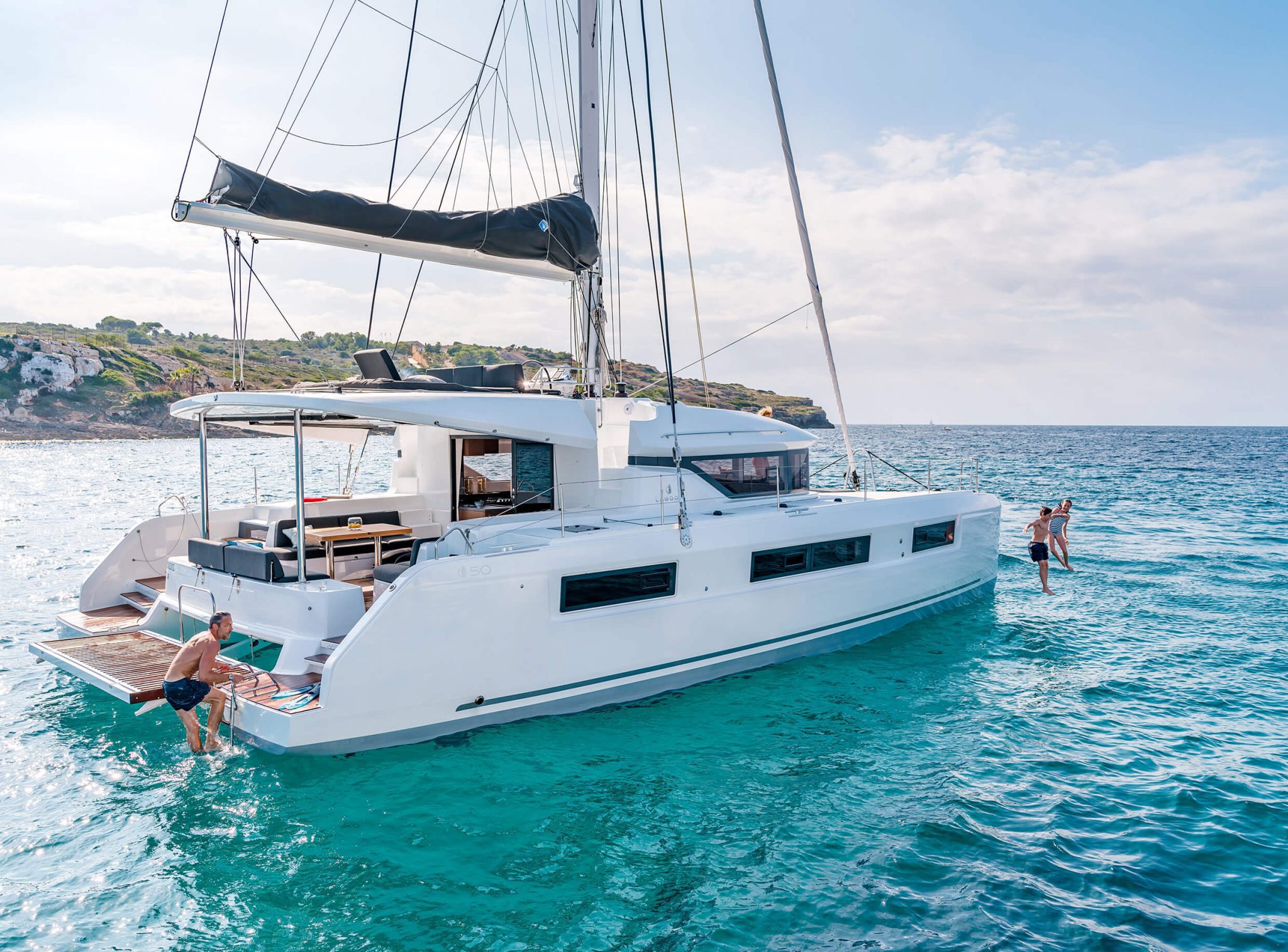 A big success at 2017 Cannes Yachting Festival, the Lagoon 50 was the highlight of the Lagoon fleet with non-stop visitors on board. Seeing her with our own eyes, we know why. She is a smart, elegant, spacious and the most comfortable boat in her class on the market, so enquire soon to secure your slot.
With the growing popularity of Lagoon worldwide, delivery times are getting longer however Simpson Marine have reserved some Lagoon production this year to secure quick deliveries to Asia. We currently have Lagoon 40, Lagoon 42, Lagoon 450 and Lagoon 50 ready for delivery in Asia between April and August 2018. Please enquire at lagoon@simpsonmarine.com or directly with your local broker to receive more details.
CONSIDER CHARTER BEFORE BUYING. At Simpson Yacht Charter, we have several Lagoon catamarans available for bareboat and crewed charter in Thailand and the South East Asia including theLagoon 42, Lagoon 450, Lagoon 52F, Lagoon 560, Lagoon 620 and the flagship Seventy 7 JOY(Caribbean, Mediterranean first before reaching Asia). Enquire at charter@simpsonmarine.com and get a feeling of your own future Lagoon in the outstanding setting of Asia.
See you all at the Singapore Yacht Show!