The entry of Bluegame into the prestigious Sanlorenzo Group in 2018 has radically changed the paradigm, opening up opportunities for the brand to explore new paths, unimaginable before. The strong driving force of the group soon materialised in the highly innovative BGX70 project, where Luca Santella's revolutionary idea met the talent and creativity of Studio Zuccon International, the signature of numerous Sanlorenzo award-winning projects.
The original brief of the Bluegame BGX70 included large multipurpose outdoor areas, high protected walkways, functional and safe deck operations, extremely high-performance hull, uncommon layout, maximum quality of materials and highest level of execution.
Bluegame has dared to propose a truly unconventional yacht, a synthesis between the walkaround, open, day cruiser and fisherman concept, thus inventing the Sport Utility of the sea.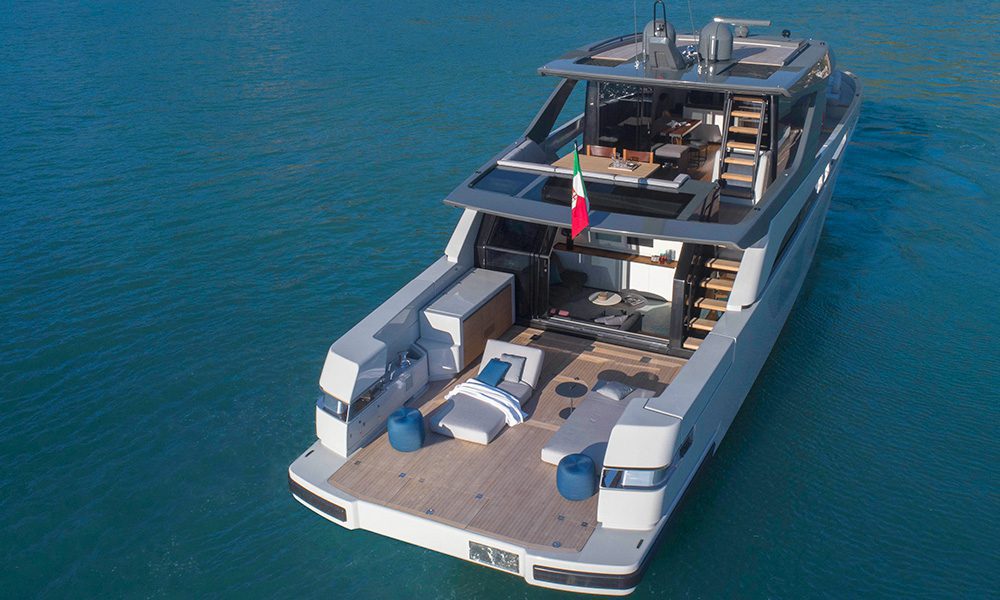 The research work also extends to another area of shipyard interest: Sustainability. The Sanlorenzo Group has entrusted Bluegame, already active in recycling processes as well as in the protection of the marine environment, to develop, together with the Group R&D, the platform of projects set by the Innovation & Sustainability strategy.
For this purpose, the Bluegame HTS Lab (High Technology and Sustainability Lab) was created, which has already successfully completed a recycling project that has been implemented precisely in the construction of the BGX70.
Fiberglass recovered at the end of its life, mixed with glass fibbers and unsaturated polyester resins, allowed the creation of milled blocks with 80% recycled material. With this in mind, Bluegame Yachts are firmly focused on the better, greener future, the future we all want to be happening, for the sake of our oceans.
At 21.86m (71'7"), the rugged Bluegame BGX70 sleeps six guests and two crew, and reaches top speeds of 30 knots.
Available for delivery in Asia in October 2020. Please enquire for details.
BGX 70 Specifications
Length (LOA): 21.9m / 71.8ft
Beam: 5.6m / 18.4ft
Draft: 1.6m / 5.2ft
Fuel Tank: 4200 Litres
Water Tank: 1000 Litres
Engines: 2X VOLVO IPS 1350 (1000HP)
Speed (Max / Cruise): 30 kn / 25 kn
NEW BGX60 – WORLD PREMIERE AT CANNES YACHTING FESTIVAL 2020
Coming Soon, New BGX model in a 60ft package. Please register your interest today.