Sanlorenzo Asia, represented by Simpson Marine, is delighted to announce an expanding partnership between Sanlorenzo and the acclaimed architect, interior and product designer Steve Leung. Having previously collaborated on an Asia-infused project for a Sanlorenzo SL106 superyacht back in 2016, the teams are working together again with a special focus on Sanlorenzo's crossover model – the award-winning SX88. The innovative SX88 was first introduced by the shipyard at the Cannes Yachting Festival 2017, where it forever changed the world's perspective on how life at sea can be enjoyed.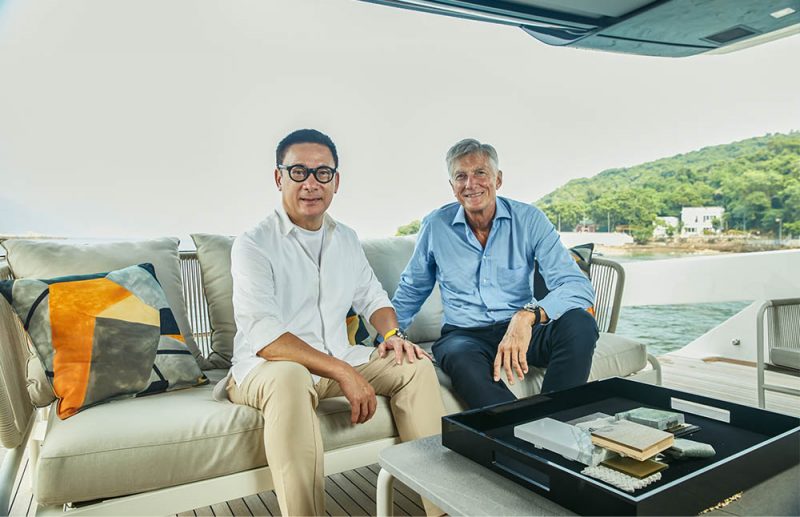 Steve Leung and Mike Simpson on the Sanlorenzo SX76 in Lamma
Established in Italy in 1958 in Liguria and Tuscany and comprising of four facilities in Ameglia, La Spezia, Viareggio and Massa, Sanlorenzo is one of the most prestigious motoryacht and superyacht builders in the world, dedicated to designing and building the highest quality yachts on the market. In over 60 years of the company's history, the shipyard has manufactured more than 900 yachts and is now among the top three yacht builders in the world for yachts over 24-metres. Sanlorenzo's company focus is on building the most exclusive, quality driven yachts that reflect each and every single owner in unique, distinctive ways.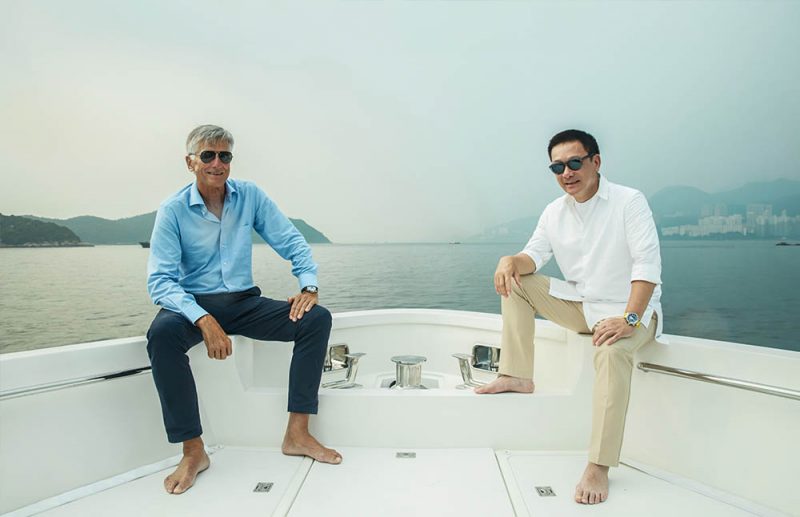 Mike Simpson and Steve Leung on the bow of the SX76 in Lamma
Since May 2015, Sanlorenzo has been exclusively represented in Asia by Simpson Marine, and the resulting growth of the brand within Asia has been significant. Many new and brokerage Sanlorenzo yachts and superyachts have been delivered to Asia including highlights such as the new SX76, the SL102 Asymmetric and expedition 500EXP superyacht. A number of yachts are currently under construction for Asia-based buyers including the new SL96A and SD96 models, with owners recognising Sanlorenzo's huge leap in quality and refinement over the more mass-produced offerings in the market.
In 2017 the shipyard introduced its all-new Crossover SX (Sport Explorer) range to its fibreglass Yacht Division, which until then had comprised of the planing SL range and semi displacement SD ranges. The new crossover SX range was inspired by the new and changing ways that yacht owners wished to live their lives at sea – highlighting exploration and freedom as new lifestyle concepts.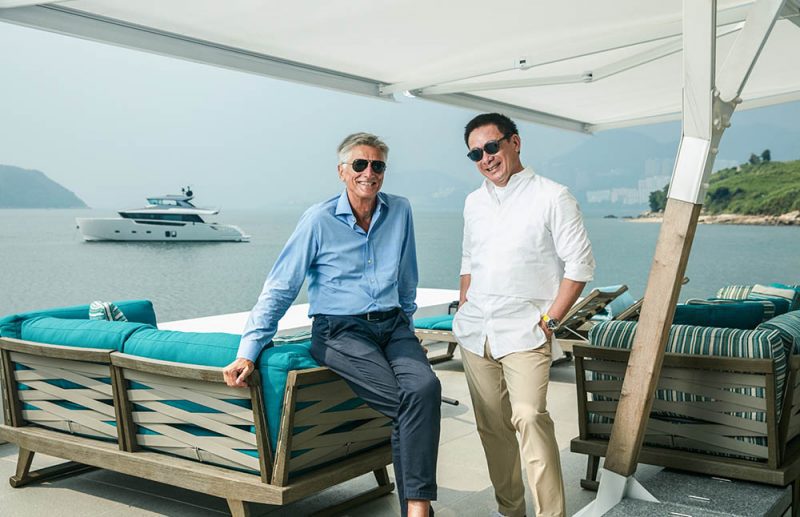 Mike Simpson and Steve Leung at Steve's Summer House in Lamma Island, with the SX76 in the Background
As the first in the SX line, the SX88 represents a successful and clever combination between classic flybridge yachts and increasingly popular explorer-style superyachts that Sanlorenzo first introduced to the market, with their superyacht 460EXP and 500EXP models currently cruising worldwide.
On regular occasion, as part of their core DNA, Sanlorenzo joins together with some of the world's most renowned designers, including Piero Lissoni, Patricia Urquiola and Laura Sessa, among others, to create unique yachts for their owners. This time, a partnership has been established with Steve Leung, the Hong Kong-based award-winning architect, interior and product designer, and Founder of Steve Leung Design Group, one of the largest design practices in Asia.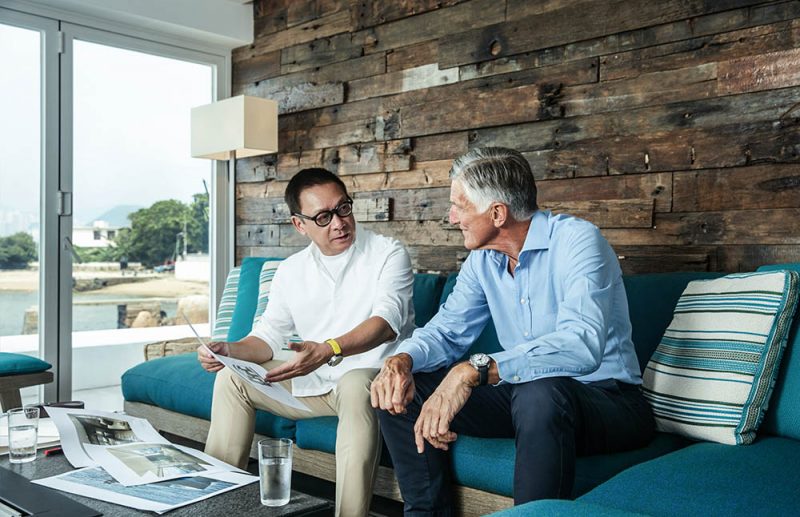 Steve Leung and Mike Simpson discuss the SX88 Interiors Designed by SLD at Steve's Summer House on Lamma Island
By collaborating with an Asian designer for the first time, Sanlorenzo wanted to reconfirm its cosmopolitan vision for the yacht industry, while also aiming to reflect its profound respect and appreciation towards local cultures. This special partnership also marked Steve's first experience in yacht design, bringing a new take on the industry with each project infused with a unique Asia-inspired flair that mirrors the distinctive personalities of each owner. "Yacht design has long been dominated by a Western lifestyle approach, which is very different from the way we live in Asia, especially in China," explains Steve. A keen yachtsman himself, Steve integrates his unrivalled expertise in premier residential design to create contemporary, functional and human-oriented spaces customized to Asian lifestyle preferences, perfectly combining word-class quality and sophisticated comfort with a profound understanding of customer behaviour.
Mike Simpson and Steve Leung on the Sanlorenzo SX76
Following their first successful collaboration in 2016 on a Sanlorenzo SL106, Steve and Sanlorenzo identified the great potential of the fast-evolving Asian yacht market, thus expanding their partnership to include the interior design for the crossover SX (Sport Explorer) range. 
In reinterpreting the design for the SX88 Steve shaped a deluxe floating villa by skilfully maximizing the space to fully emphasize its functionality. Crafted with an innovative open-plan layout, the main salon is encompassed into one generous open space as the main social hub that seamlessly connects indoor and outdoor through floor-to-ceiling glass walls and subtle sliding doors. The outdoor deck features a generous flybridge, equipped with top-notch BBQ facilities. The indoor encompasses a refined dining area characterized by a round table, subtly recalling a more traditional Chinese-style dining, and an impressive living area with foldable TV screens. The design is perfectly suited to today's Asian owners who are inclined to utilise their yachts for family gatherings and social entertainment.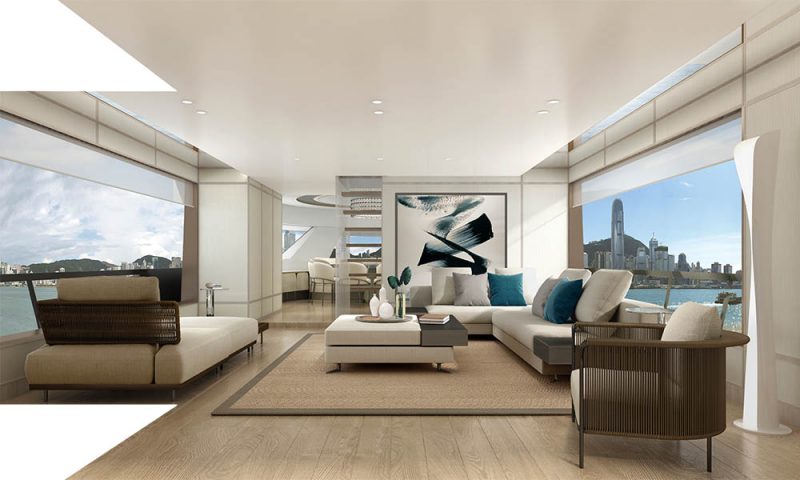 SX88 by Steve Leung – "Breeze/ Zen" Design Scheme
Two interior design schemes, with personalised design applications, are also available to be customised according to client's specifications to curate a superlative on-board experience within the environs of a luxury floating home. A peaceful feel exudes from the "Breeze / Zen" scheme, defined by a refined colour palette accentuated by bursts of serene earthy, blue and emerald green tones. The "Vermilion" scheme strongly reflects oriental culture through its dynamic colour selection, where soothing cream and beige shades paired with the sheer flamboyance of its interiors subtly invite guests to enjoy a more daring atmosphere.
SX88 by Steve Leung – "Vermilion" Design Scheme
"Working with Steve is a delight and we are fortunate to have such expertise right here in Hong Kong," says Nick Stratton, Sanlorenzo Asia Sales Manager. "Steve Leung himself is a keen yachtsman, and this is clear to see in his ability to break the mould yet at the same time design a yacht that is both practical to use and perfectly tailored to the market in Hong Kong and the rest of Asia. A deep understanding of how clients here in Asia use their yachts is instrumental in knowing the functions they require. The SX88 is a yacht that allows your imagination to run wild, incorporating a completely open main deck and the ability to have a number of layouts on the lower deck. Steve is not only able to work with clients on the SX88, but also on the whole range of yachts we offer as every Sanlorenzo is a tailor-made and unique creation."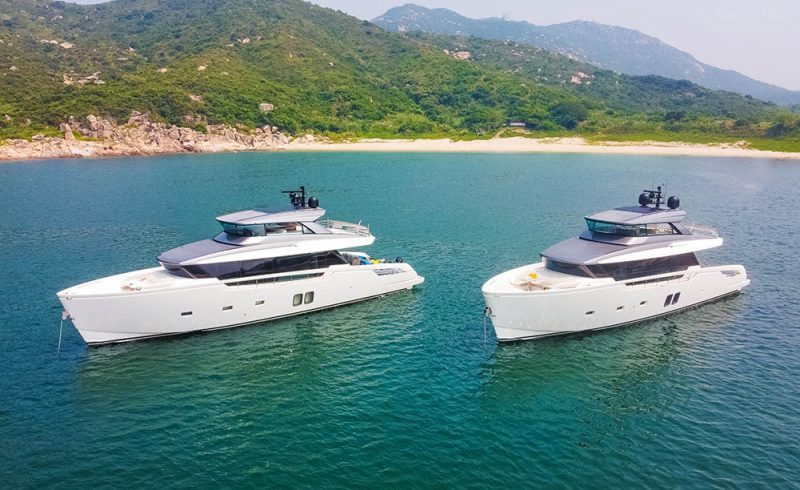 Sanlorenzo SX76's in Hong Kong
Following the initial success of the SX88, Sanlorenzo expanded its SX fleet with the addition of the SX76 and SX112 models. Particularly popular in Hong Kong is the recent addition, the SX76, with three units already located in the city; this confirms the appeal of this model and range to a younger generation of Asian buyers who are looking to spending their time on board yachts in an active way with plenty of outdoor activities and water toys.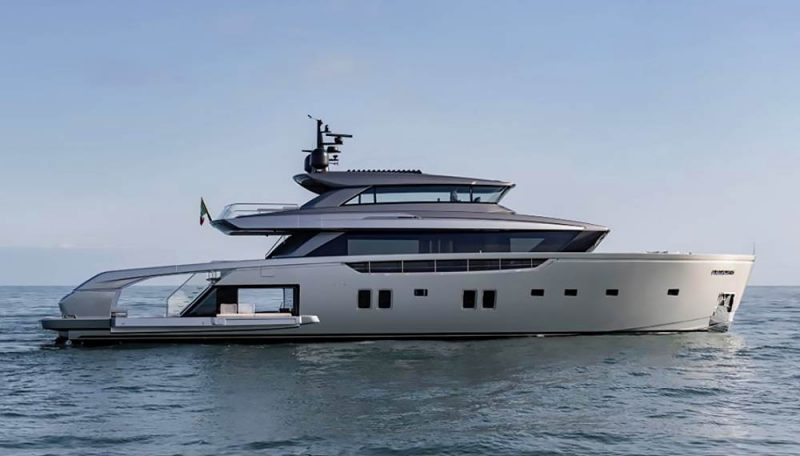 SX Range Flagship and 2020 Premiere – Sanlorenzo SX112
Following this latest collaboration on the SX88, Steve Leung will also contribute his design expertise to other Sanlorenzo yacht ranges through his unique "design to measure" style.
More projects to be announced soon.