Proudly celebrating its 60th anniversary, premium Italian builder of tailor-made bespoke yachts Sanlorenzo is widely known for its active cooperation with the design and art world. This attention to the world of beauty translates to many interesting projects including working with important Galleries and Institutions such the 57th Venice Biennale – the most prestigious, international contemporary art exhibition in the world – celebrating Alighiero Boetti, one of the most important contemporary Italian artists, to whom Fondazione Giorgio Cini dedicated the exhibition Alighiero Boetti: Minimum/Maximum, curated by Luca Massimo Barbero. On this occasion a small but precious exhibition was held onboard the SL118 Haiia yacht – moored in front of Fondazione Giorgio Cini – in collaboration with Tornabuoni Art, displaying seven significant art pieces by Alighiero Boetti made between 1968 to 1988: mixed media on paper, embroidered tapestries and maps on textile.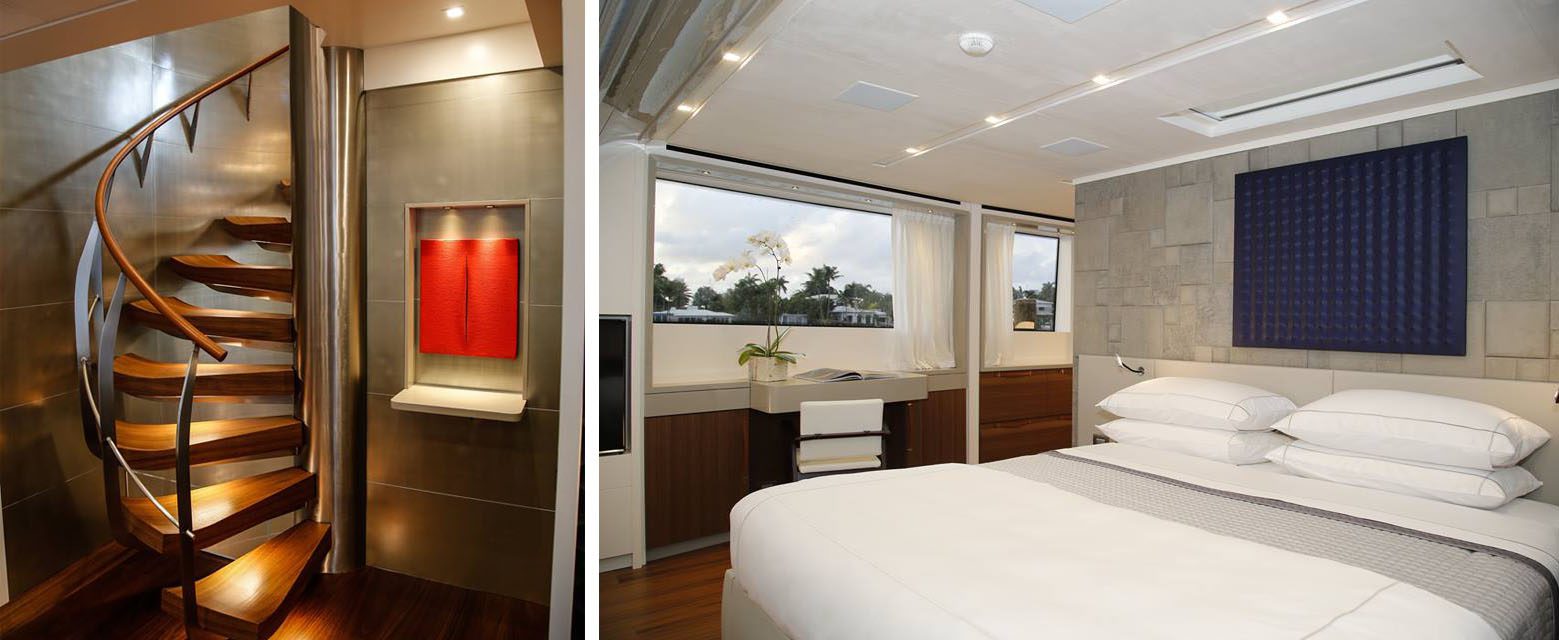 Concetto spaziale, Attesa (left) and Superficie blu
Another important cooperation was at La Triennale di Milano for the Sanlorenzo: the sea in Milan installation – during the Milan Design Week 2017 and Tornabuoni Art gallery that organized the 1900s Italian monochrome exhibition during Art Basel Miami Beach in 2016.
Sanlorenzo: The Sea in Milan
The next event will be held again on the occasion of the Milan's Triennane from 17th to 22nd of April as a continuation of last years project, with a significant evolution loosely based on the scene design adopted by director Lars Von Trier in the film Dogville, where the buildings in a town are shown through a plan view by using graphic two-dimensional delimitations, the installation Il mare a Milano: Yachtville will display the groundbreaking interior design project signed by renowned interior designer Piero Lissoni for Sanlorenzo's crossover yacht SX88.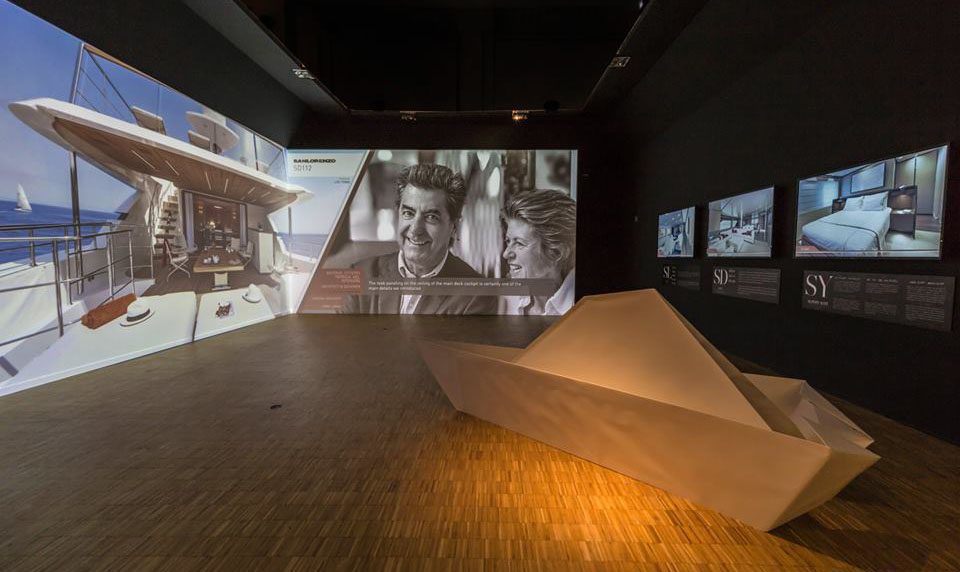 Presentation of the great families of yachts produced by Sanlorenzo
However, this time the art connection becomes more localised and Asia-centric, held on the occasion of the Singapore Yacht Show aboard a newly arrived Sanlorenzo SL78. The yacht will display a series of six curated art works by Shih Yun Yeo, an independent Singapore-based abstract expressionist painter using ink in unconventional ways. The selection of Asia-flavoured paintings elaborating pursuit of freedom and inspired by the sea will be available for guests to enjoy throughout the show, and a meeting with the artist herself is scheduled for 13th April 6-9pm at a VIP Sanlorenzo and Art Soiree.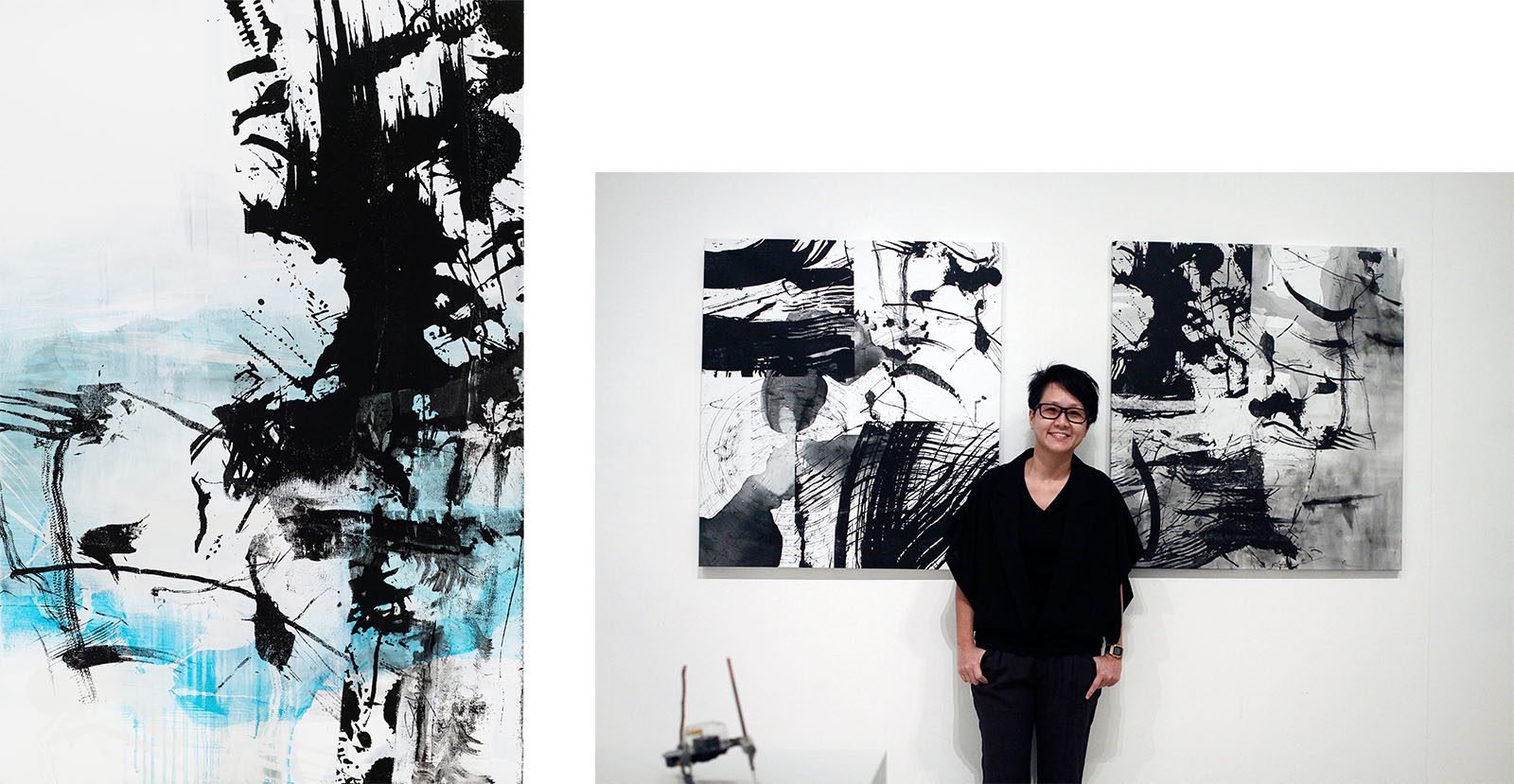 Rhapsody 2014. Shih Yun Yeo
Born in Singapore 1976, Shih Yun is a full-time artist and Director of INSTINC, an independent artist-run space. She received her Bachelor of Business Administration (Marketing) from National University of Singapore, Diploma in Communications Design from Lasalle College of the Arts and Post-Baccalaureate (Painting) from San Francisco Art Institute in 2002. Yeo Shih Yun is known to reinterpret the very act of ink painting with striking results.
Her approach of fusing the traditional form with contemporary mediums like new media or performance art have garnered much acclaim, including a commission by the Singapore Art Museum, winning the Sovereign Asian Art Prize People's Choice Award in 2012 and being awarded a Certificate of Distinction and Highly Commended Entry at the UOB Painting of the Year Competition in 2007.
Relive 2012. Shih Yun Yeo
Her painting at the Sovereign Asian Art Prize was auctioned by Christie's Asia in 2012. Her recent exhibition was in NUS MUSEUM titled "Scholars and ink".
This is the first time that a yacht presented at Singapore Yacht Show will hold art vernissage on board, a notable first for Sanlorenzo in Asia as well.
For 60 years Sanlorenzo has been building high quality custom designed motoryachts distinguishing themselves by a timeless elegance and simplicity of form, the expression of refined luxury, revealed through the selection of materials and the care for the smallest details. The strong link to the art and design word is deeply rooted within Sanlorenzo's core values, and is certainly one of the reasons that contributes to the high esteem for the sophisticated work of this shipyard.