China Rendez-Vous
8-11 Dec 2016
Media and Partners Gathering for China Rendez-Vous 2016 Ends in Success in Singapore
Singapore, April 8, 2016 — Initiated and launched by Visun Group, China Rendez-Vous is the only and largest lifestyle exhibition in Asia featuring top brands of yachts, business jets, automobiles, fine jewelries, art and other premium lifestyle products. As a prelude to the 7th exhibition of the brand to be held in December, the first stop of Media and Partners Gathering for China Rendez-Vous 2016 has ended in success in Singapore with over 50 attending guests.
Announcement of event date and highlights for 2016 China Rendez-Vous
[su_row]
[su_column size="1/2″]
The organizing committee for China Rendez-Vous 2016 presented a detailed introduction to the exhibition and event highlights. The 7th edition China Rendez-Vous will be held on 8th to 11th December, with the theme of "Dream.Art.Life".
As a leading yacht and lifestyle exhibition in Asia, Yacht will still be one of the main focuses. In 2016, China Rendez-Vous will re-introduce the superyacht area as well as a superyacht conference during the 4 days exhibition in order to promote a more comprehensive superyacht culture in China.
[/su_column]
[su_column size="1/2″]
Also, China Rendez-Vous will further expand the luxury lifestyle area and to introduce the first Canada and China zone with exhibitors from real estate, tourism, fashion, gourmet sectors, providing emerging brands a platform to showcase their products.
In addition, China Rendez-Vous strives to enhance the on-site experience by providing more diversified activities. On top of the regular official events held in the past, there will be an exhibitors' night.  All brands are invited for a joint-exhibitors party that China Rendez-Vous will invite all its VIP guests to join the parties at the participating booths.
[/su_column]
[/su_row]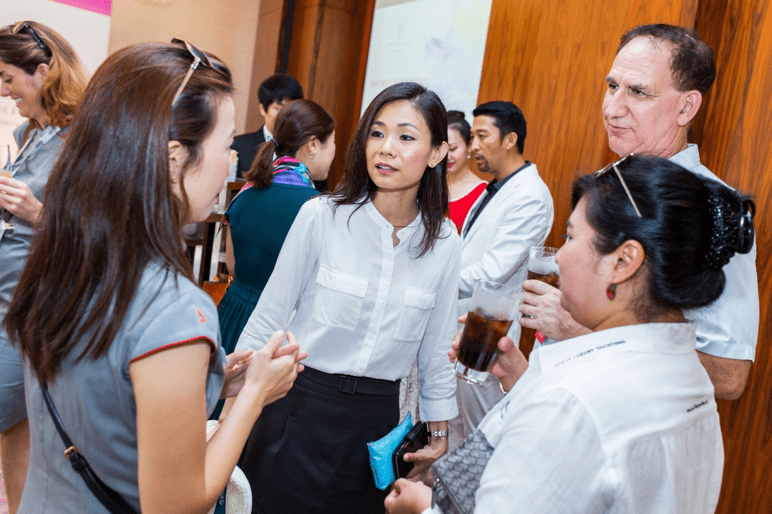 Announcement of partners for 2016 China Rendez-Vous
Miss Eve Ng, Managing Director of Hainan Visun Rendez-Vous Ltd gave special thanks to all of the brands and media friends for their support in 2015 China Rendez-Vous, and announced an exciting news during the gathering. The world's largest market capitalisation of Asian Jewellery brands Chow Tai Fook has confirmed to renew its partnership as Strategic Partner and will once again exhibiting the latest jewellery collection at the show, hopes to attract more elites and widening its brand awareness within Chinese market through the industrial influence of China Rendez-Vous. Despite Chow Tai Fook, the leading kitchen appliance brand – Gaggenau has confirmed to present the VVIP lounge at 2016 China Rendez-Vous.
Throughout the past 6 years, China Rendez-Vous has received great support from local and international media. Up to date, over 10 media partners across the boating and lifestyle industry have confirmed their participation at the 2016 China Rendez-Vous. What's more, China Rendez-Vous has formed a strategic partnership with the largest yacht show in Southeast Asia – Singapore Yacht Show. Mr. Andy Treadwell, Managing Director of Singapore Yacht Show said: "we aim to further promote yachting industry by collaborating with the strongest yacht show in the region, through this partnership, hope China Rendez-Vous will benefit from our expertise in international marketing while China Rendez-Vous can help us by bringing in some important clients in China."
Launch of Strategic Plan
China Rendez-Vous as a world-class brand promoting yachting, business jets, and premium lifestyles, has become a significant window showcase in China. In the future, China Rendez-Vous will collaborate with Hongcheng Capital for resources sharing for a mutual beneficial cooperation. China Rendez-Vous will consolidate Sanya's tourism resources and work closely with alliances in Yalong Bay and Haitang Bay to promote the yachting industry and tourism in Sanya. Moreover, in response to "The Belt and Road" national strategy, China Rendez-Vous is planning to enter more cities, to introduce the marine culture and lifestyle, and host various events in these cities.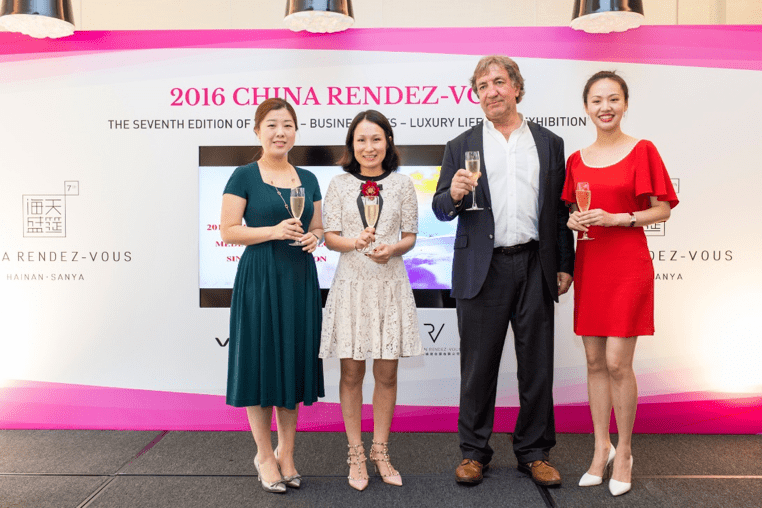 [su_note note_color="#f6f6f5″]
About China Rendez-Vous
Initiated and launched by Visun Group in 2010, China Rendez-Vous is a new drawcard for Sanya, one of China's top tourist destinations. As a grand exhibition of the world's top luxury consumption goods, such as yachts, business jets, and other luxury products in China, it provides a window onto high-end lifestyle. Exhibitors can achieve greater visibility and increase brand awareness through interactions with clients and business leaders at the dinners and social activities organized during the event. Each year, China Rendez-Vous attracts the attention of hundreds of media outlets worldwide, which will keep audiences from mainland China, Hong Kong, Macao, Taiwan and many countries in Europe and America updated about the event.
[/su_note]