Our Simpson Marine Singapore team was delighted to host the Asia Premiere of the Beneteau Swift Trawler 48 at ONE15 Marina, where guests and yachting enthusiasts gathered to experience the Swift Trawler 48's unique features and capabilities.
With a heritage spanning over a century, Beneteau is a pioneer in the yachting industry, known for its timeless designs and innovative technology. Each Beneteau yacht embodies excellence in luxury and adventure, and the Swift Trawler 48 is a fine example of that.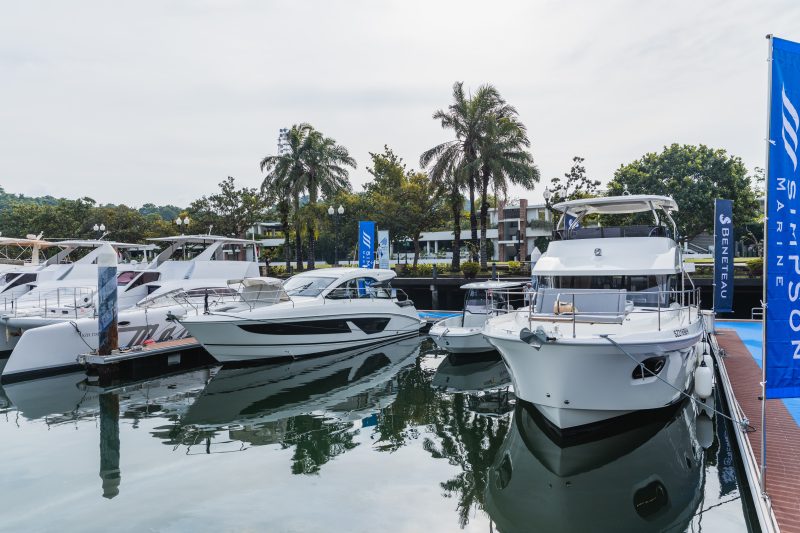 Designed for long-range cruising, the Beneteau Swift Trawler 48 combines comfort and innovation to create a true masterpiece. The yacht's exterior lines and spacious interiors are sophisticated, while the well-appointed cabins offer a haven of tranquility. Powered by reliable and efficient engines, the Swift Trawler 48 promises an effortless and thrilling journey on the open seas.
Focusing on easy living and circulation, the Beneteau Swift Trawler 48 features plenty of space on board. Forward, her large sunpads pull up to create a backrest that transforms into a low-slung sofa when needed. On the flybridge, the forward and aft are divided into two separate zones – with the 5sqm aft left clear for water toys, accessories or more sun loungers.
Striking the right mix of seaworthiness and unmatched comfort, the Beneteau Swift Trawler 48 has many more amenities aboard than found on a traditional trawler.
The Asian Premiere was not only an occasion to unveil the Swift Trawler 48, but also a celebration of Beneteau's rich legacy in luxury yachting. Aside from the Swift Trawler 48, a Beneteau Gran Turismo 41 and Flyer 8 SPACEdeck were also made available for viewings.
The Gran Turismo 41 is a powerful and agile yacht that was tailor-made for sporty escapades, offering an exhilarating ride for thrill-seekers. Above deck, guests could bask in the generous sunbeds and spacious cockpit, indulging in outdoor entertainment. Below deck, the luxurious saloon and cabins displayed meticulous craftsmanship, providing comfort and shade.
The Beneteau Flyer 8 SPACEdeck brought a refreshing sense of freedom and adventure to the premiere event. Its spacious deck and inviting seating invited guests to embrace the great outdoors, while the responsive ride offered an exciting and dynamic experience on the water. This versatile and user-friendly boat promises unforgettable moments of exploration and relaxation for families and friends alike.
While the premiere event has concluded, the journey has just begun for those looking to explore the Swift Trawler 48, Grand Turismo 41, and Flyer 8 SPACEdeck. To schedule private viewings of these models in Singapore, please get in touch with us at singapore@simpsonmarine.com.