For four decades, Lagoon Catamarans has remained unrivaled in the world of seafaring luxury, captivating adventurers and enthusiasts with their innovative designs and exceptional craftsmanship. Behind every Lagoon Catamaran lies a symphony of craftsmanship, where meticulous attention to detail and precision results in vessels that are as beautiful as they are functional. From the finest materials to the expertise of master craftsmen, Lagoon Catamarans are a fusion of art and engineering, promising a yachting experience that is both luxurious and reliable.
As we sail towards a new yachting season, we proudly present an exclusive selection of Lagoon Catamarans to inspire your future cruising in the region and beyond.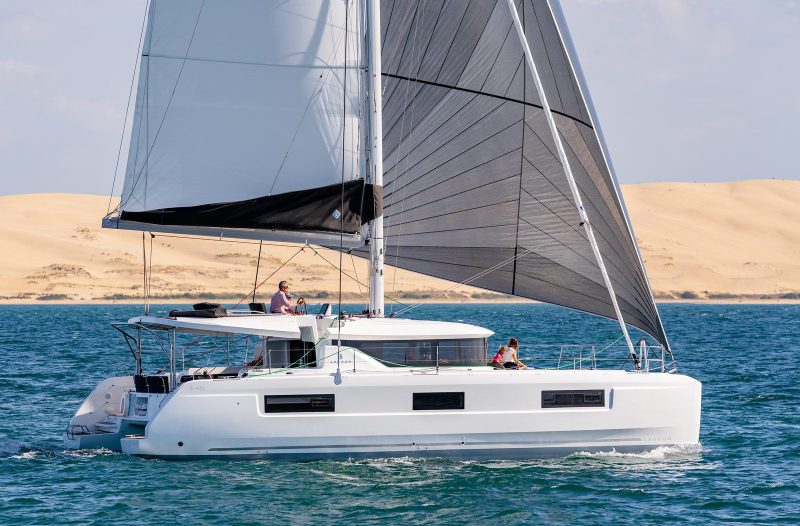 The Lagoon 46 is one of Lagoon's top-selling models of all time. Her architecture and exterior were handled by the renowned VPLP Design, with Patrick le Quément at the lead, and her light-filled and spacious interior was conceptualised by Nauta Design.
As with most Lagoons, living and social spaces are plentiful. Her saloon has numerous storage spaces fitted with soft-close drawers, and overhead cupboards. The spacious navigation station is located in the forward portside corner, giving the skipper bulkheads for electronics and a full-sized chart table for ease of navigation. In addition to the flybridge, where there is a comfortable lounge space for three to four people aft of the wheel, there is also a small forward cockpit for sundowners on the bow and a spacious area aft, under the flybridge.
Just like its 40- and 50-foot sisters, the mast on the Lagoon 46 has been stepped aft to give her a smaller mainsail relative to a larger and more powerful self-tacking jib up front. This makes her easier to sail single or short-handed. If you are searching for a catamaran with amazing sailing performance and enough space for you and your friends, the Lagoon 46 ticks all the boxes.
The Lagoon 42 has been an industry favourite since it was launched and was awarded the 2017 "Boat of the Year" by Cruising World in the "less than 50 feet catamaran" category – the fourth award for the Lagoon 42 in one year. She has also won the "Best multi-hull sailing yacht in Asia" at the 2016 Asian Boating Awards, "Best multihull of the Year" by Sailing Today at the Southampton Boat Show, and "Best multihull cruising boat 40 to 50 ft" by SAIL magazine's Best Boats yearly awards.
Living space is where the Lagoon 42 excels – it is part of the Lagoon DNA to build comfortable boats and that means plenty of interior volume for her length. If you are looking to max out your living space per metre of length, then a Lagoon is always going to score highly and the Lagoon 42 is no exception with a high beam to length ratio.
On the Lagoon 42, the mast has also been stepped further aft, allowing you to fly more sail area forward of the mast. This helps to centralise the weight and reduce pitching, and it makes it easier for a couple or even a solo sailor to manage the mainsail when the wind picks up. The Lagoon 42 is big enough to live aboard very comfortably while not feeling too big to handle for a couple.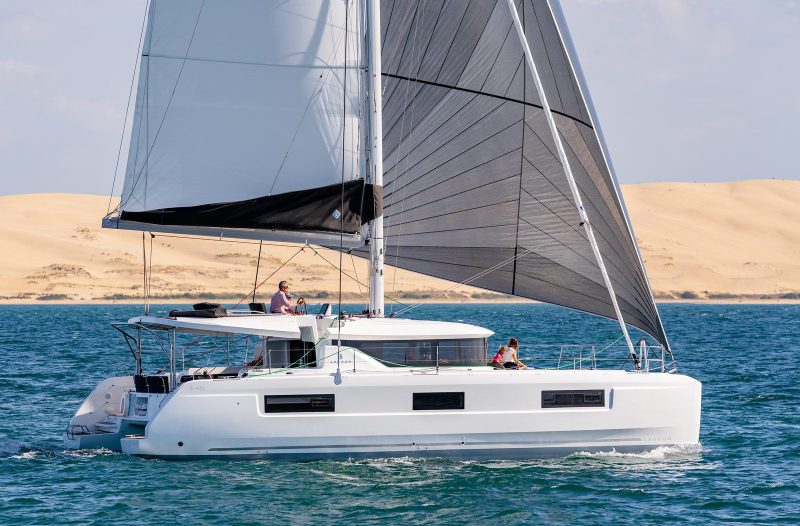 Designed by long term Lagoon partners VPLP, the Lagoon 40 has taken many of the design cues from her older and larger sister, the widely successful Lagoon 42. She features a more angular look, with bigger windows and portholes for more light.
The Lagoon 40 is currently the smallest catamaran offered by Lagoon, but it still packs an impressive array of amenities and sailing features. Her accommodation is the roomiest in her class, and she is big enough to get the feel and comfort of living on a catamaran but small enough to be manageable in tight marinas and easily explore coastal waters.
For new boaters, the Lagoon 40 is a good size to learn on, comfortable in various conditions, and forgiving enough to allow for a learning curve.
Make a private viewing appointment with us at lagoon@simpsonmarine.com to spend time on board any of these Lagoon catamarans to find your next home on the water.