Simpson Marine is pleased to announce the first sale into Asia of the Aquila 70 Luxury Power Catamaran. This new  flagship model, which was first unveiled in early 2021, is set to be delivered to Indonesia in mid 2022.
Aquila 70 Luxury – Birdview
This significant sale cements Aquila Power Catamarans' position as the leading motor catamaran brand in Asia following unprecedented brand expansion worldwide. The new Aquila 70 Luxury flagship, dubbed the 'King of Power Catamarans', is the biggest yacht ever launched by the popular American brand and has enjoyed great global success since her debut with a few units sold prior to her official premiere at 2021 Palm Beach International Boat Show and the order book for this model is now full for the next 24 months.
Aquila 70 Luxury – Reaching top speeds of 27 knots
At 21-metres, the Aquila 70 Luxury Power Catamaran boasts generous spaces and is engineered for comfort and range. Featuring design work by multihull design experts Morelli & Melvin Design Studio, she is the perfect combination of intelligent luxury design and breath-taking innovations. She can deliver high speeds worthy of a performance oriented motoryacht, with top speeds of 27 knots. An impressive vessel with multiple features and utilities, she has state-of-the-art amenities on board and fantastic outdoor socialising areas including the signature cockpit open bar.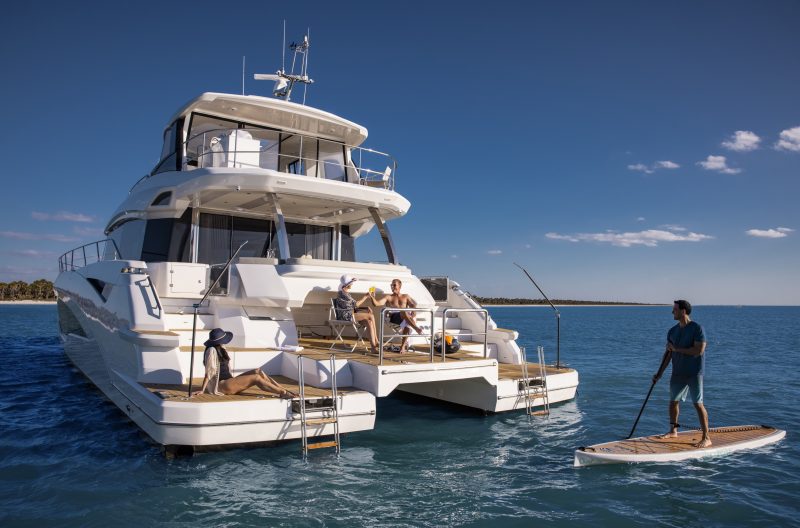 Aquila 70 Luxury – Voluminous beach area and deep swim ladders
Aquila has enjoyed great success in Asia since early 2018 when Simpson Marine took on the dealership as the brand's exclusive representative in the region. Aquila's appeal to Asian customers is due to a wide range of models with an appealing combination of excellent features. These include expansive living area volumes, good stability, smooth drive, easy handling, sleek modern designs, a strong quality of build, and high finishes along with many innovative features. Currently Aquila catamarans cruise in China, Hong Kong, Singapore, Malaysia and Thailand and the fleet is regularly expanding.
Aquila 70 Luxury – Sleek profile of a motoryacht
Headquartered in Clearwater, Florida, Aquila Power Catamarans is backed by a team of experts from Sino Eagle Group –­ a development, design and world leading manufacturer. This partnership with Sino Eagle Group has been instrumental in assuring high-quality parts built with consistent finishes and the enhancement of the uncompromising design seen every Aquila yacht. With approximately 65% of the materials used in the manufacturing of an Aquila being purchased from highly recognised marine OEM suppliers in the United States and Europe and shipped to Sino Eagle facility for installation, the company's advanced composite manufacturing capabilities have ensured owners and partners have the highest standards of building work undertaken on every Aqulia build.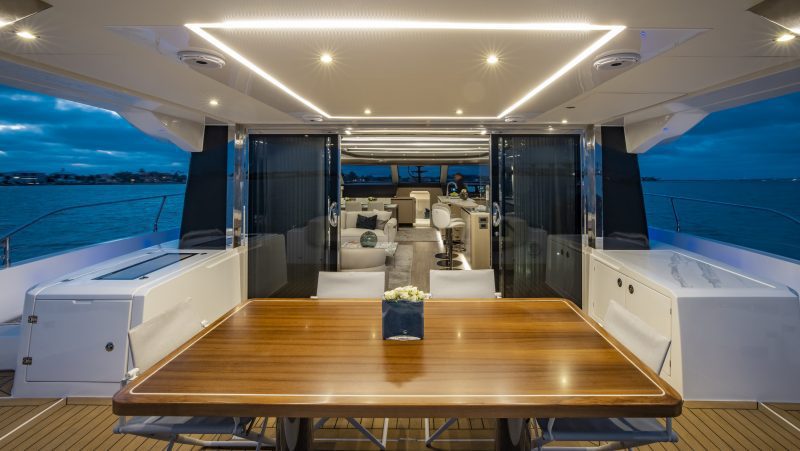 Aquila 70 Luxury – interiors with European flair : bright, inviting, and welcoming.

Aquila's International Sales Director Yvan Emieu expands on the build process, saying: "From day one of building Aquila, we set ourselves apart by having the highest quality control possible. This started with the production facility and fiberglass building techniques using resin infusion in humidity and temperature-controlled lamination bays".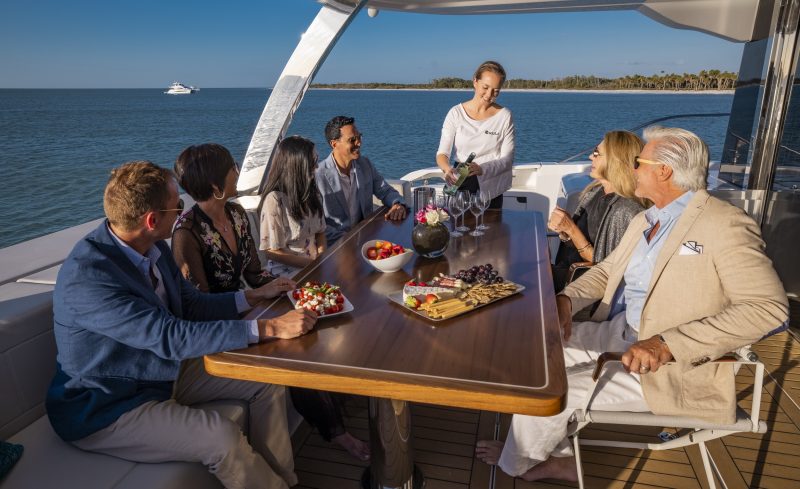 Aquila 70 Luxury – The covered aft cockpit featuring a dining table for 8 guests
With great designers, strong production for quality assurance, and innovative features, Aquila Power Catamarans has the winning formula for a strong footing in the yachting industry.
As one of the best cruising grounds in the world, Asia has seen many Aquila Power Catamarans delivered to the region, operating in both private and charter use. With over 17,500 islands and archipelagos in Indonesia, its world renowned and proven attraction is synonymous with the increasing demand for yachts in the region. Owners are keen to spend quality time at sea with family and friends and further afield when the borders open up; hence why owning a yacht like the Aquila 70 Luxury that is capable of a weekend trip or further exploration becomes an extremely attractive choice.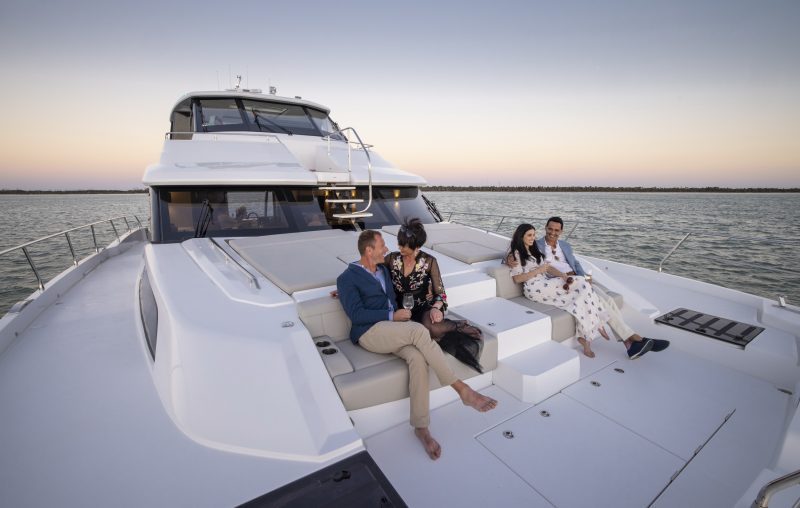 Aquila 70 Luxury – Large foredeck with sunpads and reclining sofas
"It's an honour to represent Aquila in Indonesia and with the largest archipelago in Asia the Aquila 70 Luxury is the perfect powercat to explore this incredible part of the world. I'm excited to be working with a very technical owner on this build and combined with his specific custom modifications we are creating a very special Aquila perfectly suited to long range cruising with his young family", explains Paul Whelan, Simpson Marine Indonesia Country Manager.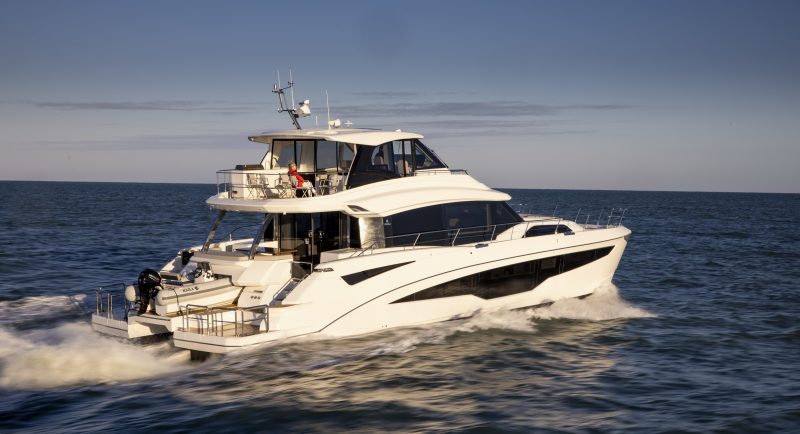 Top – Aquila 54 – New model 2021; Left – Aquila 36 Sports. Right – Aquila 28 Molokai
Another notable Aquila sale of an Aquila 54 Yacht – another new model for 2021 – was recently concluded in Pattaya, Thailand while Singapore has seen three orders for Aquila 36 Sports within a span of few weeks with a brand new Aquila 44 sold in the first days of 2022. A very successful Asia launch of the new Aquila 28 Molokai was recently held in Malaysia with the boat immediately sold afterwards.
With this Aquila 70 Luxury as the latest addition to a fast growing fleet, Aquila's success in Asia is set to continue to grow and flourish further. The brand continues to add to its line-up, with new models including the Aquila 28 Molokai currently located in Malaysia, and Aquila tender catamarans set to complete the range in future.
Having witnessed the global expansion and popularity of this dynamic American brand, we have secured few quick deliveries for 2022 including the A36, A44 and A54 so please enquire with your local Simpson Marine team to receive all specific information at aquila@simpsonmarine.com