We all know that the yachting community can be extremely private, so when an opportunity to go to some of the most exclusive boat shows on the planet comes your way, it is an absolute must. Boat shows, regattas and festivals offer a magnificent opportunity to see the latest equipment and tech first-hand, hop onboard some of the finest superyachts on the market, and, most importantly, network. These are the places where yacht owners let loose and really get to know each other.
We have compiled a list of the biggest and most exclusive boating events out there. If there are any you haven't been to yet, the team at Simpson Marine could not recommend them more. So if you're currently thinking about where to go on your next excursion, we might just have the answer you've been looking for.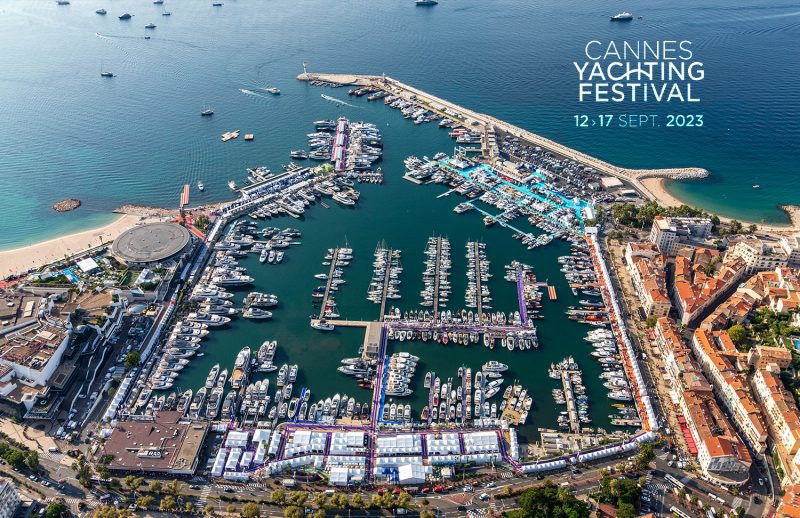 Since 1977, Cannes Yachting Festival takes place every September in elegant, luxurious surroundings in the sparkling bay of Cannes. Located on the two ports of Cannes, the Vieux Port and the Port Canto, the Cannes Yachting Festival welcomes you in an exceptional environment, from one end to the other of the famous Croisette.
As the first show in the boating season, Cannes Yachting Festival is Europe's leading in-water boating event, also hosting an eclectic offer of nearly 650 boats, from 5 to 50 metres, presented ashore for less than 10 metres and on-water beyond 10 metres. The major players in pleasure yachting come here to launch the show season by showcasing their new premiere. These boats are sailing or motor, monohull or multihull, rigid or semi-rigid hull. Meet the biggest actors in the boating industry and their latest innovations in unparalleled visiting conditions!
Come and admire the most beautiful yachts and sailing boats on the sunny coast of the French Riviera.  On the occasion of your visit, you may have the chance to take the helm of exceptional units during sea trials!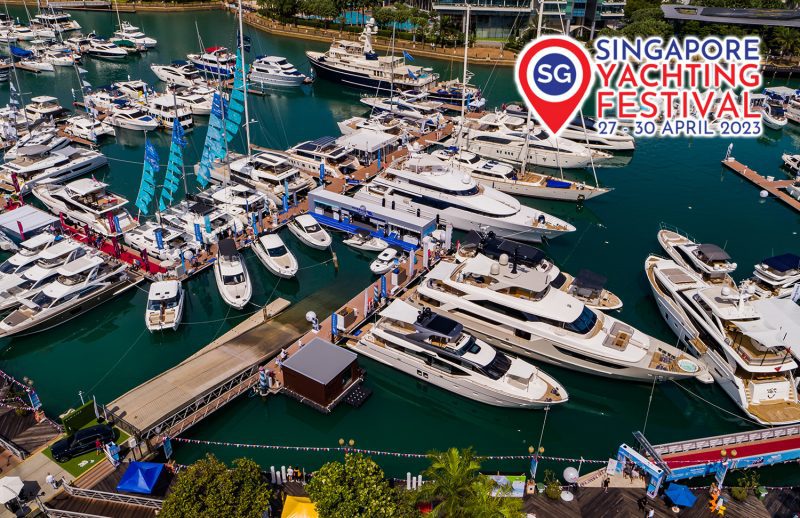 In the heart of Southeast Asia lies this cosmopolitan haven where everything is executed with seamless perfection. Singapore is renowned for its lavish hotels, amenities, architecture, and tourist attractions. April 2023 saw the return of the Singapore Yacht Show, one of the largest and most well-attended yacht shows in Southeast Asia. Running since 2011, this show has set the standard for the fast-growing ASEAN yachting community. It is an absolute favourite of ours, perfect for meeting clients, viewing charters, and making new friends. However, if you are going to indulge in this incredible event, make sure you have a few days to visit Singapore too. This jaw-dropping city promises to provide you with the time of your life. 
Over the four days of the Singapore Yachting Festival, you will find over sixty events and gatherings, making it immensely popular for socialites. From gala dinners, VIP lounges, and yacht parties to fantastic children's workshops, the Singapore Yacht Show really does have it all. If you are there to find some new additions to your collection of toys or any other boating accessories, the exhibits will not fail to impress. Everything about the Singapore Yacht Show is set up to perfection and will leave you with fantastic long-lasting memories.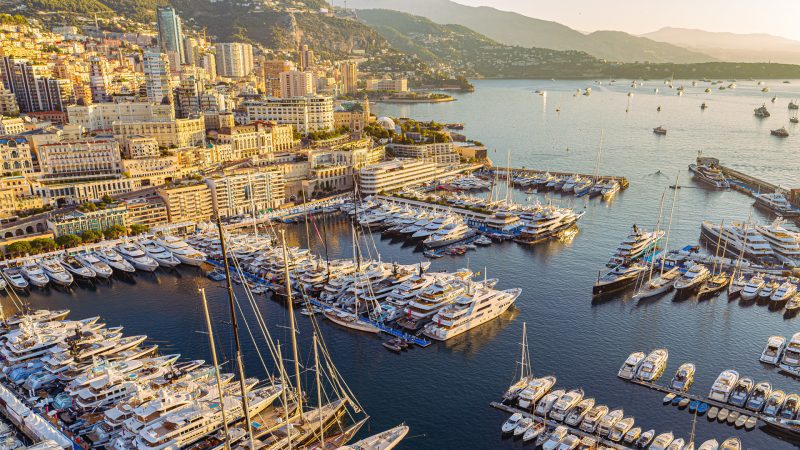 Hosted in the early Autumn, The Monaco Yacht Show focuses on providing a tremendous display of creative excellence in the superyacht community. The four-day event has been running since 1991 and is one of the best places in the world to meet boat builders, shipyard execs, and brokers. Here, you will have the opportunity to discuss your projects and ideas with the people who can make it happen. 
If you are looking to buy or charter, the event offers packages that will create the best browsing experience you could wish for. The Sapphire experience creates a bespoke package where everything will be handled. You will get to view the finest superyachts in the world and have the privilege of joining gala evenings and private cocktail parties onboard some beautiful vessels. 
As we mentioned, creativity is at the helm of the Monaco Yacht Show. You may have the opportunity to join the exclusive and extraordinary evening of stories and celebrations in a luxury, secret location. The evening will take you on a journey as you become part of the story of the exceptional guests receiving honours for their efforts to constantly improve the yachting world.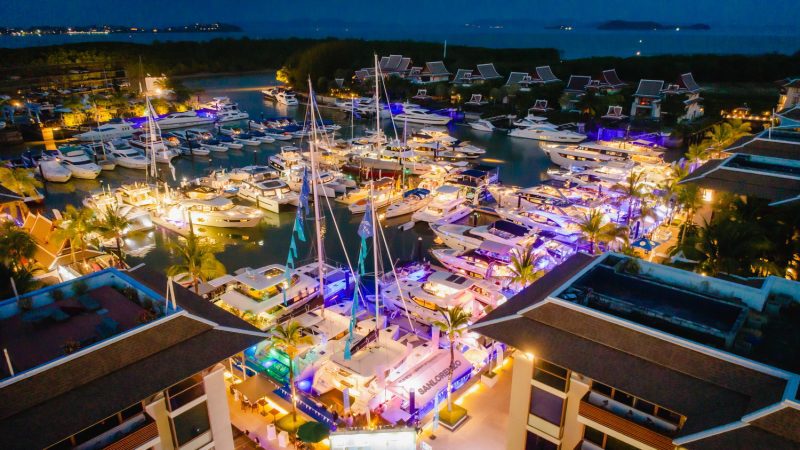 Every January in Phuket, you will find the TIBS. This boat show attracts over 600 visitors and 100 exhibitors. With a big focus on luxury lifestyle and boating, Thailand International Boat Show promises to be a fantastic experience for everyone. 
Phuket is slowly becoming one of Southeast Asia's hubs for the yachting world, and when you witness this paradise location first-hand, it is very understandable why. When visiting this show, you will find it difficult to leave the pristine turquoise waters that span the Gulf of Thailand and the Andaman Sea. 2024 is looking to be the largest exhibition ever held in Phuket, and we couldn't recommend it more. It is renowned for being a place where big deals are made. If you are hunting for a new yacht, this might just be the place to find it. 
One of the brilliant things about this event is the massive focus on the environment. You will find some intriguing marine conservation workshops along with an eco-friendly booth. If you are trying to improve your conservation efforts, this is definitely the place for you. You will also find endless interactive displays where you can purchase almost anything. From Fashion accessories to properties to works of art, there is something that will suit everyone. This growing boat show is undoubtedly becoming a favourite for many within the yachting community.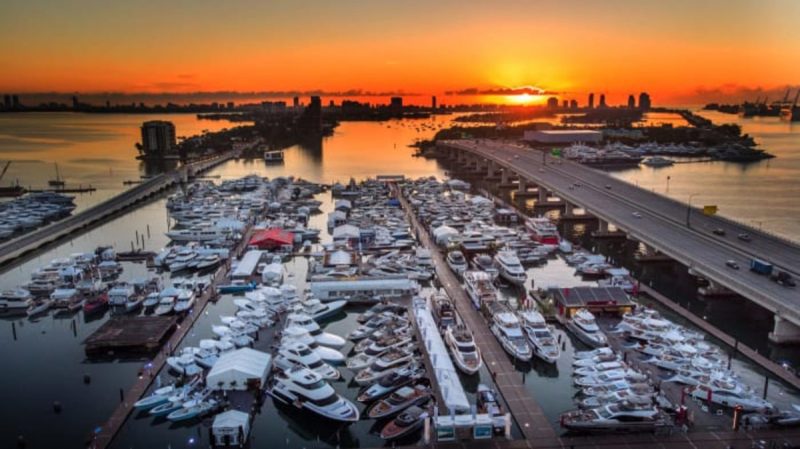 Spread across six glorious locations; the Miami International Boat Show is the largest in the world and houses a vast selection of vessels. You will be able to view any model of a luxury yacht, catamaran, or superyacht you can think of. It is the best place for someone who wants to browse yachts with the intent to buy. You'll find over 1000 vessels at this show, so don't expect to see them all.
As well as viewing yachts, there are also over 1000 brands exhibiting throughout the entire show. You can also go to the Nautical Adventure Zone, which is a 40,000-gallon pool used for hands-on training and demos for upcoming innovative marine products and water sports equipment. This is a great way to have an upfront and personal experience of any products you wish to purchase in the future. Also, there is a tremendous amount of fishing activities and events to participate in, hundreds of venues to taste some of the most exquisite cuisines of your life, and an abundance of gala events and parties to enjoy.
If you are into the maintenance of your yacht, there is also the Fred Shed Interactive Workshop, which will teach you how to fix any problems with your yacht's engine that you might encounter. There is something for everyone at the Miami International Boat Show, so make sure you get there next February.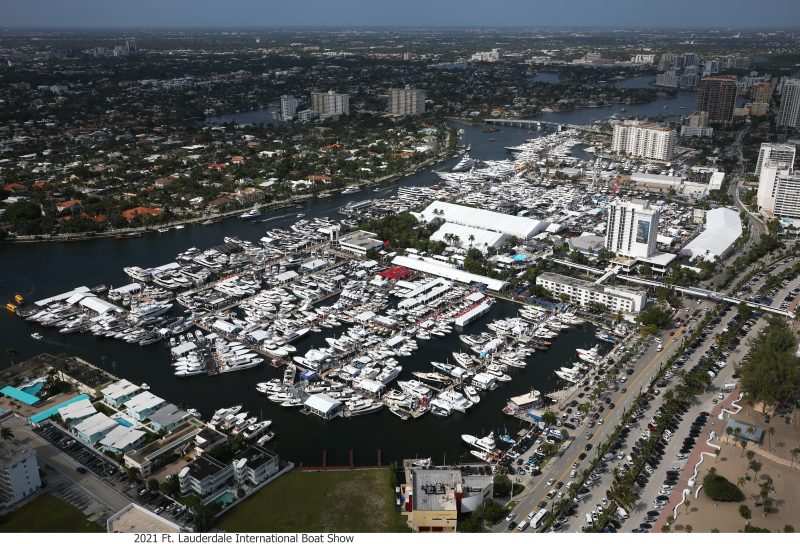 This is by far one of the most extravagant boat shows on the planet. FLIBS is the largest in-water boat show there is. Located steps away from a picturesque Florida beach with over 1300 yachts on display, it truly is something to behold. Every October, over ten thousand guests descend upon Fort Lauderdale International Boat Show to enjoy countless exhibitions spread over 90 acres. 
This impressive boat show represents yachting companies from 52 different countries and has a significant focus on environmental impact. You will have the opportunity to witness a multitude of educational seminars over the week. The primary focus of these is usually a variety of fishing techniques taught by the best in the world. Last year, some of the highlights were seminars on how to properly clean and cook your catch, master stand-up fighting techniques, and the best way to catch whatever fish you are looking for. Also, there are many seminars based around eco-friendly practices, such as creating sea turtle protection zones. 
FLIBS offers hundreds of interactive exhibitions and seminars where you can try out some of the latest marine technology, water sports toys, and anything else you can imagine that would make a fantastic addition onboard your yacht. 
If you are new to the yachting community, Fort Lauderdale is also one of the best places to learn about boat safety and clean yachting. As much fun as yachting is, it is always handy to be conscious of the environment and prepared for any accidents that come your way. You can also purchase the Winward VIP Experience, which will provide you with water taxis, a premium free bar, endless gourmet food, exclusive access to clubs, early entry, and much more. 
Anyone who has visited FLIBS will tell you that it is not worth missing. This boat show covers every area of marine activities you can think of, and it is one of the best places in the world to learn even more about yachting. We highly recommend that you get yourself there for the next incredible show in October. 
Find out more 
Whether you are new or old to the yachting community, boat shows offer something far too good to miss out on. There is nothing more social for yachters than getting to experience the fun during these weeks of luxurious yachting fun. If you aren't set on any from our top five list, there are hundreds more to choose from all over the world. 
Simpson Marine proudly exhibits at some of the most exclusive boat shows. If you have any questions or queries about yachting, we are here to help. There aren't many people who understand the industry as much as we do, and we can't recommend boat shows enough. Who doesn't like gourmet cuisine, exclusive cocktail yacht parties, trying out toys and tenders, and browsing the market for the next best yachts? Do not hesitate to contact us for your next attendance of a boat show.