A brand of Sanlorenzo, a famous Italian shipyard specialising in custom-made yachts and superyachts over 24m, Bluegame shares the same values and expresses the sophisticated understatement of Sanlorenzo yachts within smaller dimensions.
The Bluegame brand has been making waves since 2018, when its BG42 and BG62 models were presented, turning more heads with the reveal of the BGX70 at the Cannes Yachting Festival 2019. A hugely positive response was received for the brand's arrival into Asia, particularly amongst Sanlorenzo fans who recognise the same quality in the Bluegame fleet.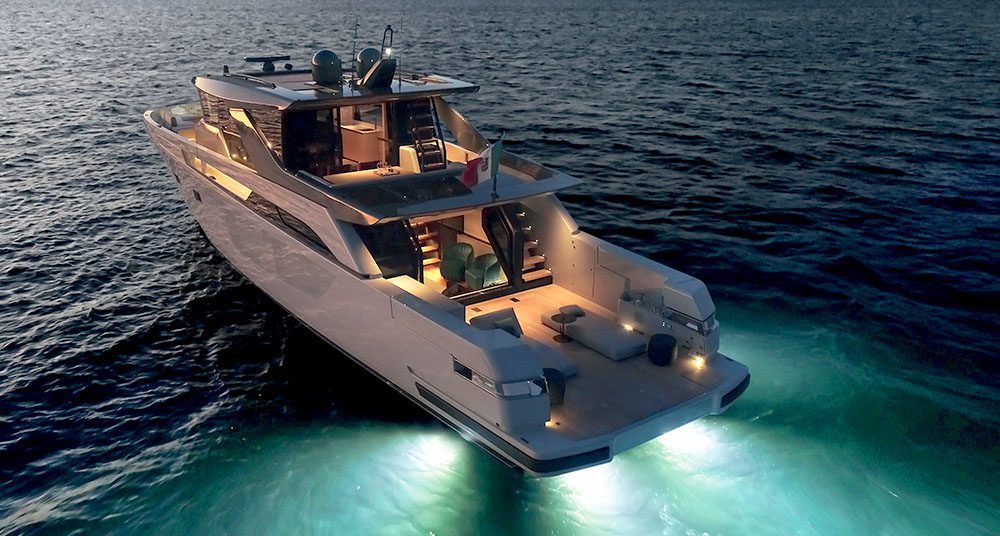 BGX70 – UNEXPECTED, BOLD, INNOVATION-PACKED 
Hand-Crafted, Owner-Centric, Connected to the Ocean
The BGX70 is the result of the prestigious collaboration between Luca Santella, Head of the Bluegame product Strategy together with Zuccon International Project design studio, responsible for multiple award-winning Sanlorenzo yachts.
Innovation, a common driver of the Sanlorenzo Group's DNA, has expressed itself both in the external design, unconventional and sophisticated, and in the interior layout, never seen before in a 70ft yacht. While maintaining the original Bluegame heartbeat, with large external multi-use areas, functional and safe deck operation and a high performance hull, the new BGX line is presenting the added values of large enclosed liveable areas that allow the outside environment to gently "enter" the yacht. Large window surfaces on the main deck offer 360° visibility and the direct access from the beach area into the salon and owner's cabin give the BGX70 a revolutionary layout, inspired by her bigger sisters from the Sanlorenzo SX line (SX76, SX88).
Winner of the "most avant-garde yacht" at Cannes Yachting Festival 2019 and "the best in custom yachts" category at the Boot Duesseldorf 2020, the inspirational BGX70 is a real head-turner. Demonstrating the unconventional design approach of Bluegame, the BGX70 offers an owner-centric, customisable vessel built using the brand's sustainable philosophy and delivering Sanlorenzo quality.
At 21.86m (71'7"), the rugged BGX70 sleeps six guests and two crew, and reaches top speeds of 30 knots.
Available for delivery in Asia in September 2020.
BGX 70 Specifications
Length (LOA): 21.9m / 71.8ft
Beam: 5.6m / 18.4ft
Draft: 1.6m / 5.2ft
Fuel Tank: 4200 Litres
Water Tank: 1000 Litres
Engines: 2X VOLVO IPS 1350 (1000HP)
Speed (Max / Cruise): 30 kn / 25 kn
NEW BGX60 – WORLD PREMIERE AT CANNES YACHTING FESTIVAL 2020
Coming Soon, New BGX model in a 60ft package. Please register your interest today.