On 14-15 June, Sanlorenzo, one of the world's leading yacht builders, hosted an elegant launch event for the highly anticipated Sanlorenzo SL90 Asymmetric yacht at the Aberdeen Marina Club, Hong Kong. The event, held in the vibrant city of Hong Kong, provided an exclusive opportunity for guests to witness the unveiling of this extraordinary vessel and experience its innovative design first-hand in an elegant and intimate environment.
The Sanlorenzo SL90 Asymmetric has garnered significant attention within the luxury yachting community due to its ground-breaking design philosophy. The yacht's unique asymmetric layout creates a spacious and functional interior, while simultaneously offering unparalleled exterior deck spaces. This unconventional design approach sets the SL90 apart from its peers, providing owners and guests with a truly exceptional yachting experience.
Elegance and innovation are at the heart of the SL90 Asymmetric's design. The yacht features sleek lines, harmonious curves, and meticulous attention to detail, reflecting Sanlorenzo's unwavering commitment to craftsmanship and design excellence. The use of premium materials and finishes further enhances the yacht's luxurious ambiance, creating an atmosphere of refined opulence throughout.
One of the highlights of the SL90 Asymmetric's launch in Hong Kong was the celebration of several of Sanlorenzo's collaborations with prestigious partners. These included Rolls-Royce, renowned for its iconic luxury automobiles, which displayed its new GHOST limousine in the beautiful garden environment. Sanlorenzo's partnership with Rolls-Royce is a natural match of bespoke worlds, each with a similar dedication to excellence and craftsmanship.
Another regional partner, VistaJet, the leading global business aviation company, joined the event with their discreet branding welcoming guests and offering chic flying options. The collaboration between Sanlorenzo and VistaJet and aims to provide seamless and extraordinary experiences for yacht owners, combining the best of private aviation and yachting. VistaJet's innovative approach to travel aligns perfectly with Sanlorenzo's commitment to redefining luxury.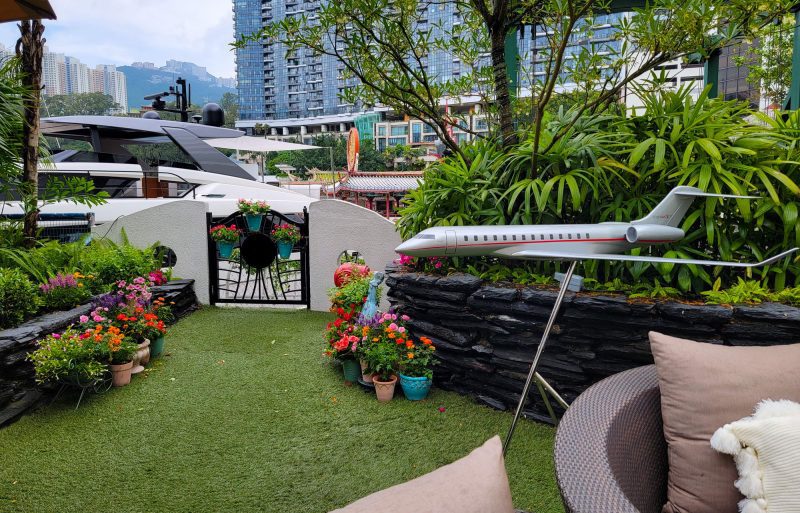 Adding elegant, personalised touches to the yacht were Frette, Christofle and Bottega Veneta, while Wei Gallery displayed Tan Ping's paintings on board, creating a stunning overall welcome and effect. Guests were also treated to delightful food and beverage experiences including a champagne bar by Ruinart, tasting experiences by Fortnum & Mason, and a specially curated menu with edible flowers from Tuscany, evoking the Sanlorenzo spirit of quality.
The launch drew a distinguished gathering of yacht enthusiasts, industry professionals, and esteemed guests who were captivated by the yacht's ground-breaking design and smart features. The entire event showcased the pinnacle of luxury yachting, further solidifying Sanlorenzo's position as a visionary in the industry.
As the Sanlorenzo SL90 Asymmetric sets sail into the global luxury yachting market, it is expected to make a lasting impression with its elegant design, unprecedented layout, and collaborations with world-class partners such as Rolls-Royce and VistaJet. Yacht enthusiasts and discerning clients can now indulge in the ultimate yachting experience, combining the best of Italian craftsmanship, automotive luxury, and personalised travel services.
If you would like to discover more about the Sanlorenzo SL90A and the other yachts from Sanlorenzo's range of yachts and superyachts, please contact us at sanlorenzo@simpsonmarine.com