Sanlorenzo is set to make waves at the highly anticipated Cannes Yachting Festival with the debut of its latest masterpiece: the Sanlorenzo SX100. This groundbreaking model marks a new chapter in the evolution of yachting, pushing the boundaries of design and functionality to new heights.
The Cannes Yachting Festival, an annual event that draws industry professionals and yachting enthusiasts from around the world, is a great platform for Sanlorenzo to showcase its dedication to excellence. The unveiling of the SX100 promises to be a momentous occasion, as she joins her highly successful sisters in the SX crossover range.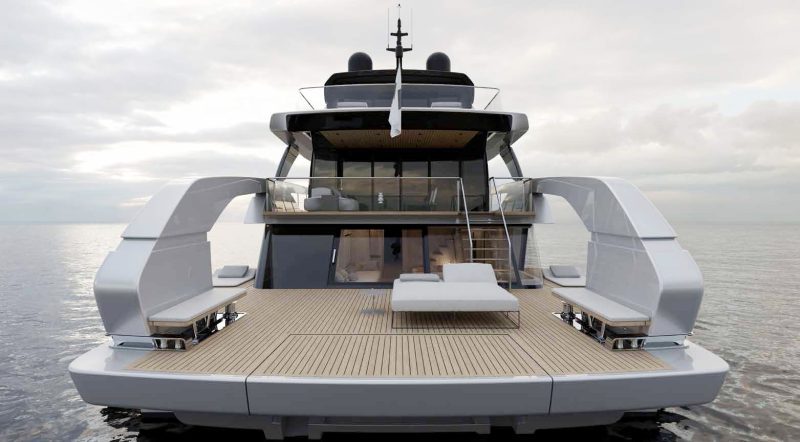 As anticipation builds for the Cannes Yachting Festival, enthusiasts and industry professionals alike are eagerly awaiting the unveiling of the Sanlorenzo SX100. This yacht promises to redefine the standards of luxury, offering a remarkable combination of performance, design, and comfort.
The SX100 boasts a contemporary and distinctive exterior design that effortlessly merges style with functionality. Her sleek lines and bold profile exude elegance, capturing the attention of all who lay eyes upon her. The spacious interior of the SX100 offers an abundance of natural light, courtesy of large windows that create a seamless connection to the surrounding environment.
A unit of the Sanlorenzo SX100 was sold to South-East Asia shortly after her brief announcement at the 2022 Cannes Yachting Festival and is expected to be delivered in April 2024.
"It is rewarding to witness the remarkable growth of the SX range and its rapid expansion in Asia," says Nick Stratton, Sanlorenzo Asia Sales Manager. "Earlier in 2022 Sanlorenzo's entire SX range arrived in Hong Kong, with an SX76, SX88 and SX112 delivered in early summer, while other parts of Asia await SX76 and SX88 models due to arrive later this year. Sanlorenzo's low production numbers ensure unique builds and ample customisation options – this strongly appeals to owners seeking to purchase a special yacht that reflects their own tastes and living philosophy. This new SX100 is no different and is sure to be another stunning bespoke Sanlorenzo build."
Join us at the Cannes Yachting Festival and be among the first to witness the debut of the Sanlorenzo SX100. Discover the extraordinary world of Sanlorenzo, where excellence meets imagination. Stay connected to receive the latest news and developments surrounding this yacht premiere at sanlorenzo@simpsonmarine.com.