Düsseldorf Boat Show 2023, set to be held from 21 to 29 January 2023 in Messe Düsseldorf, is one of the biggest marine events in the world, with around 1,600 exhibitors from 50 countries showing their wares across 17 halls at the Messe Düsseldorf showground. Attracting more than 250,000 visitors, Europe's largest indoor boat show is a true highlight of the boating calendar.
Take a quick look at some of the highlights being presented by shipyards at the 2023 edition of this impressive show. If you would like to view any of these models or to explore the full range of yachts we offer, contact us at hongkong@simpsonmarine.com to book your appointment.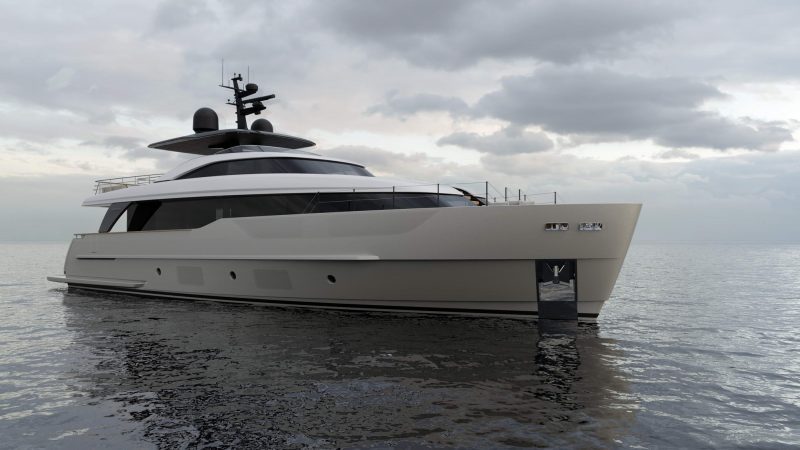 The Sanlorenzo SD90 is a smaller model in the SD series, with important features that are the result of ongoing stylistic and technological research including hybrid motorisation, carried out by the company in an open and continuous dialogue with designers. With a hull length of less than 24 metres and an overall length of almost 28 metres, the Sanlorenzo SD90 is a project that focuses on transversal technological efficiency, both in terms of resistance to motion by the hull and research into materials.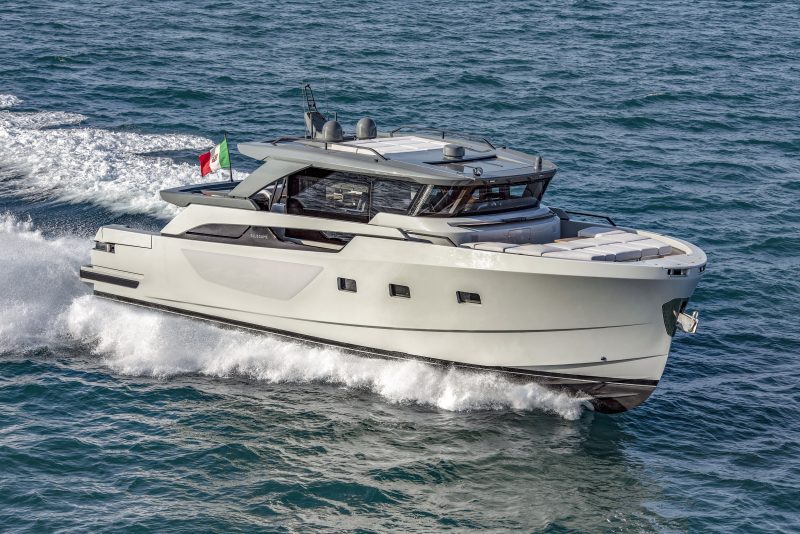 The BGX60 is a brilliant multi-purpose yacht that combines an exclusive design with cutting-edge technology, always delivering high performance and outstanding seaworthiness, for unique moments on board. The innovative BGX60 exceeds all expectations and offers the deepest connection with the elements. Conceived for those who pursue a profound closeness with the sea, the BGX60 will make you experience the infinite blue even when inside your yacht.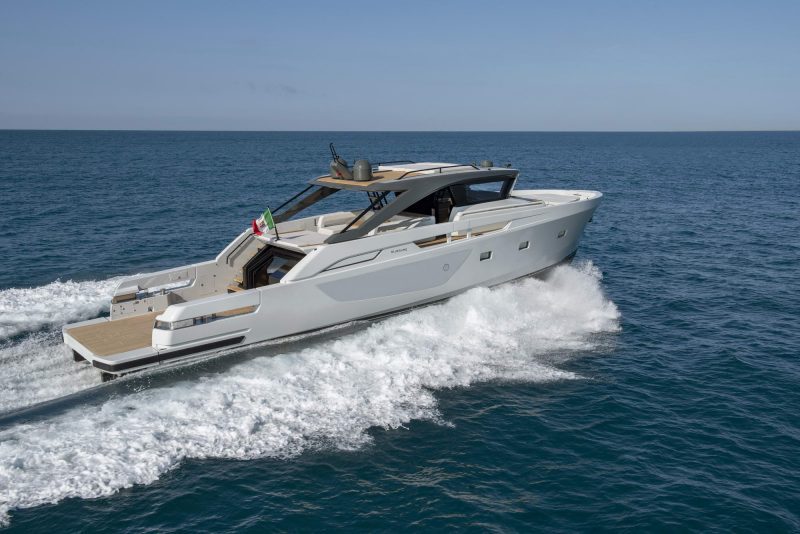 The BG72's remarkable layout, with a completely open upper deck and the original lower deck of the BGX range, is destined to bring lovers of both typologies together without compromise. The BG72 maintains the engineering chassis of the BGX models with the high-performance hull created in collaboration with the naval architect Lou Codega and the advanced Volvo IPS propulsion system that ensures high performance and low consumption.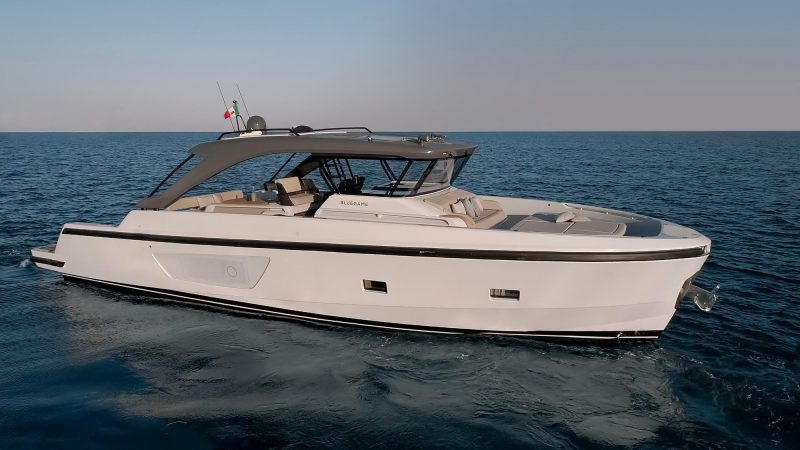 Redesigned to incorporate the latest technical evolutions, the BG54's stern and bow areas have been notably improved in terms of ergonomics and functionality. The large spaces of the stern offer the possibility of a transformer that can be used both as a launching and hauling system, and as an immersed area. The bow, which is designed to be a unique and extraordinary space for this type of boat, is perfected with a dinette that converts from a dining area to a lounge area – a truly versatile social space.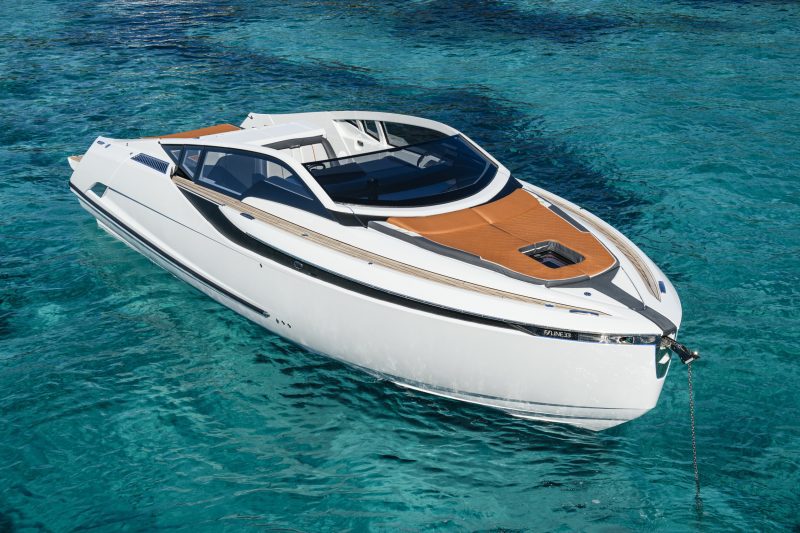 Featuring a sleek hard top, an updated cockpit layout and an even more spacious helm with the option of two 12" Garmin touchscreen displays, the category-defining F//LINE 33 continues to turn heads with its latest updates. The new cockpit features C-shaped seating to the starboard side with the aft backrest doubling up as a headrest for the two-person sunbed, whilst the cockpit provides both sunbathing and seating options simultaneously for up to six people seated around a fixed height teak-top table.
Fairline's Squadron 68 model evokes memories of the past great Squadrons which made the Fairline brand famous and looks brightly to the future with this wonderful new model with her subtle styling updates. Her layout features new hull windows and a new hard top. She is a spacious flybridge design that combines all the best features of her smaller sisters in the Squadron range – the Squadron 48 and Squadron 53 – with even more onboard space. Perfect for adventuring further afield, she is both rugged and elegant with eager lines.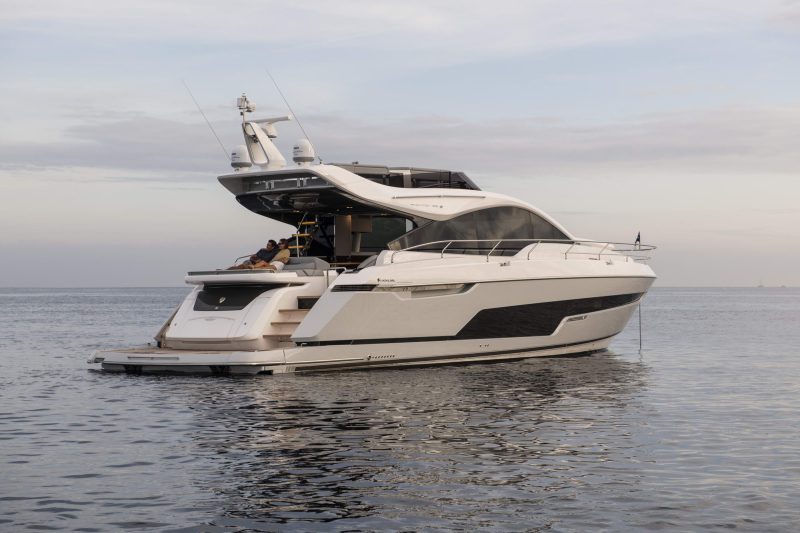 Relaxation and excitement are states of mind, but they exist together on the Phantom 65 and can change at the push of a throttle. Unwind in perfect luxury as you relax with champagne in hand, then climb up to the sportsbridge and experience exhilaration as the world flies by at 35 knots. As one luxurious space flows effortlessly into the next, thanks to dynamic diagonal lines and an array of beautifully handcrafted materials, you can relax knowing wherever you are onboard you'll feel perfectly at peace. And with up to four cabins, there is no shortage of luxury accommodation.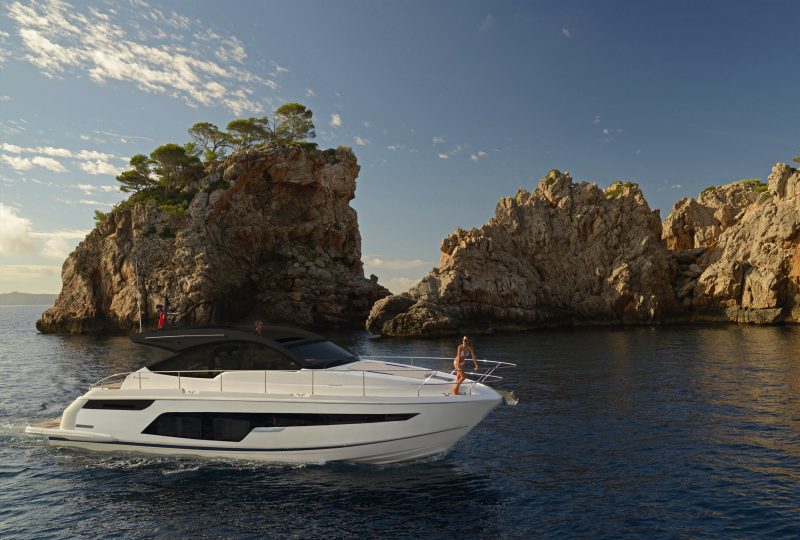 The Targa 50 OPEN is built for speed and all-out thrills and her exterior looks are striking, especially with a head-turning anthracite roof. On the inside is beautiful Italian leather with carefully considered high and low-level lighting to cabins. You can rely on the Targa 50 OPEN to take you to your next destination rapidly, with its impressive performance and maneuverability all down to its twin Volvo IPS 600, 650 or 700 engines.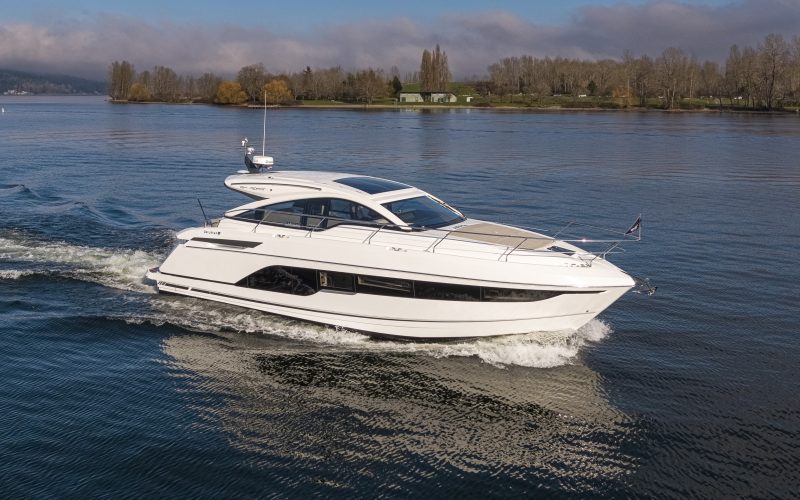 Sleek, sporty lines characterise the all-new Targa 45 GT. As versatile as it is luxurious, this rejuvenated model of the popular Fairline classic beckons guests with its elegant features that evoke the glamour of the Riviera. The cockpit is spacious and generously appointed, with a door-less design that invites the outdoors in. A generous dinette dominates the central area, complemented by a bar with sheltered L-shaped seating to port, giving guests a comfortable space to gather during passage, living up to even the most discerning guest's expectations.
Lagoon in H15 / A44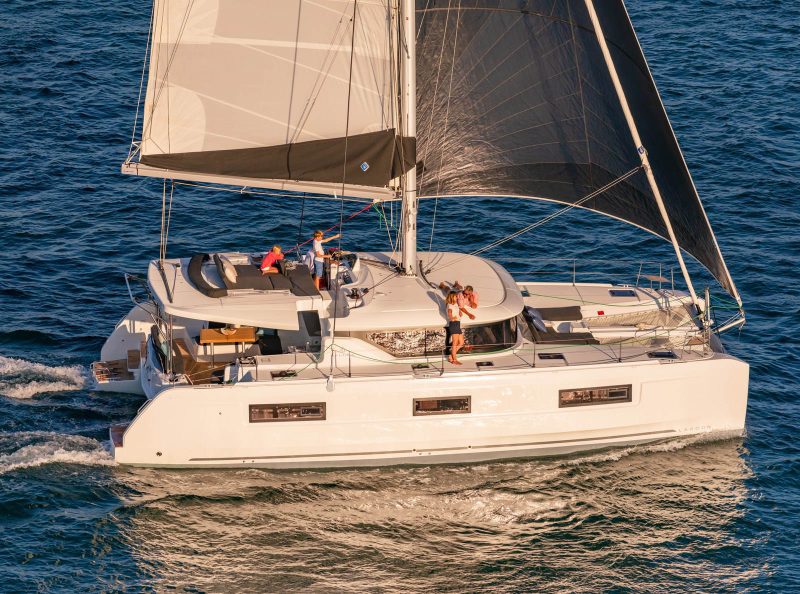 The popular Lagoon 46 is a high-performance, seaworthy boat. Representative of the new Lagoon DNA, she provides a larger sail plan for a better sail surface/displacement ratio; a mast stepped further aft, arising directly from VPLP's racing experience; a shorter boom, a self-tacking jib, and an electric captive winch for the mainsail for ease of handling; a large fore-triangle for a greater choice of headsails and greater efficiency.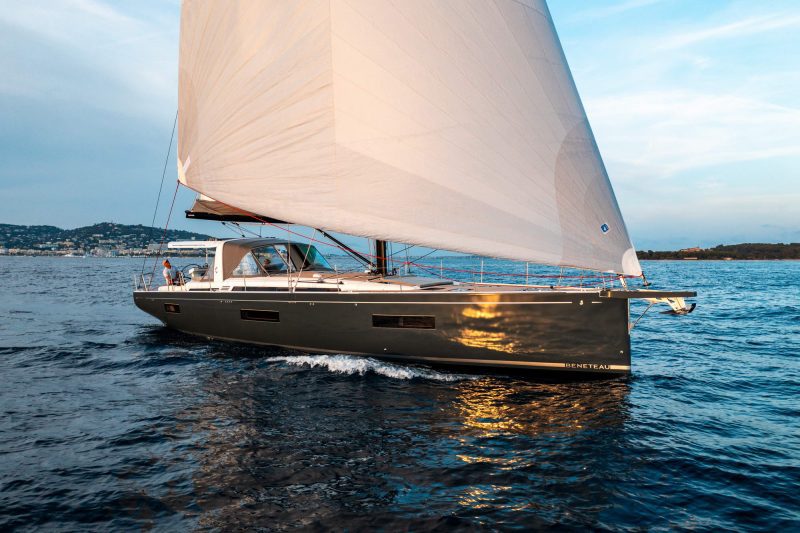 A subtle interplay of proportions and a gentle reverse sheer creates the kind of generous space you typically find on the Oceanis Yacht 60, while retaining an elegant design and excellent sea-keeping abilities. These unique features result in a true bluewater yacht that offers outstanding performance yet is easy to sail short hand.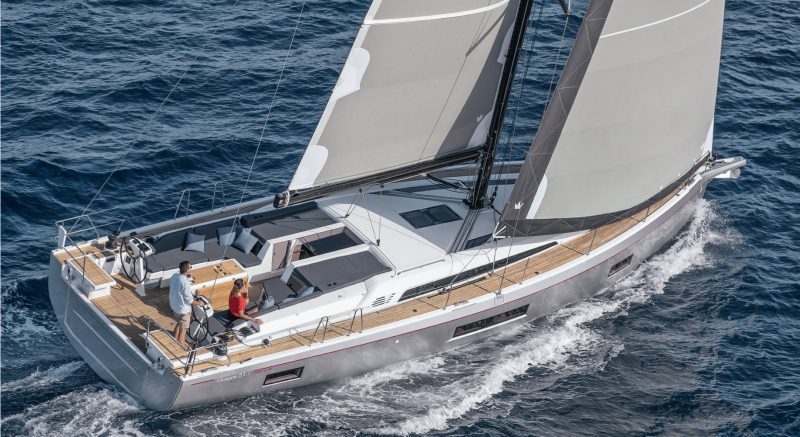 The Oceanis 51.1 is an ingenious sailing yacht, with no less than four different interior layouts, five rigging plans, three different keel types, and a choice of 150 available customisation options – promising an individually unique Oceanis 51.1 to any future buyer.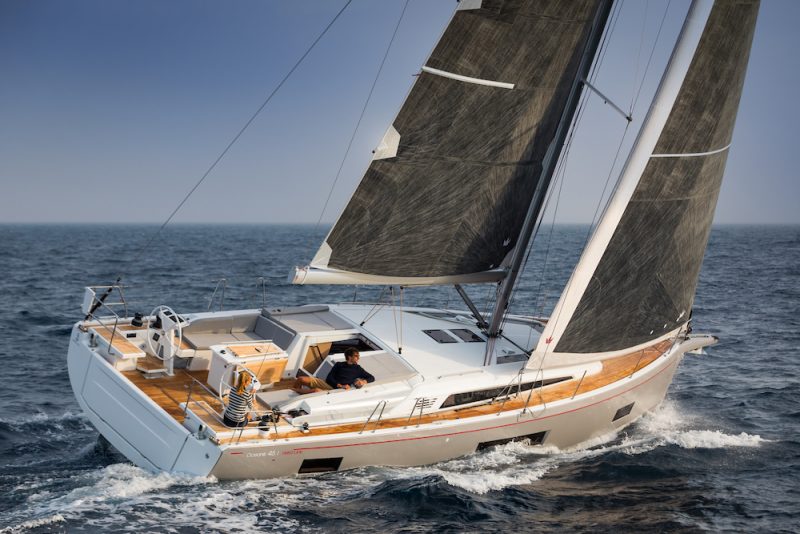 The Oceanis 46.1 is a superb progression of the bestselling Oceanis 45. Loyal to the Oceanis yacht's reputation, Oceanis 46.1 is a joy to live aboard, with a wide choice of fittings. She boasts all the features of a large yacht without sacrificing speed and the quality of her fittings are unbeatable for a boat of this size.
The Oceanis 40.1's flared hull increases the area on the fore deck. This makes for a better flow of movement and makes anchoring or mooring easier. The cockpit is large, much bigger than on its predecessor and on competitors' boats of the same size. It is ingeniously laid out to allow for a clear demarcation between active and relaxation spaces.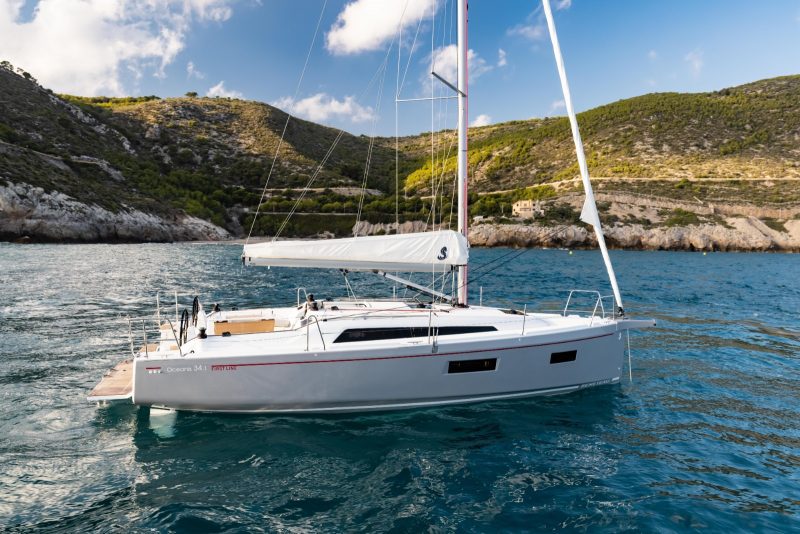 Sleeker, lighter, with more sail area, and more space in the bow for the owner's cabin than its predecessor, the Oceanis 34.1 promises unforgettable days out on the water. Once again, Marc Lombard and NAUTA Design have combined their efforts to produce a unique design concept, true to the spirit of the 7th generation Oceanis range.
The Oceanis 30.1 is as stylish and beautiful as ever. Although it is rare to start with size when presenting boats, Oceanis 30.1 is an exception. Her design is based on the balance between reducing the boat's size and increasing the deck and interior space by precious centimetres, which really make the difference in terms of living space and comfort.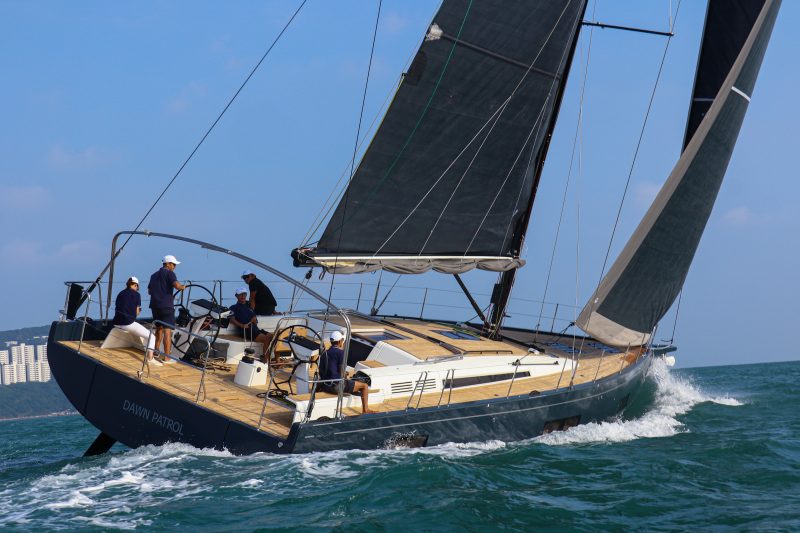 A slender hull, high end deck fittings, T-bulb, rigorous weight study…and the list goes on. Everything on this yacht has been designed to make the First Yacht 53 a fast spirited boat that is equally enjoyable on long distances as it is on a technically difficult course. She gracefully cuts through the water thanks to a straight hull.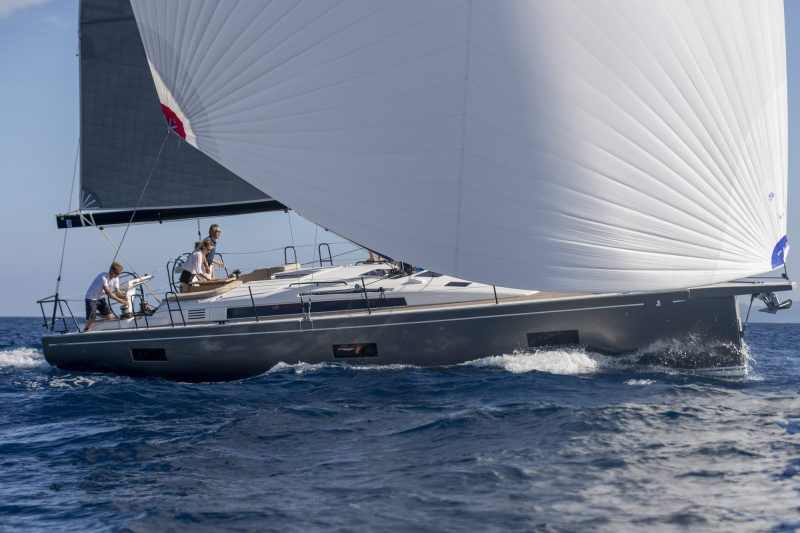 The First 44 combines performance, elegance, and comfort thanks to the quality of its equipment, which offers unequalled sailing pleasure. Beneteau's First 44 is truly the noblest expression of the term "racer/cruiser". A generous sail plan allows the First 44 to be lively and efficient in all conditions.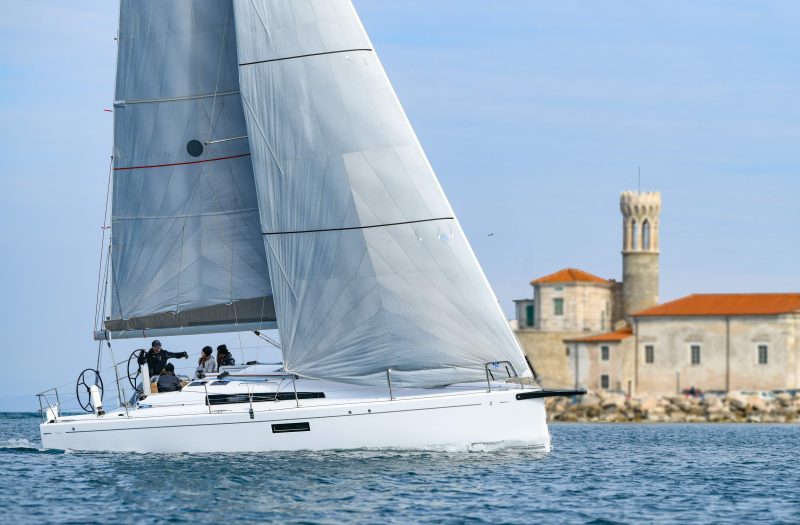 The First 36 delivers the thrill of high-performance sailing – not only on the racecourse, but also on family holidays or day-sailing trips. Beneteau has made this possible through a carefully placed high-tech and meticulously designed deck and interior ergonomics, which brings the most important features of grand prix racing boats into the hands of a club racer or active cruiser.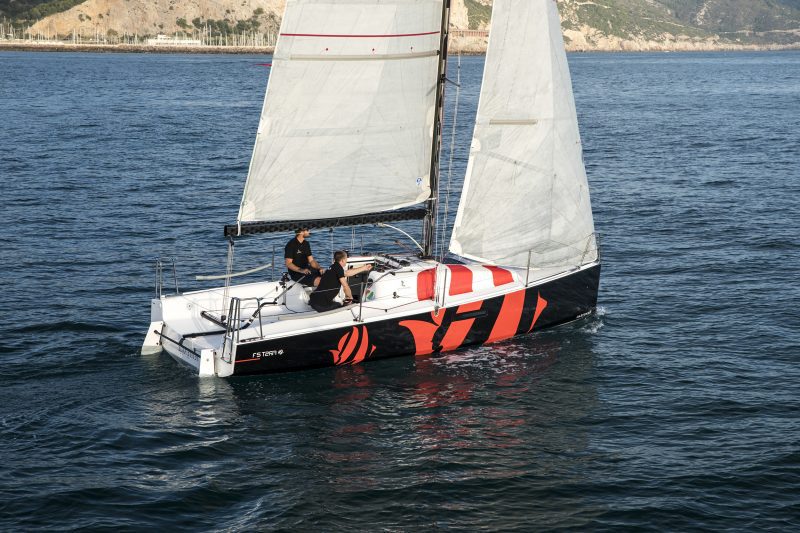 Welcome to a world of incredible sensations. In the last forty years, Beneteau's legendary sport cruiser has carved out a special place in the hearts of experienced sailors. Made from high tech materials, light and sturdy, and fitted with excellent equipment, the First 27 is a must for competitive sailing and can compete on any stretch of water.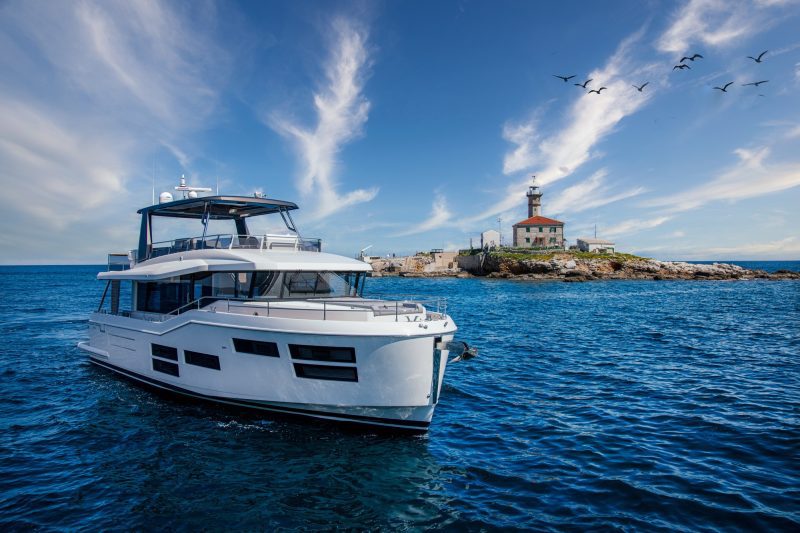 The Grand Trawler 62 is the result of Beneteau's collaboration with Massimo Gino (Nauta Design) and Amedeo Migali (MICAD) and capitalises on the highly successful Swift Trawler range of practical, spacious boats, with a considerable cruising range, and puts Groupe Beneteau's experience in producing luxury boats to good use.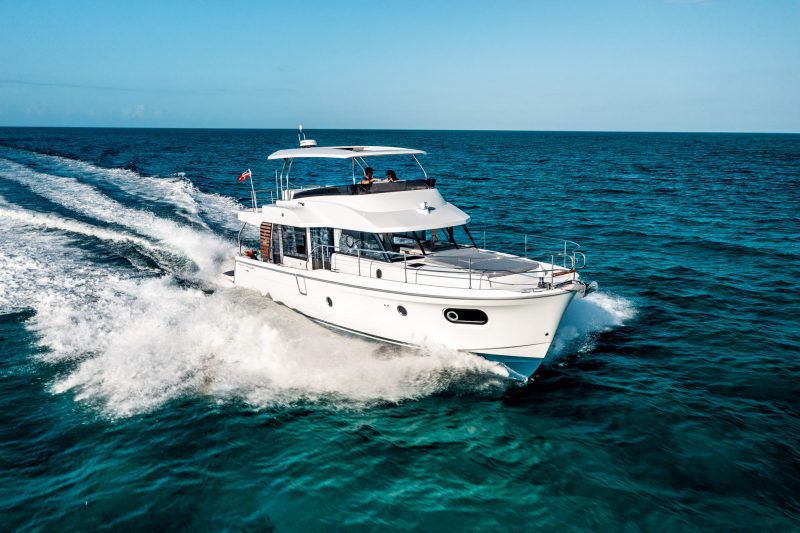 To enjoy the sea with confidence, the Swift Trawler 48 is rated for 12 persons in CE Category B. The hull has been designed to optimise sea kindly behaviour and performance. The slender flared bow of the Swift Trawler 48 cuts through the sea wonderfully, resulting in efficient fuel consumption and safe handling.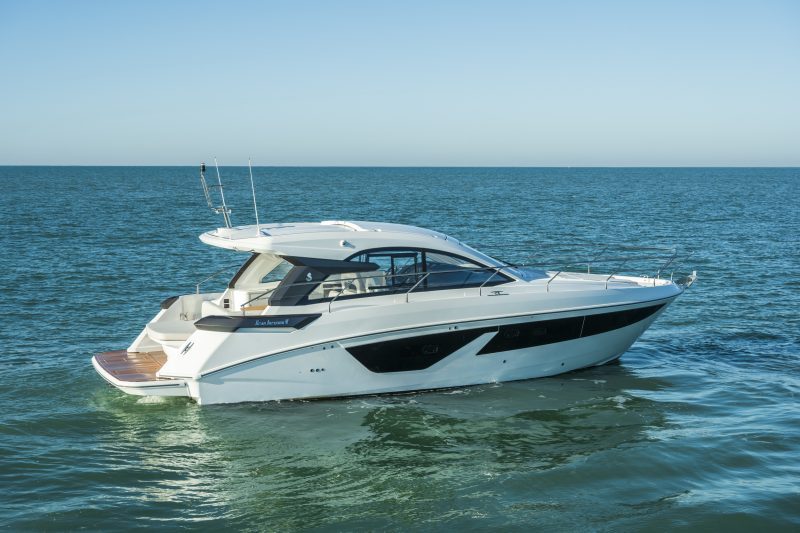 The Gran Turismo 41 is the latest model in Beneteau's express cruiser line, and she is as easy to handle as she is beautiful to behold. Elegant and comfortable, she is wonderfully designed and her luxury fittings and clever layout appeal to everyone.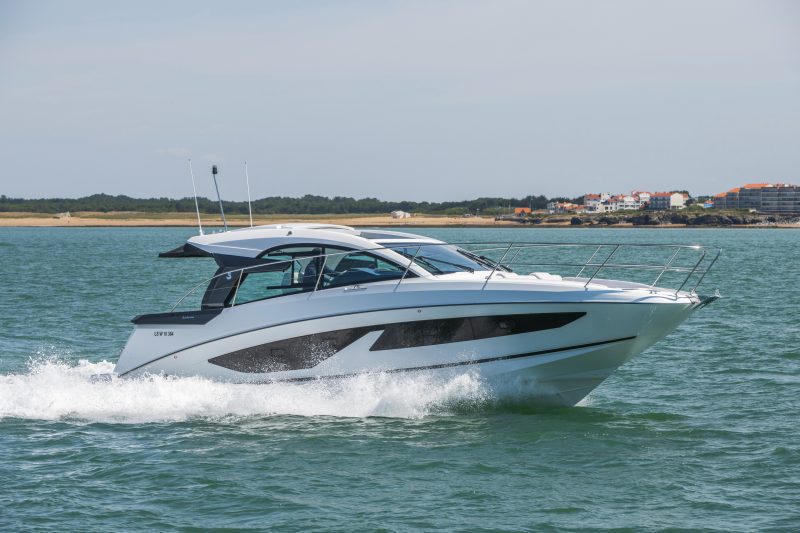 The Gran Turismo 36 is the first boat in her category to combine really comfortable cruising with outstanding handling and sensations similar to those of a small outboard. Enjoy a wide variety of waterside pleasures in no time at all – start and play!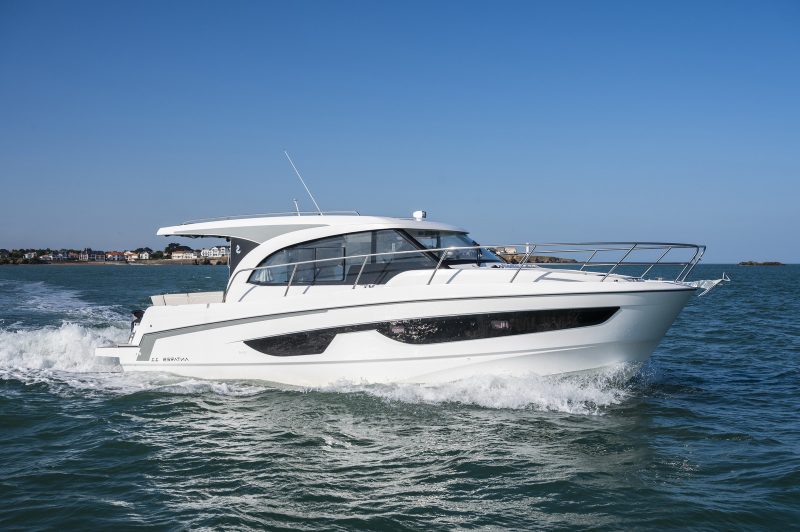 With a length overall of 11 metres, Antares 11 is the perfect illustration of a family cruiser. Safe, ideal for cruising, and seaworthy, the contemporary design of this powerboat focuses on comfort and space, as well as safety and innovation.
Antares 9 is the ultimate weekender! With an innate sense of detail and comfort, she is an invitation to spend more time at sea. Modern and stylish, she preserves the traditional elegance of an established range. Autonomy, habitability, panache – she has everything to make short cruising a great experience.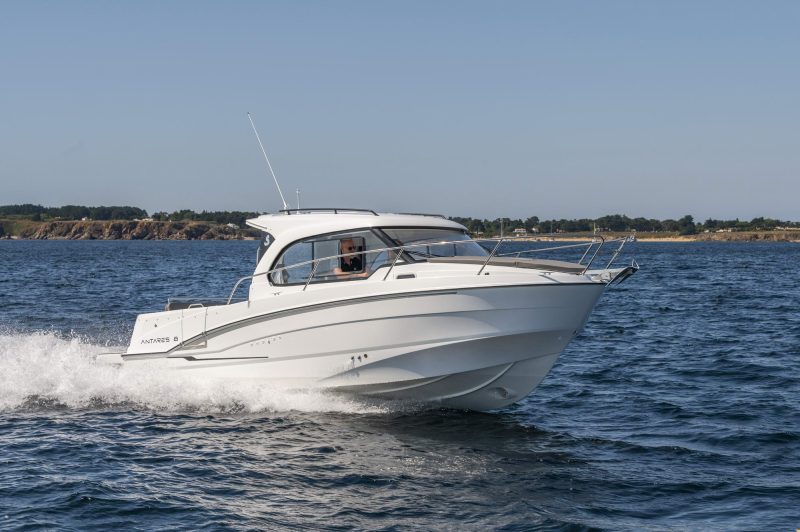 A mid-range model in BENETEAU's weekender range, Antares 8 preserves the signature features of BENETEAU's long-standing expertise in building innovative, high-performance, family-friendly boats. She offers novel features designed especially for lovers of nautical pursuits, with a special focus on fishing enthusiasts. The Antares 8 now comes in two versions, Cruising, which provides exceptional onboard comfort and conviviality, and Fishing, which has everything fishing enthusiasts may need.
Firmly focused on family leisure, the Antares 7 boasts new features to improve comfort and extend your trips on the water. It is the ideal weekender for people who love being on the water. The Antares 7 has been upgraded with new fittings and equipment that make it very versatile, and it offers passengers safe, easy-going and enjoyable living and sailing aboard.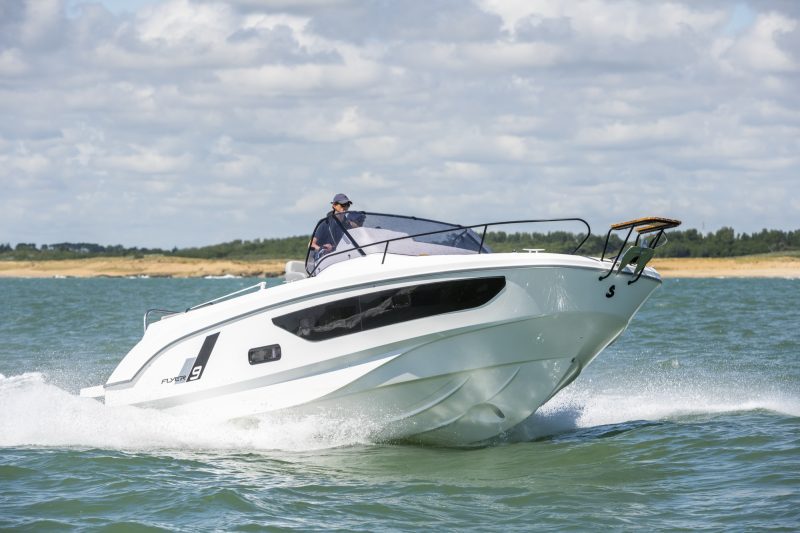 The Flyer 9 completes the Beneteau range of day boats. The model perpetuates the dynamic and elegant features of the Flyer 9. Comfort and space on boats are enhanced thanks to optimized design. Now, more than ever, the pleasure of driving this boat is combined with comfort of life on boat and ease of navigation.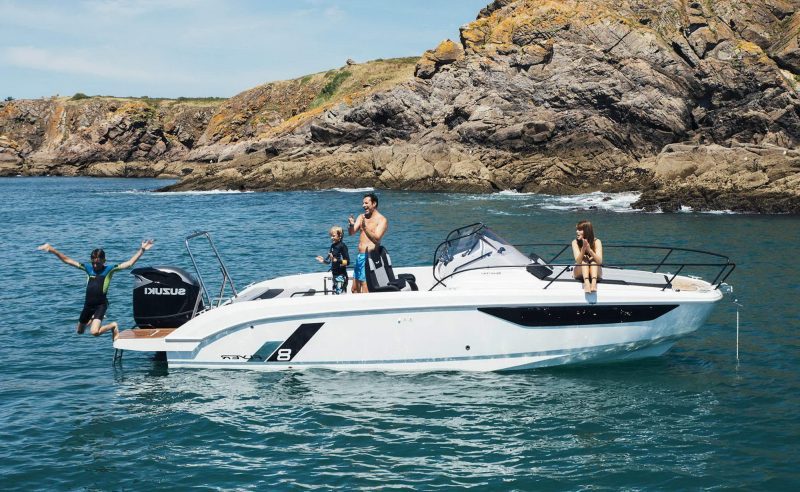 The Flyer 8 SUNdeck has a large sun lounger at the bow, with port and starboard walkways redesigned to make it easier to reach. These large passageways on either side of the driver station make movement on board much safer. This model also stands apart for its top-quality living areas inside. With remarkable headroom, a cabin fitted with a double berth, an independent head, and a galley station, this version outclasses the usual day boat standards, so you will probably decide to enjoy the pleasures of the sea a little bit longer.
Flyer 7 SPACEdeck has been developed on the lastest Air Step technology hull procuring fast lift off, comfort and stability. Ultra spacious et function oriented the new Flyer 7 has the big advantage of being trailerable. Her bow is accessible from both side of the console. The boat is offered in two distinct versions standard (stainless steel) or Elegance (black pulpits). Many options are available to match all needs fishing, sport, comfort. Flyer 7 bow offers a large seating space accomodating a table or a sunpad in option.
Contact us at hongkong@simpsonmarine.com to book your appointment to see the latest models.