Simpson Marine, Asia's leading yacht sales and services company, proudly reports a successful year of business in 2021 – its best to date. A record breaking 135 new and pre-owned yachts were sold in 2021 representing an increase of 20% compared to 2020. Founded in 1984 by Mike Simpson, over the years Simpson Marine has gone from strength to strength, and this year's outstanding performance confirms its status as a market leader for yachting in Asia.
Despite 2020 and 2021 being challenging years for many businesses, the yachting industry has seen unprecedented growth. Boating came to be seen as an escape from the disruptions of Covid-19 travel and social restrictions. For many owners and newcomers to yachting, yachts have become a safe haven to escape to when their usually busy lives and diverse leisure activities were suspended and altered. The pandemic has also served as a reminder that life is for living and best enjoyed today!
"Simpson Marine's mission has always been to bring people closer to the ocean and help them enjoy the freedom of life at sea. It is therefore heartening to see many first time boat owners being welcomed into the yachting fold during 2020 and 2021," says Mike Simpson, Founder and Managing Director of Simpson Marine.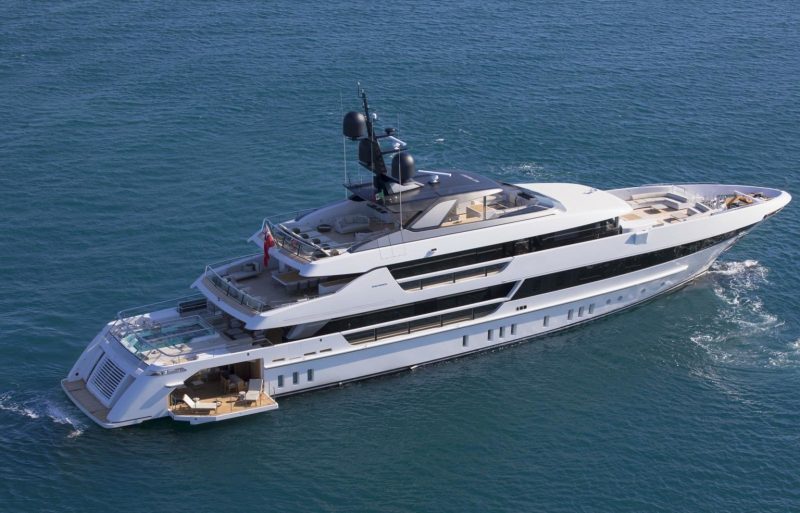 Sanlorenzo 52 Steel sold into Asia and due for completion in summer 2022
Hong Kong, Asia's largest yachting centre, has proved the busiest market with the marinas remaining open and yachting activity mostly unaffected. The city has registered even greater growth than usual, compensating for other South-East Asian countries that have been more affected by the pandemic due to tight cross-border travel restrictions in place for most of the year, especially in Malaysia, Indonesia and Thailand.
The company has seen substantial growth in all business activities including new yacht sales, brokerage, yacht charter, yacht management and services.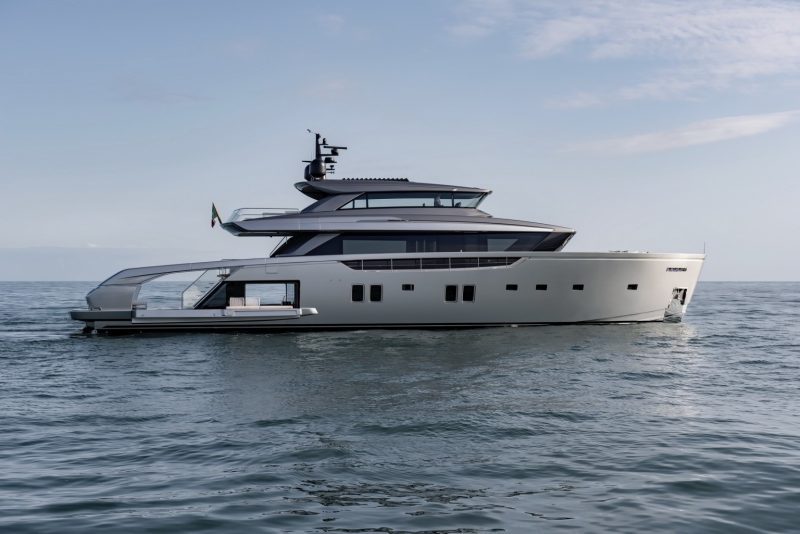 SX range flagship Sanlorenzo SX112 delivered into Asia in late 2022, with the next yacht arriving in spring 2022
Sanlorenzo, Italy's leading shipyard, was particularly successful in 2021 with a significant number of yachts delivered across Asia including some of the yard's iconic models such as the Alloy, SX112, SL102A, SL96A and SD96 among others. Many more yachts are already scheduled for delivery in 2022, including examples of the new SD118 which saw two units sold immediately after her world premiere in 2021. A significant achievement is the largest Sanlorenzo sold into Asia to date ­– a 52Steel that is due to launch in summer 2022.
In recognition of their success in selling yachts of all sizes from 76ft to 170ft (52m) Simpson Marine received the award of "Best 2021 Service and Sales Performance Worldwide" for both the Yacht and Superyacht divisions. This award was received from Sanlorenzo during their brand representatives dinner staged at Hotel Barriere le Majestic during the Cannes Yachting Festival in September 2021.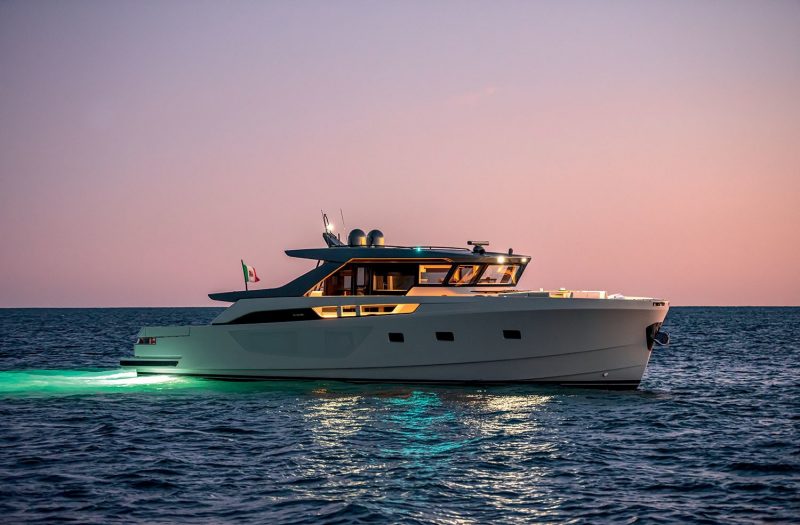 New Bluegame BGX70 arriving in Singapore in January 2022
Bluegame, a Sanlorenzo Group brand, attracted a lot of interest in Hong Kong and elsewhere in Asia, following the arrival of the first BGX70 into Hong Kong in November 2020. Since then the fleet has expanded with the arrival of the first BG42s and a BG62. The innovative Bluegame yachts, which range between 40-70 feet, complement the highly successful SX range from parent company Sanlorenzo. Due next into Asia is a BGX70, arriving shortly in Singapore, and a BGX60 set to arrive in late 2022, plus more Bluegame yachts into the wider region. Bluegame Asia also received the "Best 2021 Sales Progression" award, in tribute to the impressively quick expansion of the brand in Asia.
Beneteau Oceanis Yacht 62 expected to arrive shortly in Hong Kong
The Beneteau Group brands, with long-term brand partners Beneteau and Lagoon, have been equally sought after with double digit sales for each brand. There has been significant growth for the Beneteau Outboard ranges, including the Antares and Flyer. The arrival of the flagships Antares 11 and Flyer 10 into Hong Kong generated a lot of interest for this segment with numerous sales of models from both lines. The new Beneteau Power flagship Grand Trawler 62, that will set new standards for long-range cruisers, is also due to arrive in Asia in early 2022. On the sailing side, Simpson Marine has delivered new models from the historic Oceanis range, including two Oceanis Yacht 54s and two new First Yachts 53s, and is looking forward to welcoming the flagship Oceanis Yacht 62 into Hong Kong in early 2022. These latest sales have boosted the city's sailing fleet ahead of the second edition of the Beneteau Cup Hong Kong, which is set for 28-29 May 2022. A notable achievement was the launch of the Simpson Marine Sailing Centre in Thailand in collaboration with a prominent Thai investor and yachting enthusiast. With eight boats from the new First line, including five First 14s, two First 18s and a First 27, arriving into Pattaya, training instructors are now preparing the first courses for students for spring 2022.
The new Beneteau Power flagship Grand Trawler 62 due to arrive in Asia in early 2022
Lagoon continues to enjoy an excellent reputation as the world's leading catamaran brand with many Lagoons sold in 2021 including new models – LG40, LG42, LG46 and LG50 – delivered in Hong Kong, China, Taiwan, Thailand and Singapore. Bigger models from Lagoon have also enjoyed particular success with the arrival of Asia's first SIXTY 7 power catamaran in Taiwan and another SIXTY 7 on order for Hong Kong while Lagoon's sailing SIXTY 5 is now located in Hong Kong as well. Expected to arrive in 2022 are two of Lagoon's latest models, the Lagoon 55 and the motoryacht flagship SEVENTY 8.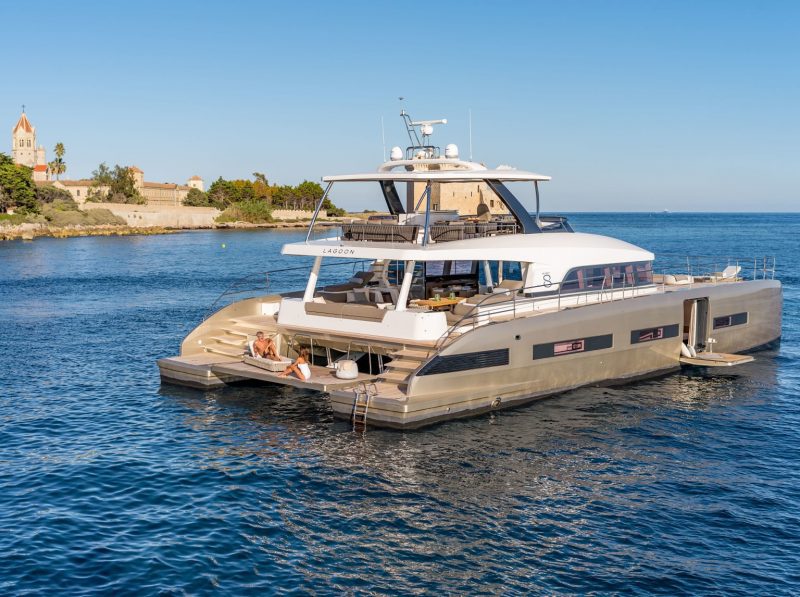 Lagoon motoryacht flagship SEVENTY 8 set to arrive in Hong Kong in summer 2022
British motoryacht builder Fairline Yachts has attracted growing interest in Asia. Adding to the current fleet, new Squadron 50 and 53s have been commissioned, with China's first Targa GT45 arriving in Shanghai in late 2021. 2022 will see the much anticipated arrival of the new flagship Squadron 68 and more exciting new models including the Squadron 55 and Phantom 65 to be launched in 2022.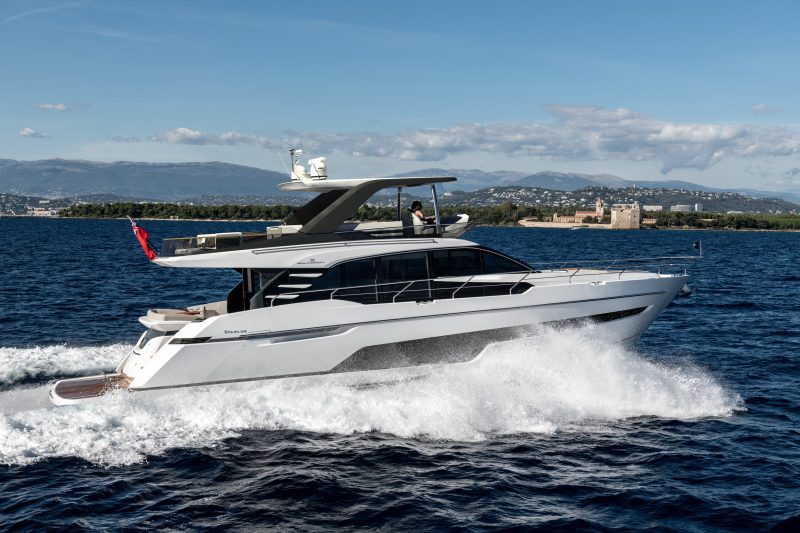 The highly anticipated new Fairline Squadron 68 due to arrive in Hong Kong in February 2022
Aquila Power Catamarans has enjoyed a very busy year globally, and Asia has been no exception. One of the newly launched model Aquila 54 was sold into Thailand, while Indonesia received an order for Asia's first flagship Aquila 70.  Aquila has also released a new entry level boat, the Aquila 28 Molokai, that has been delivered into Malaysia where she celebrated her Asia launch in Port Dickson and Penang and was sold immediately afterwards. Several new Aquila 36s have successfully arrived in Singapore and more mid-range models have been sold throughout the region, reflecting the brand's global expansion.
First flagship power catamaran Aquila 70 Luxury sold into Indonesia
Due to severe travel restrictions international charter activity has dropped down while domestic charters have registered unprecedented growth. As a result, Simpson Yacht Charter has registered 900 day charters and 40 overnight charters booked in Hong Kong in 2021 alone. On the other hand, the usually busy Thailand charter market has seen a decrease of international travellers, unable to travel to Asia, and therefore the company's charter division adjusted its offering to local Thailand-based residents with numerous short term charters (half-day, one-day, weekend, long-weekend) sold in Phuket and Pattaya accounting for a total of 500 days in 2021. Thailand has recently announced progressive opening up to international travellers from 63 countries, which resulted in increased demand for long-term charters with the year-end fully booked in both Phuket and Pattaya. Likewise, in Singapore, Malaysia and China ­– countries with restrictive cross-border travel policies – local charters are now more in demand as residents look to explore their own nautical backyard.
Sanlorenzo SL78 charter yacht with ocean pool and water toys available for bespoke charters in Hong Kong
The Simpson Yacht Care and Yacht Management divisions have welcomed several new yachts into the fleet with the Hong Kong Yacht Management office alone welcoming eight new Sanlorenzo yachts in 2021 under the Yacht Management scheme. The Simpson Yacht Care division, originally created for absentee boat owners in Thailand and progressively expanded into Malaysia, Indonesia and Singapore,  has never been busier with a total of 50 yachts under their care by the end of 2021.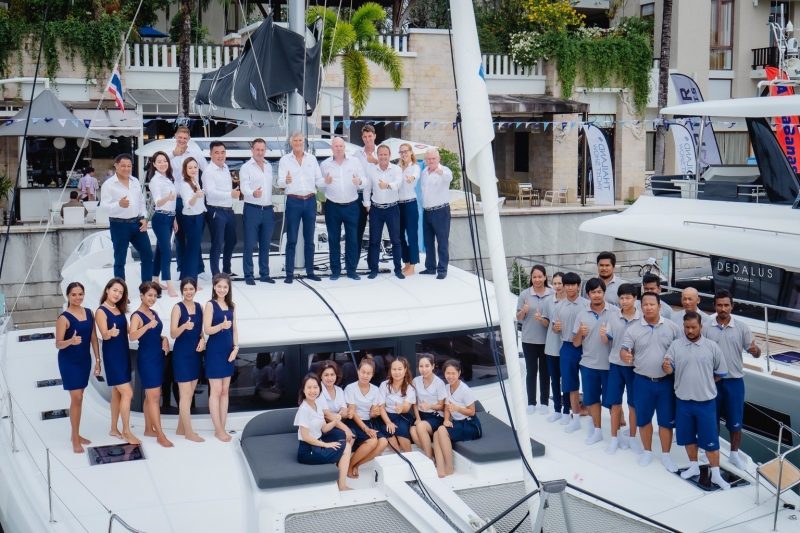 Simpson Marine Team – giving their thumbs up and sending best wishes for the new year at the last boat show to be held in Asia in January 2020 in Phuket
As we look forward to 2022, Simpson Marine is set to start the new year with a solid order book. With yacht availability and quick deliveries being high priorities for Asian buyers, Simpson Marine has been securing a long list of stock boats for the Asian market but supply remains limited. Having been based in Asia for nearly four decades, Simpson Marine is dedicated, now more than ever, to helping boat owners create their own memorable moments at sea.
Likewise, the company continues with its long term dedication to the health and sustainability of the oceans by supporting many regional and local ocean protection and marine restoration initiatives. Simpson Marine is deeply committed to further developing its marine Corporate Social Responsibility (CSR) programme in the coming years.
The entire Simpson Marine team looks forward to the year ahead, and will continue to deliver professional service and provide Yachting Freedom throughout Asia in 2022 and the years to come.